Conference Speakers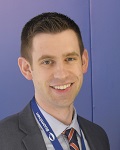 James Selm
Assistant Product Manager, Suominen
James Selm serves as the Product Manager – Personal Care at Suominen Corporation. He is an engagement-focused product expert with a passion for uncovering pain points and offering tailored solutions. Energized by innovation and dedicated to converting customers with needs into powerful brand advocates, James possess a unique breadth and depth of experience allowing cross-pollination of best practices and offering a new perspective on your challenges. James received his Marketing degree from Ohio State University in 2009.
---
Wednesday 10:00 am - 10:30 am
Consumer Trends & Market Data I
Fostering Independence & Health: Wipes for an Aging Population
In just 16 years the population 65 and older is forecasted to outnumber people younger than 18 in the U.S. for the first time. Serving the needs of this rapidly growing market will become a priority in the wipes industry. This presentation will outline those needs as they stand today and where they are forecasted to lead, as well as demonstrate some of the ways our industry is positioned to meet future demands. Flushable wipes specifically present an opportunity for the wipes industry to promote lives of active independence for the growing segment of Baby Boomers who are caring for aging parents and don't really view themselves as seniors yet. In addition to supporting this important micro-segment, the latest generation of flushable wipes may have real value in helping elder-care facilities to prevent pipes clogged with baby wipes that were never fit for the task.
---