Conference Speakers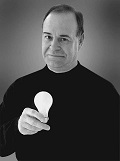 Tom Meyer
VP, Innovation And Sustainability, Chemia Corporation
Tom Meyer has brought over 38 years of product innovation, intellectual property management and entrepreneurial development to the fragrance and flavor industries. He has started four successful companies, written two books and currently serves as Vice-President of Innovation and Sustainability for Chemia Corporation.
---
Thursday 4:15 pm - 5:30 pm
Point of Purchase Decision Drivers: Packaging & Sustainability II
The Future of Fragrance: Functional Sustainability
For over 3000 years perfumery has been an integral part of civilization, primarily as a means to evoke beautiful experiences and to enhance the attractiveness of many products. But in the age of sustainability, fragrances will contribute more than beauty - they will augment products with the infusion of innovative functionality.
---