Conference Speakers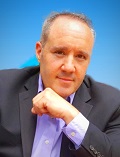 Matthew Schiering
Principal, Sheer Strategy
Mr. Schiering co-founded Sheer Strategy, a management consulting firm, in Q4 of 2017 with his wife and business partner Madelyn. His current clients include leading Healthcare, Med Device and Professional Cleaning manufacturers. Prior to starting his own venture, Matt spent seven years as General Manager of Sani Professional, a division of PDI, Inc., a leading, global infection prevention company. Top customers during his tenure there included Starbucks®, Chick-fil-A® Compass® & Publix®.
Schiering holds a B.S. from Cornell University's School of Hotel Administration and an M.B.A. from University of Texas (El Paso). His leadership experience began with a four-year tour of duty as an officer in the U.S. Army and now spans 27 years featuring significant time at world class companies including Johnson & Johnson and SCA.
In his spare time, Matt enjoys writing; he has been published several times in Brandweek® Magazine. He also enjoys playing music and he proudly fronts Say 80thing, a classic rock cover band. He resides in Rockland County, NY with his family.
---
Friday 9:00 am - 10:30 am
Institutional Wipe Trends & Areas for Growth
Get Your Score Up, from the Floor Up! –The Case for Single-use Disposables (vs. Laundered Towels) to Address High-touch Healthcare Surfaces
Market trend data reveals that the deliberate transition in Healthcare environments from traditional, reusable cotton-based products in favor of reusable, laundered microfiber textiles has broadly improved cleaning and disinfection outcomes. However, questions persist regarding the quality, efficacy and durability of laundered textiles after repeated use. A landmark investigation examines the microscopic structure of a variety of reused textiles before and after laundering. Further, we quantify the bioburden recovered from these products and address their ability to sufficiently treat high-touch surfaces in the healthcare channel.
Results/Notables:
Numerous studies have examined and determined the number of viable bacteria and fungi on reusable textiles themselves as well as the high touch surfaces they are intended to address using standard microbiological techniques - and the results are concerning. Further testing assessed these findings in direct comparison to single-use disposables.
Microscopic examination indicated that repeated laundering and use causes damage to laundered microfibers and entrapment of debris and microbes in the reused textiles. Compared to single-use disposable textiles, re-laundered articles were less effective at removing bioburden (measured as adenosine triphosphate (ATP)) from high touch surfaces in patient rooms.
Conclusions:
Typical commercial laundry processes can irreversibly damage polyester microfibers leading to inadequate removal of viable microbes and other debris. The combination of damaged and contaminated textiles along with neutralization of disinfectants may lead to poor contamination control outcomes after cleaning with laundered textiles. Alternatively, the use of single-use disposable textiles (wipes, microber mops, etc.) can reduce the risk of these same pervasive issues.
What Will Be Learned:
· The impact of repeated laundering on the structure and performance of microfiber-based cleaning textiles.
· The relative cleaning efficacy and disinfectant compatibility of re-laundered versus single-use disposable textiles.
· Strategies for reducing the risk of x-contamination resulting from inadequate cleaning and disinfection of high-touch surfaces.
---