Conference Speakers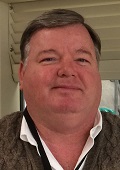 Michael Easson
Research Chemist, Southern Regional Research Center (SRRC), ARS-USDA
Dr. Michael Easson is a Research Chemist with the United States Department of Agriculture in
New Orleans, Louisiana. His research interests include innovative textile processing methods, flame retardant syntheses, cottonseed protein additive for nonwoven applications, conversion of cotton gin motes and gin trash to cellulose nanocrystals and chemically modified cotton fibers for moisture management.
---
Thursday 11:00 am - 12:30 pm
Substrate Innovation: Revolutionary Fibers & Fabric Performance II
Non-Chemical Method for Improved Whiteness of Greige Cotton
Greige cotton has a natural light yellow color due to the presence of small amounts of impurities which make it undesirable to the consumer. These impurities can be removed by present-day wet chemical treatments that scour and bleach the cotton fiber, leaving the fiber whiter in appearance. Researchers at the USDA's Southern Regional Research Center in New Orleans, Louisiana have invented a new process method that effectively "whitens" the greige cotton without the need for wet chemical treatments. This mechanical heathering method intimately blends blue fibers with greige cotton by partially overlapping the two fibers, imparting a "whiter" appearance to the final product. For cost sensitive nonwoven consumer applications such as infant diapers, feminine hygiene products and adult incontinence products, this innovative processing method could potentially open up new markets for greige cotton. Such an outcome would lead to a reduction of non-biodegradable, petroleum-based fibers and a marked increase in biodegradable fibers in these consumer products.
Using the principles of Additive Color Mixing, researchers have devised a non-chemical, mechanical method to improve the whiteness of yellow greige cotton. In this study samples of one bale of off-white greige cotton which was mechanically cleaned of foreign matter were dyed with three different reactive blue dyes, each having a slightly different color spectrum. Guided by a statistically designed blending experiment, these three different blue-dyed fiber samples were then blended back into the original greige cotton in various ratios to each other and at varying levels up to 5% by mass of total blue-dyed fiber in the overall blend. L*a*b* color measurements and UV-Vis spectral analyses confirmed a variation of yellowness with the blended blue fiber and a low yellowness, high whiteness optimum was found.
---