Conference Speakers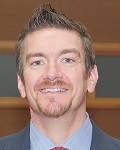 Rick Morgan
Global Marketing Director - Infection Prevention, Diversey, Inc.
Rick Morgan, MBA, serves as the Global Marketing Director for Diversey's Infection Prevention Portfolio. He leads innovation projects for Infection Prevention, has launched disinfectant wipes products in multiple countries and is responsible for growing the Infection Prevention platform globally. Listening, clarifying and acting on customer needs, stated or implied, he strives to bring the right solutions to market, leading to safer environments of care.
Prior to joining Diversey, Rick spent 8 years in Healthcare Sales, first in Vaccines and then in Surgical Disposables & Equipment. He's made a career helping provide solutions to keep patients, staff and healthcare environments safer, healthier and more productive.
---
Friday 9:00 am - 10:30 am
Institutional Wipe Trends & Areas for Growth
The Evolution of Disinfectants in Healthcare Infection Prevention
Insurance reimbursement rates are tied to infection rates and patient satisfaction more than ever before. Coupled with this, there is increasing evidence of the environment, and transmission of pathogens from surfaces. Through this, there has been an increasing need for disinfectant technology to adapt to the new awareness and the needs of the environment. Aesthetics and safety of the environment, the products, process and protocols a facility are all keys to success. In this session Rick will outline the business case and the evolution of disinfection technologies to aide on the journey in creating a safer and more satisfying environment of care.
---