Conference Speakers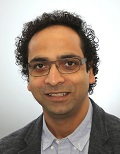 Santosh Chavan
Vice President - Global Product Development, Jacob Holm & Sons AG
Santosh Chavan has led global product and technology development at Jacob Holm since June 2017. Santosh has more than 18 years of industry experience in various Nonwovens and Specialty Papers, including 10 years with Ahlstrom where he was Vice President of Product & Technology Development, 4 years in a management position with Mahle Filtration Systems India Ltd (Earlier Purolator India Ltd.) and 3 years with The West Coast Paper Mills Ltd in India. Santosh has also worked as a visiting faculty member at Karnatak University, where he earned his Master's in Pulp and Paper technology.
---
Thursday 9:00 am - 10:30 am
Substrate Innovation: Revolutionary Fibers & Fabric Performance I
Sustainable Wipes: The Natural Choice Impacting Our Future
Over the last 10 years there have been vast developments in the area of sustainability among wiping products. Trends have come and gone, wood based products have moved from unacceptable to desirable, recycled products have moved in and out of favor and the very definition of Sustainability has gone through rigorous scrutiny and restatement. This paper will review some of the background of this activity and will outline current market and consumer thinking on the subject of Sustainability. The latest generation of Sustainable Wipes for different end use applications will be assessed and expected future trends will be prBecause millennials have a wider range of product choices than previous generations, capturing millennial interest requires offering products that specifically reflect their lifestyles and values. As environmental concerns grow among millennials, they not only seek out more inherently sustainable products, but are also willing to pay more to achieve a smaller environmental impact. This shift in consumer perception directly impacts the nonwoven industry.
But what makes a product sustainable? The term ___sustainability___ has become a buzz word, leading to differing interpretations among the industry and its consumers. This presentation will make an effort to clarify some of the resulting trends, industry perceptions, and consumer expectations. At the same time, it will outline the benefits and challenges faced by businesses pursuing sustainability. A few case studies will be highlighted to demonstrate how these challenges are overcome by innovative solutions that have diverse applications. This presentation will ultimately conclude that these innovative sustainable wipes are a natural choice for environmentally-conscious consumers and responsible industry partners.
---