Looking for a New Hire?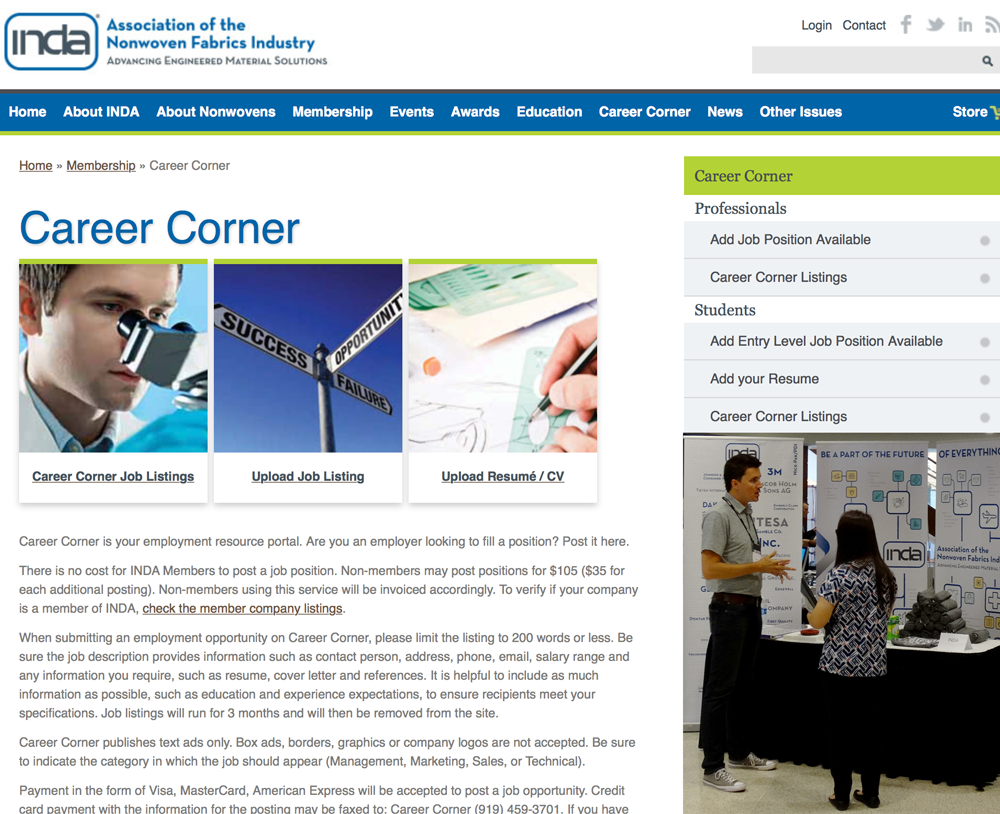 INDA Career Corner Website Posts STEM Student Resumes for Nonwoven/Engineered Materials Industries
December 7, Cary, NC – INDA, the Association of the Nonwoven Fabrics Industry, announces a new benefit to nonwoven/engineered materials companies seeking to hire university students in STEM disciplines. INDA's new Career Corner posts resumes of students interested in nonwoven entry level career opportunities, internships, and co-op programs. Listings can be viewed at http://www.inda.org/CareerCorner/jobslist.php.
"The new Career Corner on INDA's website was developed in response to INDA members' need to identify and recruit talented individuals in the thriving nonwovens and engineered materials industry. To keep our industry vibrant we need to position it attractively so we have talented people choosing to pursue careers in engineered fabrics. With Career Corner, INDA members can find candidates and post open positions as a free service to INDA member companies," said Dave Rousse, INDA President.
INDA's Academic Outreach Committee and INDA's Assistant Director of Career Services advanced awareness of our thriving industry to six Southeast Universities during the 2017 fall semester.  Members of INDA's Outreach Committee include executive representatives from Berry Global Group, Inc., Fibertex Nonwovens, Fitesa, Freudenberg Performance Materials, Glatfelter, Johns Manville Corporation, Kimberly-Clark Corporation, Lydall Performance Materials, The Nonwovens Institute, The Proctor & Gamble Co., Suominen, and others.
INDA exhibited at The University of Tennessee, Clemson University, The University of South Carolina, Rose-Hulman University, Northeastern University, and Auburn University.  INDA presented nonwoven/engineered materials as a diverse technology-oriented, exciting industry solving real problems and engaged over 1,200 students in STEM disciplines collecting over 290 resumes for industry opportunities.
Spring 2018 career fair planning includes presentations at Georgia Tech, the University of South Carolina, NC State University, and Virginia Commonwealth University, among others. For details on the program contact:  Justin Gutierrez, Assistant Director of Career Services, jgutierrez@inda.org.
About INDA:
INDA, the Association of the Nonwoven Fabrics Industry, serves hundreds of member companies in the nonwovens/engineered fabrics industry in global commerce. Since 1968, INDA events have helped members connect, learn, innovate, and develop their businesses. INDA educational courses, market data, test methods, consultancy, and issue advocacy help members succeed by providing them the information they need to better plan and execute their business strategies. For more information, visit inda.org or call 919-459-3700.
##