Hotel Reservation Information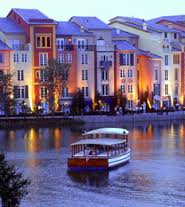 Loews Portofino Bay Hotel
5601 Universal Blvd,
Orlando, FL 32819, USA

Loews Portofino Bay Hotel is please to provide specially priced rooms at a discount rate of $229 (plus tax) for the INDA Hygienix conference.
ALL REQUESTS MUST BE SUBMITTED IN WRITING. It is INDA policy that all requests be submitted in writing in order to secure a room under the block. 
Please be sure to make your reservation by September 26, 2016, in order to secure the special group rate of $229.00.
Rate is non-commissionable and room reservations may be made at this rate as long as rooms are available in the group block. We have a limited amount of rooms and reservation requests are processed in the order in which they are received, so we encourage you to please submit your request as soon as possible. Please be sure to make your reservations immediately = submitting your hotel reservation prior to the event cut-off date does not guarantee a room will be available in the group block, at the group rate.
For Questions, contact Andreana Leach: aleach@inda.org 919-459-3724
Loews Portofino Bay Hotel at Universal Orlando®: fun gets an Italian accent—and everyone gets to have an unforgettable time. The property is nestled along the water at Universal Orlando, just like the seaside town of Portofino, Italy it's inspired by. And with details like cobblestone streets and towering Italian cypress trees, you'll swear you're actually in Europe.
Restaurants and Lounges
Bice Ristorante
Mama Della's Ristorante
Trattoria del Porto
Sal's Market Deli
Splendido Bar & Grill
Gelateria
Starbucks®
In-Room Dining
Orlando Nightlife Lounge
The Thirsty Fish
Loews Portofino Restaurant guides