2016 Hygienix Innovation Award™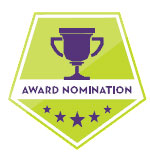 The INDA Hygienix Innovation Award™ will recognize innovation in hygiene areas such as: consumer or institutional end products, end product components, or fabrication techniques that use nonwoven fabrics in a way that expands the usage of nonwovens. Nominees will be selected from various disposable and durable product categories and disruptive technologies that directly pertain to the hygiene industry.
2016 Finalists include:
Kleenex® Exfoliating Cushions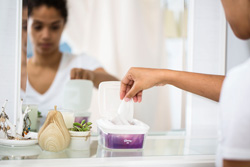 Combining multiple layers of nonwovens—each specially engineered to deliver a specific benefit—into a novel, versatile facial cleansing tool.  The result is a dual-sided cushion with one side that gently exfoliates with a textured nonwoven and a second side with a buffing texture printed on a non-woven to smooth and polish skin.  Inside the cushion a water activated cleanser creates a rich lather which is released through purposefully designed apertures on the exfoliating side which also allow the user to control the amount of exfoliation depending on the area of the cushion used.  Kleenex® Exfoliating Cushions leverage the versatility of nonwovens to deliver a completely unique and customizable facial cleansing experience, according to the company.

H.B. Fuller's Conforma™ Adhesive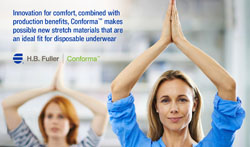 Conforma™ adhesive is a unique, stretchable adhesive that can be used in place of elastomerics to create a stretch feature in disposable absorbent products. It opens up new opportunities for manufacturers to design the next generation of more underwear-like, all-over stretchable incontinence products. The adhesive can be applied in-line and when combined with an extensible nonwoven it creates a conformable fabric which has high extensibility, is soft, and stretches and retracts with ease. Stretching your possibilities to create products that will adapt comfortably to a world of individual shapes and sizes.
Sustainable Health Enterprise's Go! Pads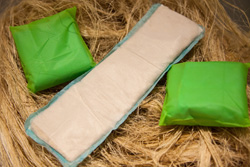 The go! pad uses patented technology developed by Sustainable Health Enterprises (SHE) to make an absorbent core from banana tree agricultural waste. go! pads maintain superior absorption without using any chemicals and super-absorbent polymers. SHE employs hundreds of local women through local sourcing of banana fibers and pad production while delivering an affordable product to girls, primarily in East Africa, who normally wouldn't be able to afford pads causing significant costs to their education, health, productivity, and dignity. This breakthrough process will be used to develop a range of essential health products that address overlooked and taboo health issues.