Sponsorship Information
Show Directory Print Ad Specifications
Deadline for Materials: December 15, 2018
Colors/Ink Specs: 4-Color Process (CMYK)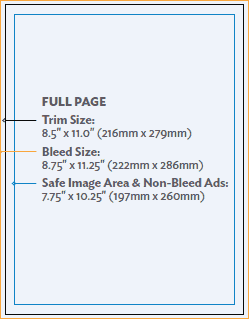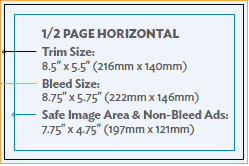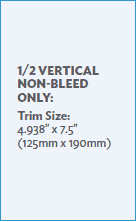 Note: For bleed ads, all type and important content must be contained within the Safe Image Area.
All Bleed Ads must include crop marks placed outside of the bleed area.

Required Digital Ad File Formats:
Acceptable file formats include:
Hi-Resolution PDF. PDF/X-1a file format preferred. If PDF/X-1a setting is not available, select Press Quality PDF.

When preparing files for PDF conversion, all images must be CMYK and at least 300dpi @ 100% of size.


High-Resolution .EPS, .TIFF or .JPG files. All images must be CMYK and at least 300dpi @ 100% of size.

Line art or monochrome images must be at least 1200dpi @ 100% of size.
File Formats NOT Accepted:
Native application files such as Word, PowerPoint, Excel, Publisher, Quark, InDesign, Illustrator, Photoshop, etc.
Proofs:
A PDF proof of the ad will be submitted by email to the advertiser for approval with a 24-hour reply deadline.
How to Send Your Files:
Files under 5 MB may be emailed to jtodd@inda.org
NOTE: "IDEA19 Ad File" must be included in the subject line.


Larger files may be transferred via FTP. For instructions, please send a request to jtodd@inda.org, with "IDEA19 Ad File" in the subject line.
Design Services:
Professional creative services are available at the advertiser's expense, billed at $150/hr. Estimates are provided based on rough layouts supplied by the advertiser, and all creative fees will be added to the advertiser invoice.
IMPORTANT! Before Submitting Your Files: Please check that the size is correct and all specifications noted above are met. Advertisers will be charged (at a rate of $150/hr.) for any work required as a result of files not meeting the required specifications. For any questions on specifications please contact Jenna Todd,
jtodd@inda.org, +1 919 459 3723.