Conference Schedule
Tuesday, September 12
Coffee & Networking
10:00 am - 10:30 am
Welcome
10:30 am - 10:35 am
Moderator: Dave Rousse, President, INDA
Manufacturing Technologies
10:35 am - 12:05 pm
Moderator: Dave Rousse, President, INDA
Leaving the Comfort Zone: Why We Must Rethink Our Way of Developing and Implementing New Products
Bernd Kunze, General Manager, Nonwovens Division, Reifenhäuser REICOFIL GmbH & Co. KG
Learn More »
Barriers to Adoption and the Technology Infrastructure for Smart Manufacturing
Michael Gallaher, Ph.D., Case Study Lead, Research Triangle Institute (RTI)
Learn More »
Lunch
(On Your Own)
12:05 pm - 2:00 pm
Coffee & Networking
1:30 pm - 2:00 pm
Moisture Management
2:00 pm - 3:00 pm
Moderator: Chris Creagan, Ph.D., Patent Strategist & Technology Scout, Kimberly-Clark Corporation
Drying Nonwoven Webs by Mechanical Vibration and Not Heat
Ayyoub Momen, Research Engineer, Oak Ridge National Laboratory (ORNL)
Learn More »
Novel Surface Modification Technologies for Moisture Management
Hardy Sullivan, VP Market Development, Crypton Inc.
Learn More »
Coffee & Networking
3:00 pm - 3:30 pm
3D Nonwoven Structures
3:30 pm - 4:30 pm
Moderator: Dave Nelson, Director, Industry Engagement , The Nonwovens Institute
High Recovery with "Neat" Polypropylene Spun-blown® Fibers
Douglas Brown, President, Biax-Fiberfilm Corporation
Learn More »
Recent Trends in Three-Dimensional Nonwovens
D. Keith Osteen, Principal, Smith, Johnson & Associates
Learn More »
Reception
5:00 pm - 6:30 pm
Wednesday, September 13
Coffee & Networking
8:30 am - 9:00 am
Inventing the Future
9:00 am - 10:15 am
Moderator: Davis Lee, Ph.D., Senior Marketing Scientist, Exponent
Realizing a Moore's Law for Fibers
Yoel Fink, Director, Material Sciences And Engineering, Massachusetts Institute Of Technology
Learn More »
Coffee & Networking / Poster Session
10:15 am - 10:45 am
Advanced Materials - Performance
10:45 am - 12:15 pm
Moderator: Stephen Chester, Technical Service and Development Manager, Fitesa
Sustainable Innovation with PLA Fibers - Hygiene & Beyond
Aman Kulshrestha, Principal Scientist, NatureWorks LLC
Learn More »
Sustainable Innovation with PLA Fibers - Hygiene & Beyond
Tim Vanyo, Principal Applications Engineer, NatureWorks LLC
Learn More »
Advanced Elastomerics Exhibiting Superior Stretch and Recovery Properties
Ping Hao, VP Technology, Uniquetex LLC
Learn More »
Solutions for Soft, Efficient Nonwovens Produced with Breakthrough PE Meltblown Fiber Resins
Viraj Shah, Platform Leader – PE 3DL Cushioning / ASPUN™ MB, The Dow Chemical Company
Learn More »
Lunch
(On Your Own)
12:15 pm - 2:00 pm
Coffee & Networking / Poster Session
1:30 pm - 2:00 pm
---
2017 RISE Innovation Award Presentations
2:00 pm -

The RISE® Innovation Award will recognize innovation in areas within and on the periphery of the nonwovens industry which utilizes advanced science and engineering principles to develop unique or intricate solutions to problems.  Areas for consideration may include: raw material advances, advances in process or manufacturing technologies including web forming and converting, new product or application development, or other areas that may extend or enhance the use of nonwovens.   Join the finalists as they present their innovations to RISE attendees. The winner will be announced Thursday afternoon. 
The 2017 RISE® Innovation Award finalists are:
PurPod100™ Compostable Pods | Club Coffee LP
Presented by: Solange Ackrill, VP Strategic Planning and Process Innovation, Club Coffee LP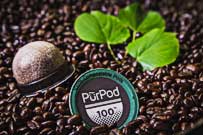 PurPod100™ (www.purpod100.com) is the world's first certified 100% compostable pod for the Keurig single serve coffee format. Proven to break down in large-scale composting, the pod's mesh filter is a polylactic acid-based product. It is the first successful thermoformable PLA nonwoven filter application and its filtering delivers consumer satisfaction for many coffee brands.
Madaline® Bicomponent Microfiber Fabric | Mogul
Presented by: Deniz Deveciler. Sales Technical Support & Product Development Executive, Mogul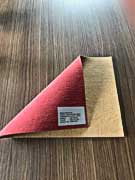 The new product, Madaline®, fills the gap in nonwoven technologies to be used in textiles applications.  Madaline is destined to be a trendsetter, which can be treated like a traditional textile. In addition to its similarity to woven fabrics, Madaline's advanced attributes make it uniquely applicable for use in processes such as finishing, dyeing, printing, cutting and stitching just like traditional textiles.  Madaline's microfilaments are up to 100 times thinner than a human hair and are the key to Madaline's unique properties.  Madaline® microfilament fabrics are long-lasting materials that help to reduce the impact of waste on our environment.  No binders, solvents or PVC are used in the manufacture of Madaline®.  Madaline is washable and has very good and complementary properties of thermal insulation, wind resistance and UV protection.  Madaline has inherent barrier against bacteria, (94.5% prevents penetration) and against dust mites.
Mogul's new microfilament product, Madaline, will use state of the art bi-component technology to produce a soft, smooth and scratch and lint free fabrıc.  The patented process will subject unique filament structures to high pressure water jets to simultaneously fibrillate and hydro-entangle and consolidate the microfilaments into the fabric. 
Madaline's dense structure will provide very good barrier and filtration properties.  And thanks to microfilaments it is very absorbent, but quick to dry, breathable (good moisture management) and washable. It also exhibits very good thermal insulation, wind resistance and UV protection.
Madaline's properties make it uniquely applicable for processes such as finishing, dyeing, printing, cutting and stitching just like any traditional textile.  Expanded capabilities for this fabric include filtration applications. 
Xantu.Layr® AP 4.5gsm | Revolution Fibres
Presented by: Dr. Gareth Beckerman, Technical Manager, Revolution Fibres

Revolution Fibres have developed Xantu.Layr®, the world's first commercially available nanofibre interleaving veil for use in carbon fibre reinforced composite materials. Produced using a proprietary production method (Sonic Electrospinning Technology), Xantu.Layr® is a non-woven web consisting of kilometre long thermoplastic nanofibers, each one being about 500x thinner than a human hair.
Composite materials, especially carbon fibre reinforced polymers (CFRP's), are increasingly becoming the materials of choice in weight-critical structural components due to their high specific strength and stiffness. Despite these attributes, composites generally suffer from poor impact resistance, poor fracture toughness and poor delamination strength, particularly when brittle thermosetting epoxy resins are used. Significant advancements have recently been made by using nanofibre interleaving veils to increase the impact strength, delamination resistance and fatigue life of composites, and Revolution Fibres has recently launched Xantu.Layr® AP 4.5gsm, which is their highest performance veil to date.  
 When placed in-between every layer of carbon fibre, Xantu.Layr® has been shown to improve the fracture toughness (delamination resistance), compression after impact strength (damage tolerance) and fatigue resistance of composite laminates.  The Xantu.Layr® nanofibre veils acts as nano-scale reinforcements of the brittle matrix resin, resulting in a tougher resin (even when used with already toughened resin systems) which is less prone to micro-cracking when stressed or impacted. Xantu.Layr® interleaved composites have shown improvements of 173% and 69% for Mode I and Mode II interlaminar fracture toughness (ILFT), respectively, improvements of 12% for interlaminar shear strength (ILSS), and improvements of up to 21% for compression after impact (CAI) strength, all with negligible composite weight and thickness increases. Xantu.Layr® has also been shown to be particularly effective in reducing the effects of fatigue (repetitive loadings), and improvements in fatigue life of up to 400% have been seen in some composites.
The ability to improve the inherent weaknesses of composite materials using Xantu.Layr® presents an opportunity for composite components to be used in applications that were previously not possible.  Xantu.Layr® is particularly suitable for improving the performance of composite structures that are prone to impact damage, delamination, and high flexure or fatigue loadings.
---
Coffee & Networking / Poster Session
2:30 pm - 3:00 pm
Wetlaid Nonwovens
3:00 pm - 4:45 pm
Moderator: Pierre Grondin, Corporate R&D, Berry Global Group, Inc.
Recent Trends in Wetlaying with Complex Fluids
Miika Nikinmaa, PhD Student, The Nonwovens Institute
Learn More »
Nonwovens and the Sustainability Imperative
Alexander Koukoulas, Technology & Innovation Strategist, A2K Consultants
Learn More »
Reduced Graphene Oxide Based Membrane that acts as Molecular Sieve for Desalination
Arsheen Allam, President, GOLeafe
Learn More »
Optional Tour of the Nonwovens Institute
5:30 pm - 7:00 pm
Thursday, September 14
Coffee & Networking
8:30 am - 9:00 am
Industry Hurdles - Technology & Money
9:00 am - 10:45 am
Moderator: Jeffrey Bassett, Managing Director, Fi-Tech Inc.
Economic Outlook: Are We Stuck With Slow Growth?
Michael Walden, Ph.D., Wm Neal Reynolds Distinguished Professor, North Carolina State University
Learn More »
Killing the Golden Goose? The Decline of Science in Corporate R&D
Sharon Belenzon, Ph.D., Professor, Duke University
Learn More »
Coffee & Networking
10:45 am - 11:15 am
Advanced Biomaterials
11:15 am - 12:15 pm
Moderator: Vinit Singh, Ph.D., Product Development Engineer, Jacob Holm
Enzymatic Polymerization: Designed PolySaccharides & Applications in Engineered Fabrics
Natnael Behabtu, BioMaterial Application Development Manager, DuPont
Learn More »
QMILK - The Most Innovative Combination in the Nonwoven Market
Anke Domaske, Founder & CEO, Qmilch Deutschland GmbH
Learn More »
Lunch
(On Your Own)
12:15 pm - 2:00 pm
Coffee & Networking
1:30 pm - 2:00 pm
Advanced Machinery
2:00 pm - 3:00 pm
Moderator: Russ Johnson, Head of New Business Development & Strategic Marketing, Freudenberg Performance Materials LP
The Evolution of Lightweight Materials - And How to Run Them
Christopher Nelson, Sales Engineer, Curt G. Joa, Inc.
Learn More »
One Process Many Solutions: Bonding of Lightweight Nonwovens
Steve Bellavia, Business Unit Director - Nonwovens, Herrmann Ultrasonics, Inc.
Learn More »
One Process Many Solutions: Bonding of Lightweight Nonwovens
Markus Pasternak, Regional Sales Director, Nonwovens, Herrmann Ultraschalltechnik GmbH & Co. KG
Learn More »
Coffee & Networking
3:00 pm - 3:30 pm
Industry Update
3:30 pm - 4:30 pm
Moderator: Morris Collins, Member Relations Director, INDA
Government Affairs Update
Jessica Franken, Director of Government Affairs, INDA, Association of the Nonwovens Fabrics Industry
Learn More »
Market Dynamics and Trends That Are Driving Innovation in Nonwovens
Brad Kalil, Director of Market Intelligence and Economic Insights, INDA
Learn More »
2017 RISE Innovation Award Announcement
4:30 pm - 4:45 pm