2nd Annual HYGIENIX Event is Industry Hit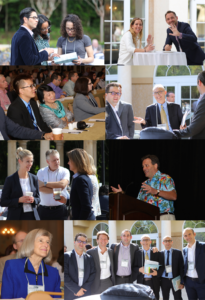 Drawing Over 525 Participants from Absorbent Hygiene and Personal Care Markets
November 2, 2016 – Cary, NC – The absorbent hygiene and personal care markets gave strong and enthusiastic support to INDA's 2nd annual HYGIENIX™ Conference. The event drew over 525 leading professionals from around the globe and across the supply chain to Orlando, Fla. to advance their business with the newest and latest developments in this important, growing and largest of the nonwovens segments.
The HYGIENIX conference Oct 24-27 at the Loews Portofino Bay Hotel featured some of the world's most notable thought leaders and innovators from organizations that are revolutionizing the absorbent hygiene and personal care industry. They spoke on Consumer Needs, Market Statistics and Trends, Material and Technology Advancements, Haptics for a Competitive Advantage, and Disposable Product End of Life Options. The Keynote presentation from Bruce Lavash, Research Fellow, The Procter & Gamble Company, focusing on consumer research insights and adventures, was well received.
"HYGIENIX 2016 exceeded my expectations with presentations that provided a diverse range of high quality marketing, consumer insights, and technical topics. Usually, I take away one or two findings, but this year I took away many more critical findings due to the high international presence, valuable program content, and representation from a diverse set of attending companies," said John F. Poccia III, Associate R&D Director, Johnson & Johnson Consumer Inc.
One key finding came from Brad Kalil, Director of Market Research & Statistics, INDA. Kalil advised that "capacity growth has rebounded in North America after the Great Recession significantly impacted new capacity in 2012 through 2014 (only 110,000 tonnes), with a net capacity of 77,000 tonnes added in 2015 (2.7 percent annual growth), and forecasts at least 148,000 tonnes will be added in 2016, (4.9 percent annual growth)."
Bill Pedersen, Global Business Unit Director Disposable Products, Tietex International, Ltd. said, "Attending the Hygienix Conference allowed for three days of learning and out of the box thinking. Plus, the numerous informal discussions and meetings with suppliers, customers, and prospects provided a cost effective way to do business in the absorbent hygiene and personal care markets,"
An event highlight included the presentation of INDA's prestigious Hygienix Innovation Award™ to Sustainable Health Enterprises, (SHE) for "Go! Pads", a banana fiber-based, low-cost feminine pad that sustainably delivers affordable and much needed hygiene for women and girls in Rwanda. "This year's winner demonstrates the best-of-the-best for creatively expanding the use of nonwovens into a new application providing quality-of-life benefits for a group that greatly needs it. This combination of indigenous fibers and ingenuity is a great example of innovation in nonwovens making lives better," said Dave Rousse, INDA's President.
The other finalists for the award were: Kimberly-Clark Corporation's Kleenex® Exfoliating Cushions for facial cleansing; and H.B. Fuller's Conforma™ Adhesive for disposable underwear.
HYGIENIX also highlighted 54 tabletop displays representing the latest in products and processes from industry leaders and entrepreneurs. The displays were held in conjunction with two evening receptions attended by hundreds of professionals looking for new partnerships and collaborators.
"The conference format was both educational and informative, plus it provided time and the right environment for us to network and develop precisely those contacts we were seeking," said Peter Littley, Business Development Director, Norkol Inc.
"As a second year attendee to HYGIENIX, my expectations were countless and rewarded. I made valuable connections with entrepreneurs and exchanged technical knowledge which will inspire new ideas for the future. HYGIENIX 2015 was excellent and 2016 was even better!!" remarked  Jenny Day, Corporate Research & Engineering, Kimberly-Clark Corporation.
The next HYGIENIX Conference will be held November 6-9, 2017 at the Renaissance Austin Hotel in Austin, Texas USA. For more information, visit inda.org.
About INDA
INDA, the Association of the Nonwoven Fabrics Industry, serves hundreds of member companies in the nonwovens/engineered fabrics industry in global commerce. Since 1968, INDA events have helped members connect, learn, innovate, and develop their businesses. INDA educational courses, market data, test methods, consultancy, and issue advocacy help members succeed by providing them the information they need to better plan and execute their business strategies. For more information, visit inda.org or call +1 919 459 3700.
###