C.Y. Cheng
Lifetime Technical Achievement Award
2005
Consultant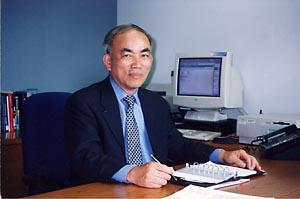 C. Y. Cheng was born in Taiwan and studied Chemical Engineering at Taipei Institute of Technology.  He continued his advanced engineering education at the University of Mississippi where he received a M.S. in Chemical Engineering in 1969.  He started his career in polymers with the Farrel Company as a polymer processing research engineer involved in the extrusion, injection molding and process simulation.   After four years at the Farrel R&D Dept. in Ansonia, CT, he elected to pursue advanced polymer studies at Stevens Institute of Technology, receiving a Ph.D. in Polymer Engineering . He continued his work in polymer processing technology at Sterling Extruder Corp. (now part of Davis-Standard) in South Plainfield, NJ.  While working to improve the extrusion productivity and quality, he developed the Sterlex Barrier Screw, which pioneered the use of a barrier flight in a single screw design to maximizing the melting rate, while significantly improving melt quality.  In addition to film extrusion, sheet extrusion, and compounding system design, he was involved in the extrusion system design for various fiber extrusion processes.
In 1980, he joined the Film Division of then Exxon Chemical Company.  Through his efforts, Exxon's blown film and cast film lines were upgraded. In addition he contributed substantially to the business through improved productivity, quality and development of new film converting processes.  During a two-year overseas assignment in Hong Kong, he provided technical training and support to polyolefin processors in the Far East that were very well received.  In 1986, he returned to the U.S. and began a long, successful assignment in ExxonMobil's  Polypropylene Product Technology group. Located at the company's Baytown, TX development center, he led the Company's effort in developing innovative polyolefin's for all textile applications and while supporting the nonwoven business worldwide.
C. Y. has been recognized for developing and commercializing metallocene-based polypropylene resin.  This new generation of polyolefin is especially suited for fiber and nonwoven applications because of its inherently narrow molecular weight distribution, improved  spinnability, lower volatile emissions, and higher fabric strength.   He also developed peroxide-coated granular polypropylene resin in the early 1990's.  The latter development makes it possible to produce ultra-low molecular weight polypropylene without additional pelletizing and viscosity-breaking.  This enables the nonwovens industry to produce higher quality, ultra-fine fiber nonwoven fabrics in melt blown process with much higher process efficiency and reduced cost.  Ultra-fine fine fiber nonwovens are used for air and liquid filtrations as well as barrier fabrics for medical and industrial applications.  The ongoing development and improvement of the polymers has contributed to the growth of the polyolefin non woven industry worldwide, and ExxonMobil Chemical is the industry leader among the polymer suppliers.  The spunbond and melt blown resins that Dr. Cheng developed have become the industry standards.
He has worked very closely with fiber and nonwoven processing system suppliers worldwide to optimize the processing and recommend new equipment development.  He has provided technical support to fiber and nonwoven producers and is recognized as the leading expert in polypropylene non-woven product and process technology.  He also led the ExxonMobil sponsored research efforts at the Textiles and Nonwovens Development Center (TANDEC) at the University of Tennessee.  A frequent speaker at extrusion and nonwoven technical conferences, he has lectured at universities and industry training seminars.
To recognize his contributions to the plastics industry, he was named a Fellow of the Society of Plastics Engineers (SPE) in 2000.  SPE is the leading worldwide technical society for the plastics converters industry. Only a very few, select members are awarded this status.  For his contributions to the
Nonwoven Industry, he was chosen to receive the Lifetime Technical Achievemant Award for 2005 by INDA.  He has also been awarded numerous awards by other technical associations, ExxonMobil Chemical, and it's affiliates.  Dr. Cheng has published over 60 papers and book chapters in polymer processing, screw design, new polymer development and nonwoven products and processing.  He holds many patents, mainly in nonwoven related resin innovations.
He retired from ExxonMobil Chemical Company in 2004, but continues to serve the industry by participation in INDA activities and consulting for ExxonMobil's various business groups.  C.Y. and his wife, Chi-chiu ("Tomoko") still reside in Houston, but enjoy travel to both Coasts visiting with their
three sons, their wives, and grandchildren.  Among his hobbies are  golf, travel, and enjoying classical music.  Since 1982, C.Y.'s "second job" has been playing violin in the local symphony orchestra.
Publications by C. Y. Cheng (through 1999)
"High Speed Mixing and Extrusion", Society of Plastics Engineers (SPE) Annual Technical Conference, 1976
"Effect of Screw Design on Melt Temperature Uniformity", SPE Annual Technical Conference, 1977
"Studies on Blown Film Cooling", SPE Annual Technical Conference, 1978
"Barriers Add Effectiveness to Screw Design" Plastics Engineering, Nov. 1978
"Study of The Flow Field in Piston-Cylinder Arrangements" SPE 36th Annu. Tech. Conf.,April 24-27, 1978
"Behaviors of Polymeric Particulate Solids under Pressure", SPE Annual Technical Conference, 1979
"Extrusion Reclamation of Polymer Scrap", Fiber Producer Conf., July 15, 1980
"Optimization of Extrusion Systems", SPE Nat'l Tech. Conf., Nov. 1980
"Die and Screw Design for Melt Blown Process", Melt Blown Technology Conference, 1980
"High Speed Mixing and Extrusion of Thermoplastic Materials", Fiber Prod. , V. 8, n. 2, p 12-18, April 1980
"Advances in HDPE Tubular Film Extrusion", 38th Annual Technical Conference, May 5-8, 1980
"Screw and Die Designs for HDPE Blown Film", Polym.-Plast. Technol. Eng., 17(1),
"Screw and Die Designs for HDPE Tubular Film Extrusion", 6thAnnual Pacific Technical Conf. August 1981
Extruder-screw Design for Compounding", Plastic Compounding, March 1981
The Effects of Pigments on the Physical Properties of Melt Blown Nonwovens" INDA/TEC, May 1987
Polypropylene for Nonwoven Applications" International Nonwoven Conference, Shanghai, 1988
"Process-Structure-Property Relationships in Melt Blowing of Different Melt Flow Rate PP Resins", ACS National Meeting, Toronto, June, 1988
"Thermoform Polypropylene on Conventional Equipment", Plastics Engineering, 44(4), 55-7, 1988
"The effect of MW and MWD on Extrusion and Thermoforming Properties of Polypropylene", SPE Annual Technical Conference, 1989
"Energy Requirement for Melt Blowing", INDA-TEC, 1989
"The Melt Blowing Process", Fiber Producer Conference, June, 1989
"Polypropylene for Nonwoven, Fiber and Cigarette Tow Applications", Beijing International Fiber Conference, May 1990
"Rheological Behavior of Polypropylene Melt", Polypropylene Technology Conference, Clemson Univ., March 1990
"Extrusion Characteristics of Polypropylene Resins", SPE Annual Technical Conference, 1990
"Processing Polyolefins on Single-Screw Extruders", Plastics Engineering, 47(6) 31-4, 1991
"Effects of MWD on Single Screw Extrusion", Annu. Tech. Conf. – Soc. Plast. Eng., 49th, 74-8, 1991
"Effects of Resin Particulate Size on Single Screw Extrusion International Modern Plastics, 1991
"Extrusion Stability of Polyolefin Resins", Annu. Tech. Conf. – Soc. Plast. Eng., 50th (2), 2165-8, 1992
"Technology and Application of Nonwovens" Union Chemical Laboratory Advisor Conference, Jan. 1993
"Polypropylene Extrusion System for Nonwoven Processes", TAPPI Nonwovens Conference, Feb, 1994
"The Effects of Recycling on Polypropylene Properties", International Nonwovens Journal, Vol. 6, No. 3, June 1994
"Polypropylene Extrusion System for Nonwoven Processes", TAPPI Journal, Dec. 1994.
"Plastomer and polypropylene blends for fiber and nonwoven applications", Annu. Tech. Conf. – Soc. Plast. Eng., 53rd(vol. 2), 2386-92, 1995
"Polypropylene Extrusion System for Nonwoven Processes", Textile and Nonwoven Development Center (TANDEC) Conference, Nov. 1995
"Effects of Polypropylene Crystallinity on Extrusion", ", Annu. Tech. Conf. – Soc. Plast. Eng.,53rd(Vol. 1), 98-106, 1995.
"Polypropylene crystallinity on extrusion", Polymers, Laminations and Coatings Conference, Book1, conference proceedings, 71-83. 1995
"Effects of Polypropylene Crystallinity on Extrusion", ", Engineering Plastics, Vol. 9, 1996
"Extrusion of Exxpol metallocene polypropylene", Annu. Tech. Conf. – Soc. Plast. Eng. 54th(Vol. 2), 2019-2026, 1996
"Plastomer and Polypropylene Blends for Fiber and Nonwoven Applications", SPE Annual Technical Conference, May 1995
"Impact of Metallocene-Based Propylene Polymers on Nonwovens", Insight '95, Oct. 1995 (San Antonio, TX)
"Metallocene-Based Propylene Polymers for Nonwoven Applications", Index '96 Congress, Feb. 1996 (Geneva)
"Application of Metallocene-based Propylene Polymers in Nonwoven", Association of Nonwoven Fabrics Industry Technical Conference (INDA-TEC), Sept. 1996
"Processing Characteristics of Metallocene Propylene Homopolymers" SPE Annual Technical Conference, 55th (vol. 2), 1942-1949, 1997
"Extrusion, Film Casting and Fiber Spinning Characteristics of Metallocene Polypropylene" Association of Nonwoven Fabrics Industry Technical Conference (INDA-TEC), Sept. 1997 (Boston, MA)
"Processing Characteristics of Metallocene Polypropylene" 7th Textile and Nonwoven Development Center (TANDEC) Conference, Nov. 1997 (Knoxville, Tenn.)
"Polypropylene for Nonwoven and Fiber Applications", Shanghai International Nonwovens Conference, Nov. 1997, Shanghai, China
"New Development of Polypropylene Resins for Textile Applications" The 3rd China International Nonwoven, Textile & Machinery Exhibition and Conference, Sept. 1998 (Beijing, China)
"Marketing and Technology Trend of Polyolefins" Advancements in Petroleum and Petrochemicals Technical Symposium, Aug. 1998 (Houston, Texas)
"Advances in Metallocene Propylene Polymers for Spunbond Applications" 1981Nonwovens World, Summer, P76-82, 1998
"New development of Polypropylene Resin for Textile Applications". The 3rd China Int Nonwoven, Textile and Machinery Conference, Sept. 1998
"Processing characteristics of metallocene propylene homopolymers, J. Plast. Film Sheeting, 15(1), 82-93, 1999
"Effects of Resin Properties on Processing and Properties of Polypropylene Nonwovens", INDEX 99 Congress, Geneva, April 29, 1999
"Resin properties on processing and properties of PP nonwovens", Chem. Fibers Int., 49(5), 384-387, 1999
"Influence of Polypropylene Melt Rheology on Extrusion Behaviors", AIChE Annual Meeting, Nov. 12-17, 2000
Contributed a Chapter entitled "The Extrusion Characteristics of Metallocene-based Polyolefins" in a book entitled "Metallocene Polyolefin", published in 1999, John Wiley