James P. Hanson
Lifetime Service Award
2014
Marketing Technology Service, Inc.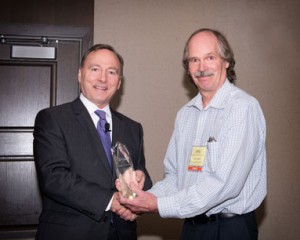 Mr. Hanson is the Principal and Director of Marketing Technology Service, Inc. a modest size company he started in 1978. MTS is located in Kalamazoo and provides services to the absorbent products, nonwovens and paper industries.
These include:
Finished product and materials certification
Testing services
Instruments for designing and testing absorbent products
Finished product and materials designs
Management, strategic, I.P. and technical consulting
Composite fabric production using the airlaid process
International conferences on nonwovens and technology
Historical product archive search services
In past years, MTS produced Nonwovens World magazine and the Nonwovens World Directory as well as many multi-client reports on design and performance of absorbent disposables. In the mid-1980s, Mr. Hanson produced some of the earliest studies of product needs, market potentials and product performance for the consumer and institutional incontinence markets; these studies were widely used by major consumer product producer companies to design and improve their own adult disposables. He also designed and licensed some of the earliest adult disposable pads using superabsorbent material, and still designs new products and materials for the disposables industry.
Prior to starting Marketing Technology Service, Mr. Hanson was the technical editor of Pulp and Paper magazine, published by Miller Freeman Publications in San Francisco, where he served from 1975-78. He has a B.S. in both chemistry and paper science and a minor in mathematics from Western Michigan University.