Mike Morman
Lifetime Technical Achievement Award
2004
Morman Consulting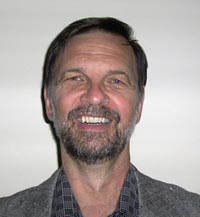 Michael Morman, retired principal research fellow, receives Lifetime Achievement Award
By Cheryl Hastings, Contributing Writer
The K-C inventor who put stretchiness at the sides of babies' bottoms worldwide has been honored with a Lifetime Achievement Award from the Association of the Nonwoven Fabrics Industry, or INDA.
Michael Morman's innovations have reshaped K-C's product offerings. He created the basis for K-C's Child Care business with PULL-UPS® Disposable Training Pants side panels and Neck Bonded Laminates for stretch ears on HUGGIES® Disposable Diapers. Most recently, he created the Necked Nonwovens process, the basis for extensible nonwovens used in HUGGIES Supreme® and Convertibles® Disposable Diapers.
Morman accepted the prestigious award on October 20, 2004, in Toronto at INDA's annual Nonwovens Technical Conference. One of the most important technical honors in the industry, the Lifetime Achievement Award recognizes contributions that have enhanced nonwovens.
Morman, a recently retired K-C principal research fellow, has had more than 60 U.S. patents granted, and an additional 30 U.S. patent applications are currently being processed.
"Over the past 28 years, Michael has been a major creative force behind many of Global Nonwovens' new-to-the-world technologies," says Mark Kupelian, research manager, Global Nonwovens Product & Technology Development group in Roswell. "K-C and each of its employees have benefited from his many technical and commercial successes. His prodigious creative skills and intellectual property understanding combined to make him one of K-C's most prolific inventors ever."
Innovative spirit
Reflecting on the way he discovered his many innovations, Morman tells stories of collaborating with co-workers about manufacturing processes, and how they might achieve a desired outcome if they manipulated filaments and tools in various ways.
"Once a problem is well-defined, I'm 70 percent there," Morman says. "I ask questions until I understand a problem. Then, I just kind of let my mind relax, and the ideas pop in. It's kind of like looking for something you can't find – if you work, work, work trying to find it, it's elusive. It's when you relax and go about your business that you discover what you're looking for."
Among his many accomplishments, Morman:
Invented and developed the spunbond slot-draw process that has been commercialized by K-C at multiple manufacturing locations. Unlike previous processes, slot-draw maintains the uniformity of filaments throughout the manufacturing process, creating a more uniform fabric, increasing yield and saving money. K-C began using the process in 1984 and still uses it today. The process also has been licensed to Reifenhauser and serves as the basis of that company's Reicofil process.
Invented and developed the elastomeric melt blown process and material that led to the development of K-C's PULL-UPS Disposable Training Pants. Morman says the process, by which the stretchy sides of the PULL-UPS product are made, was born when he and his co-workers "were just playing around with equipment and materials – it was not an assigned thing. Groups within K-C had been trying to develop an elastomeric diaper product, so it was highly desired and quickly commercialized by K-C."
Invented and developed cross-directional extendable spunbond and spunbond/film laminate materials which were commercialized in K-C's HUGGIES Supreme® Diapers and HUGGIES Convertibles® Diaper/Pant in 2002-2003.
Invented and developed two-way extendable/elastic nonwoven laminate materials, which may be commercialized in the future.
Morman encourages younger researchers at K-C to focus on innovations that align with the company's core businesses.
"Keep it simple," Morman says. "Only in rare circumstances do companies want totally new business areas. They are more interested in line extensions that can be leveraged into new revenue. If a researcher creates something that's not used, you've wasted K-C's resources and your time."
Morman's career and retirement
Morman spent his first eight years with K-C in Neenah, then transferred to Roswell for the balance of his career. He says the INDA Lifetime Achievement honor is an exciting way to end 28 years of challenge, fun and satisfaction.
"For me, the best part about my inventions is the way they've touched people's lives," Morman says. "To walk into K-C mills and see people making things from my ideas and to know they're taking home money for their families; or to see parents pull our diapers or training pants off the shelves, is just a feeling I can't describe. It's validation that I've done some neat things in my life."
Before joining K-C, Morman worked with the renowned Dr. Denton A. Cooley at the Texas Heart Institute in Houston, and also served as a captain in the U.S. Army.
Morman, 59, retired from K-C in August 2004. He and his wife, Judy, now live in Knoxville, Tennessee, on the peaceful banks of the Tennessee River. He plans to serve as an adjunct professor and researcher at the University of Tennessee, and will also provide private consulting services to the industry.
"Everyone I ever worked with at K-C owns a part of this award. From the product developers, who turned my material concepts and small samples into real products, to the sales team, who got the products into the consumers' hands, everyone should be honored along with me. As in any endeavor, teamwork isn't important – it's everything," Morman says.