Absorbent Hygiene Professionals Advanced Their Business at Hygienix™
The Sequel Spiral™ Tampon by Sequel won the 2023 Hygienix Innovation Award™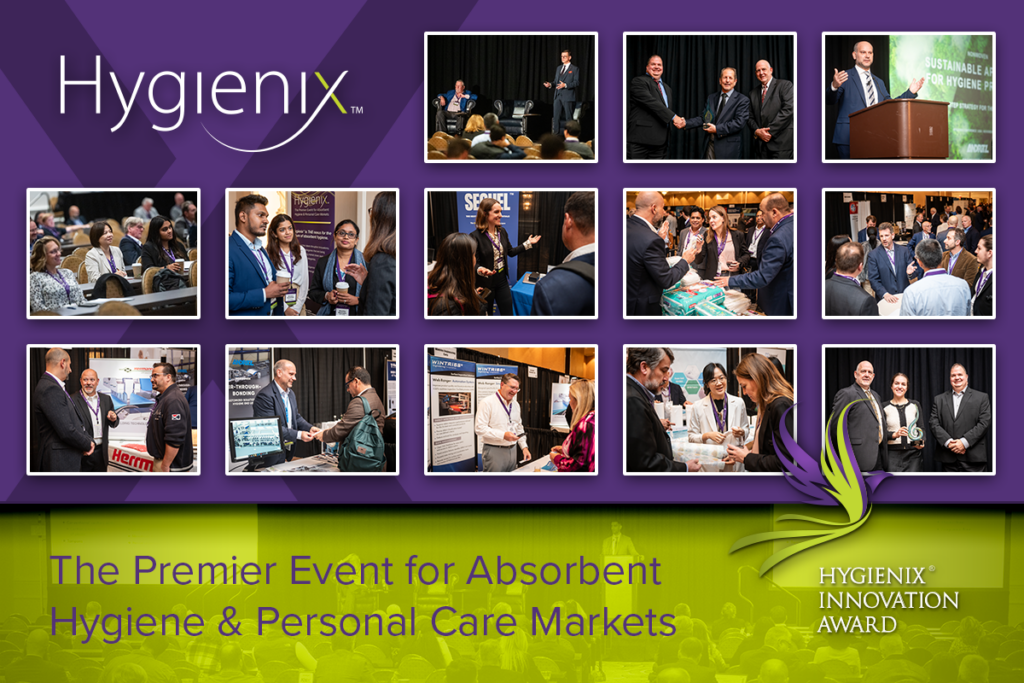 Cary, NC, November 17, 2023 – INDA, the Association of the Nonwoven Fabrics Industry, connected absorbent hygiene and personal care professionals throughout the supply chain at the ninth edition of Hygienix™, the event for absorbent hygiene & personal care markets, held in New Orleans, Louisiana, Nov. 13-16.
Senior-level leaders enjoyed presentations in these key topics affecting the future of absorbent hygiene:
AHP Trends, Innovation & Market Statistics
Redefining Absorbent Hygiene: Navigating Consumer Voice, Sustainable Innovations and the Circular Economy
The Proof Is in the Pudding – Demonstrating What's Possible in AHP
Sustainability Inside & Out – Inputs & Packaging
Words Matter! Shaping Consumer and Industry Thoughts
Neither Fish nor Fowl: Designing Hybrid AHP Products
There Be Dragons: Tales of Innovation
The winner of the Hygienix Innovation Award™ was the Sequel Spiral™ Tampon by Sequel. The Sequel Spiral™ Tampon features a proprietary spiral design that is engineered to be more fluid mechanically efficient, meaning it is designed to absorb more evenly and not leak before it's full. In August 2023, the Sequel Spiral™ Tampon received clearance from the United States Food and Drug Administration (FDA) as a medical device and the company will now begin a series of consumer trials, with broad availability expected in Q1 of 2024.
New this year to Hygienix was Lightning Talks and pre-conference webinars. Lightning Talks are short presentations covering new trends, products and ideas in absorbent hygiene. The pre-conference webinar topics featured the new Quality Audit Program from INDA and EDANA, an in-depth look at the period care product category, and North American trends and insights in baby diapers.
Back by popular demand was a hands-on workshop providing attendees with information on the various absorption systems used in disposable hygiene products. This workshop focused on the components and interaction of the absorption system in common commercial hygiene products. The workshop was led by Jim Robinson, Principal, Absorbent Hygiene Insights, LLC.
Jim Robinson received the honor of being named the 2023 INDA Lifetime Technical Achievement Award winner for his decades of technical advancements that have grown the nonwovens industry. Robinson has 33 years in the absorbent hygiene industry, including 28 years as a Technical Service Manager at BASF. Robinson has extensive knowledge of SAP applications, absorbent core formation, and hygiene article design, performance and testing.
Hygienix 2024 will be held Nov. 18-21, in Nashville, Tennessee at The Renaissance Nashville Hotel. Stay tuned for more information on this must-attend event.
About INDA
INDA, the Association of the Nonwoven Fabrics Industry, serves hundreds of member companies in the nonwovens/engineered fabrics industry by helping to achieve business growth. Since 1968, INDA helps members convene and connect, innovate and develop their businesses. INDA's educational courses, business intelligence and market insights, test methods, consultancy and issue advocacy help members succeed by providing information they need to better plan and execute their business strategies. INDA Media is the business-to-business publishing arm of INDA and publisher of International Fiber Journal and International Filtration News, which reach a vast network of professionals who employ fibers, filaments, and filtration systems to optimize their application environments. For more information, visit www.inda.org, or download the INDA mobile app for immediate updates.
###