Excitement Mounts as INDA's World of Wipes® (WOW) 2019 Nears
Preservatives, Sustainability, Industrial Wipes Headline Conference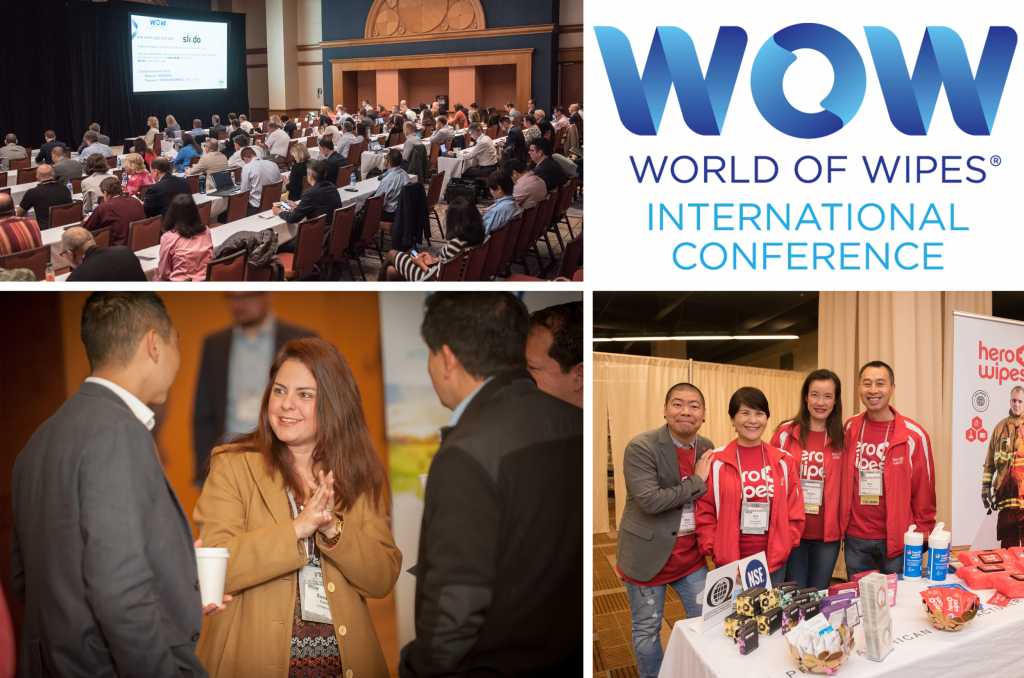 Cary, NC, May 14, 2019 – With the 13th annual World of Wipes® (WOW) International Conference June 24-27 fast approaching, excitement is mounting for the event that will bring together hundreds of industry professionals from around the world to convene, connect, and collaborate at the Westin Peachtree Plaza in Atlanta, Ga.
The early registration deadline of May 20 is nearing. To register and receive the discounted rate, visit the WOW 2019 website.
As the multi-billion-dollar wipes sector continues to enjoy growth, industry leaders will summit to address critical issues and new advances driven by increased demand for healthier, safer, and greener wipes.
The dynamic line-up of more than 25 presenters will tackle such topics as sustainable and transparent formulations for home and personal care products; safety versus efficacy in preservative developments; consumer trade and trends; medical and industrial wipes; material developments; and sustainability challenges of disposing plastics.
More than 400 industry professionals from 20-plus countries are expected to attend the three-day event that brings together the entire wipes supply chain. WOW 2019 will open with a welcome reception on June 24 at The Commerce Club. The conference June 25-27 will also include evening receptions, tabletop presentations, daily breakfasts, and networking breaks.
World of Wipes Innovation Award®
The World of Wipes Innovation Award® winner will be announced on June 27. The annual award recognizes the product that most expands the use of nonwovens and demonstrates creativity, novelty, uniqueness, and technical sophistication within the entire nonwovens wipes value chain. Last year's recipient was Diamond Wipes International's Hero Wipes, an innovative new wipe that removes toxic, cancer-causing carcinogens from firefighters' skin. Finalists this year are Kelheim Fibres GmbH's Danufil® QR Fibres, Bawdy's Butt Sheet Masks, and Earthly's Not Yet Wet Wipes.
WOW Conference Highlights
Keynote Address: Lisa Morden, Vice President Safety and Sustainability, Kimberly-Clark Corporation, will speak about creating more responsible wiping products with an eye toward a sustainable future. She will discuss the emerging challenges companies face from NGOs, regulatory agencies and activist consumers and ways to reduce post-consumer waste.
INDA Thought Leaders: INDA President Dave Rousse will talk about the current state of flushability and nonwovens' next challenge of plastics in the environment. Director of Government Affairs Jessica Franken will address the trade war with China as part of her presentation on global nonwovens trade and tariffs while Director of Market Research & Statistics Brad Kalil will share findings on the future direction of the North American wipes market.
Preservations: The impact of restrictions and pressure from NGOs on traditional preservative chemistries in wet wipes will be discussed by Dolores Shaw, Senior Microbiologist, DuPont Microbial Control; Doug Cole, Vice President of Global Product Development, Rockline Industries; Andress Johnson, Technical Manager, Personal Care & Household, Thor Specialties, and other speakers.
Sustainability: Experts exploring the topics of sustainability, ingredient transparency and packaging include Nicole Acevedo, Ph.D., Founder & CEO, Elavo Mundi Solutions; Jim Flannery, CEO, SummitVentures; Jonathan Layer, Business Development Manager – Americas, Fibertex Nonwovens; Jennifer Lewis, Packaging & Sustainability Manager, Rockline Industries; Rebecca Mick, Technical Sustainability Lead / Research Scientist, Bemis Company; and Henning Roettger, Director of Innovation, Glatfelter Gernsbach GmbH.
Industrial and Medical Wipes: Paul Harmon, EVP Commercial HH&S, Berry Global will outline key trends driving innovation in consumer services, healthcare, industrial manufacturing, and building services. He also will identify and explore innovations in chemistry, wiping fabrics, packaging/delivery, and cleaning mechanisms including robots and information technology (IT).
Consumer Trends: Learning how to successfully sell wipes in the e-commerce marketplace will be the topic of a trending talk on "How to Navigate the Amazon Jungle" by Richard Palmer, President and Co-founder of Nehemiah Manufacturing.
The WIPES Academy
Preceding the conference, Rob Johnson, PE, Principal, Smith, Johnson & Associates will teach The WIPES Academy, June 24-25. The Academy is the first and only comprehensive wipes training for the entire wipes supply chain. A separate registration fee applies and pre-registration is required.
About INDA
INDA, the Association of the Nonwoven Fabrics Industry, serves hundreds of member companies in the nonwovens/engineered fabrics industry in global commerce. Since 1968, INDA events have helped members connect, learn, innovate, and develop their businesses. INDA educational courses, market data, test methods, consultancy, and issue advocacy help members succeed by providing them the information they need to better plan and execute their business strategies. For more information, visit inda.org or call 919-459-3700.