Filtration® 2016 International Conference & Exposition to Explore "Pure Need"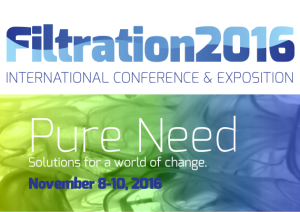 Online Registration Opens on Website for Nov. 8-10 Event in Philadelphia
Cary, NC, April 11, 2016 – Evolving markets, changing health requirements, and breakthroughs in water filtration are all fueling "Pure Need" in the filtration industry, and these opportunities will be explored at INDA's Filtration 2016 International Conference & Exposition.
The event Nov. 8-10 at the Pennsylvania Convention Center in Philadelphia is expected to draw more than 1,500 attendees and 140-plus exhibitors for industry-leading presentations, filtration educational training, face-to-face engagement, and exhibitions of the latest products and applications. Online registration is now open at the Filtration 2016 website at www.inda.org/events/filt16/index.html.
"New demands are creating dynamic change in air and liquid filtration, and Filtration 2016 will provide attendees with valuable solutions," said Dave Rousse, INDA's president. "The latest industry innovations and product breakthroughs in our industry will be showcased at Filtration 2016."
INDA continues its acclaimed Nonwoven Filter Media training course at Filtration 2016 on Nov. 8-9. This one and a half-day training course will cover the principles of filtration and market and technology trends, providing participants with an overall understanding of nonwovens used in air and liquid filtration. Last year's training in Chicago drew the largest-ever attendee count and INDA expects ongoing strong interest.
Filtration represents a continued growth segment in nonwovens. The filter media industry is forecast to reach $19.1 billion in 2018 end use sales in North America which is a robust 4.4 percent annual growth rate from 2008.
Information on exhibiting and attending is available on the website. Photos of attendees and prior attendees from last year's event are posted. Hotel reservation information will be added to the site in August. For updates on the speakers and other event details, visit www.inda.org/events/filt16/index.html.
About INDA
INDA, the Association of the Nonwoven Fabrics Industry, serves hundreds of member companies in the nonwovens/engineered fabrics industry in global commerce. Since 1968, INDA events have helped members connect, learn, innovate, and develop their businesses. INDA educational courses, market data, test methods, consultancy, and issue advocacy help members succeed by providing them the information they need to better plan and execute their business strategies. For more information, visit inda.org or call 919-459-3700.
###