FiltXPO™ 2023 Brought the World of Filtration Together for New Technologies and Innovations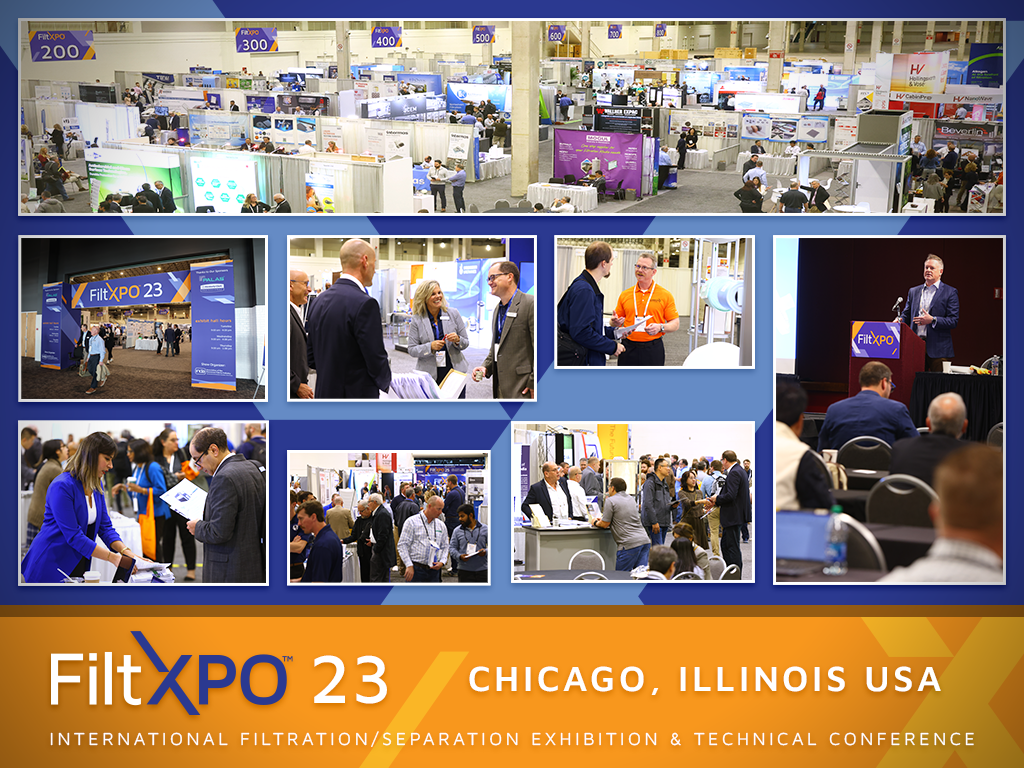 Cary, NC, October 18, 2023 – INDA, the Association of the Nonwoven Fabrics Industry, announced that C-suite leaders and product developers convened October 10-12, Chicago, IL for the third edition of FiltXPO™. FiltXPO is an exhibition and technical conference dedicated exclusively to filtration and separation products and processes. Leading-edge exhibitors displayed their products and services to technology scouts and business developers.
The technical conference highlighted key topics affecting the filtration industry today and for the future and was co-organized by the Waterloo Filtration Institute. The conference featured sessions on filter media technologies, advancements and opportunities in filtration machinery and equipment, innovations in clean air for homes and urban areas, standards and testing, industry trends and new developments, and filtration challenges and opportunities.
The two-day Filter Media Course, conducted by Behnam Pourdeyhimi, Ph.D., Professor and Executive Director, The Nonwovens Institute; Hechmi Hamouda, Ph.D., Professor Textile Engineering, NC State University (ret.); and Hooman Tafreshi, Ph.D., Associate Professor Mechanical and Aerospace Engineering, NC State University, allowed participants to develop an overall understanding of nonwovens and their applications in air, liquid, and aerosol filtration, technologies, unmet needs, and trends for future development.
The next edition of FiltXPO and the Filter Media Course will be co-located with IDEA®, taking place April 29-May 1, 2025, Miami Beach, FL. More information will be available January 2024 on www.filtxpo.com.
About INDA
INDA, the Association of the Nonwoven Fabrics Industry, serves hundreds of member companies in the nonwovens/engineered fabrics industry in global commerce. Since 1968, INDA events have helped members connect, learn, innovate, and develop their businesses. INDA educational courses, market data, test methods, consultancy, and issue advocacy help members succeed by providing them the information they need to better plan and execute their business strategies. For more information, visit www.inda.org, or download the INDA mobile app for immediate updates.
About Waterloo Filtration Institute
The Waterloo Filtration Institute (WFI) is a global non-profit organization dedicated to propelling the filtration and separation industry towards a cleaner, healthier, and more sustainable future. Through our comprehensive education programs and robust industry support, we equip individuals with the knowledge, creativity, and skills to drive innovation and excellence. We offer a broad spectrum of resources, from cutting-edge research on filtration technologies to professional certification and networking opportunities worldwide. For more information, visit www.wfinstitute.com.
About The Nonwovens Institute
Based at the Centennial Campus of North Carolina State University, The Nonwovens Institute (NWI) is a consortium of stakeholders spanning the breadth of the nonwovens value chain. Operating on an "Open Innovation" platform and covering the full Technology Readiness Level (TRL) range, NWI engages industry, government and academia to enable next-generation nonwoven solutions to mission-critical challenges. https://thenonwovensinstitute.com/