FiltXPO™ Speakers to Explore Emerging Filtration and Separation Solutions for Biopharmaceuticals at Technical Conference This Month in Chicago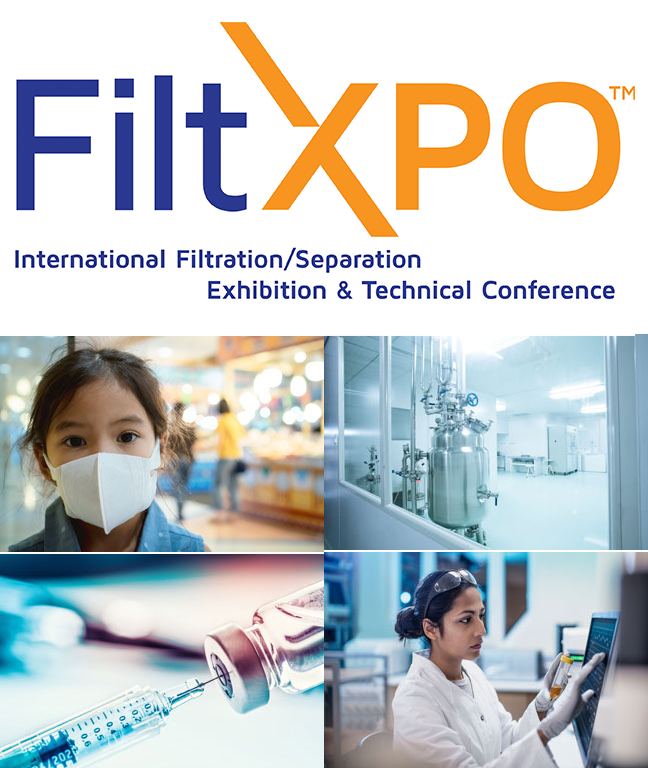 Cary, NC, Feb. 6, 2020 – Innovative filtration and separation solutions driving the future evolution of biopharmaceutical manufacturing will be presented by expert speakers at the upcoming FiltXPO™ International Filtration/Separation Exhibition & Technical Conference, Feb. 26-28, at Navy Pier in Chicago.
To seize the growing opportunities in biopharmaceuticals, attend FiltXPO to hear from five thought leaders who will reveal the latest research on technologies, materials, and processes in this key segment. For registration and program information, click here.
With FiltXPO just weeks away, excitement is building for the highly-focused technical program and dynamic exhibition. In addition to biopharmaceuticals, the conference will provide in-depth coverage of air and gas filtration, filter media modeling, membrane technologies, nanofiber, separating and manufacturing, and water filtration by 35 industry-leading speakers.
Chairing the biopharmaceutical session is Ruben Carbonell, Ph.D., Chief Technology Officer – NIIMBL and Professor of Chemical and Biomolecular Engineering, North Carolina State University. Dr. Carbonell also will speak on High Productivity Nonwoven Membrane Adsorbers for Biological Product Capture.
Leading the exciting lineup is a keynote presentation on Next Generation Technologies to Support Advanced Biomanufacturingby Michael Phillips, Ph.D., Technical Director of Next Generation BioProcessing R&D at MilliporeSigma.
In his talk, Dr. Phillips will share work being done by BioPhorum, a collaboration of industry leaders in the global biopharmaceutical industry, on a new vision and strategy for supporting more connected and continuous processing of new biotherapeutics that reduces costs, increases speed, and eliminates bottlenecks.
Also providing a preview of where the sector is heading will be Francis Porbeni, Ph.D., Product/Application Development Specialist at 3M who will speak on Materials Development for Next Generation Biopharmaceutical Process Filtration.
Dr. Porbeni will share how novel high-performance purification devices are helping meet the complex needs of biopharmaceutical manufacturers by removing significant levels of host cell protein and DNA from the bioprocess stream while also providing high throughput titer and process intensification.
Other compelling talks include Innovative Filtration Technologies to Address Evolving Challenges in Biopharmaceutical Manufacturingby Mandar Dixit, Director of Marketing, Filtration Technologies, Sartorius Stedim Biotech; and Progress and Future Potential in Monolithic Chromatographic Resins in Bioseparations by Ales Strancar, CEO, BIA Separations D.O.O.
FiltXPO will also deliver excellent education and networking value with its exhibition featuring 200 innovators and the Filter Media Training Course led by Chris Plotz, INDA's Director of Education & Technical Affairs, on Feb. 25-26.
About FILTXPO™
FiltXPO is the only North American exhibition and technical conference dedicated exclusively to filtration and separation. The three-day event features sessions focused on the hottest topics in air and gas filtration, biopharmaceutical, filter media modeling, membrane technologies, nanofiber, separating and manufacturing, and water filtration. For updates and registration information, visit FiltXPO.com.
###