Hygienix 2017 to Focus on Innovation in Hygiene and Personal Care for Consumers of All Ages from Infants to Seniors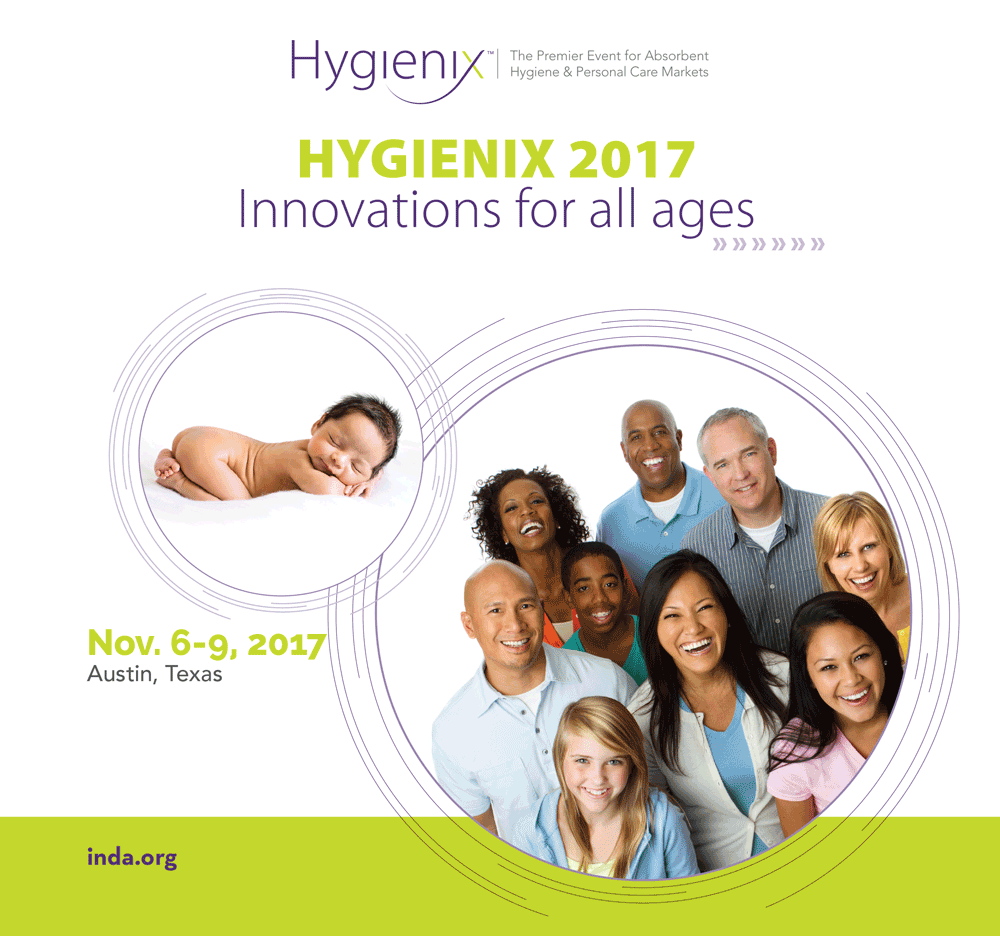 Disrupters and Game Changers Among Featured Conference Sessions
Cary, NC – Sept. 27, 2017 – Hygienix 2017, the premier event for the absorbent hygiene & personal care markets, will focus its educational conference, tabletop exhibitions, and training on innovative products that can help improve the lives of consumers of all ages from infants to senior citizens.
The third edition of Hygienix will feature sessions and tabletop displays on new markets, technologies, and materials for these important nonwovens and engineered materials markets. The event, Nov. 6-9 at the Renaissance Arboretum in Austin, Texas is expected to draw more than 500 participants. Early conference registration rates are available until Oct. 2.
With a line-up of expert industry speakers from leading global companies, must-attend sessions include smart and sustainable diapers, game-changing adult incontinence (AI) products, advances in feminine hygiene, new standards and labeling language, AI training for nurses, industry threats and opportunities, skin health, and odor control testing and mitigation. For the full program, see http://www.inda.org/events/hygienix17.
Keynote speakers will focus on brand disruption and include Don Frey, Chief Innovation Officer of The Honest Company, who will talk about buying habits of Millennial Moms who seek safe, socially responsible, and sustainable products by relying on friends, bloggers, websites, and social media as information resources. Also speaking on the panel are Diana Sheehan, Director, Kantar Retail on The Evolving Role of Private Label in a Branded Retail World; and Jennifer Carvajal Diaz, Ph.D., Principal Analyst, IHS Markit on diaper raw material trends.
The event also will feature the presentation of the prestigious Hygienix Innovation Award™ that recognizes innovation in consumer or institutional hygiene end-products that expand the use of nonwoven fabrics, and the INDA Lifetime Service and Lifetime Technical Achievement Award.
Speaker Highlights by Day
Nov. 6 – A specialized deep dive workshop on Absorbent Hygiene Products moderated by Carlos Richer, CEO/Director, Richer Investment S.A. de C.V will include the inside story on industry developments in baby diaper and adult incontinence products from around the globe.
Nov. 7 – Hygienix attendees will hear from experts on consumer and institutional Incontinence. Among those speaking are Sion Agami, Research Fellow (Feminine Care), Procter & Gamble Co. on creating a winning holistic product experience in feminine Adult Incontinence; and Steven Gregg, Executive Director, National Association for Continence on AI standards.
Nov. 8 – A panel on Feminine Hygiene Disruptors: Business Models, Products and Materials will feature Rachel Braun Scherl, Co-Founder & Principal, SPARK Solutions for Growth; Shama Amalean, Chief Operating Officer, THINX; and Alyssa Dweck, MS, MD, FACOG, Obstetrics & Gynecology, CareMount Medical.
Other relevant conference topics at Hygienix are Performance & Economics of Thinner Diapers; Cutting Edge Approaches to Odor Control; Material Science Developments in AHP; and Game Changers in Machine & Technology Development; and Retail & Demographic Groundswells.
To take advantage of early registration discounts, sign up before Oct. 2 at http://www.inda.org/events/hygienix17/register.html.
About INDA
INDA, the Association of the Nonwoven Fabrics Industry, serves hundreds of member companies in the nonwovens/engineered fabrics industry in global commerce. Since 1968, INDA events have helped members connect, learn, innovate and develop their businesses. INDA educational courses, market data, test methods, consultancy and issue advocacy help members succeed by providing them the information they need to better plan and execute their business strategies. For more information, visit www.inda.org, or download the INDA mobile app for immediate updates.
###