Hygienix Innovation Award™ Finalists are Game Changers for Hygiene Products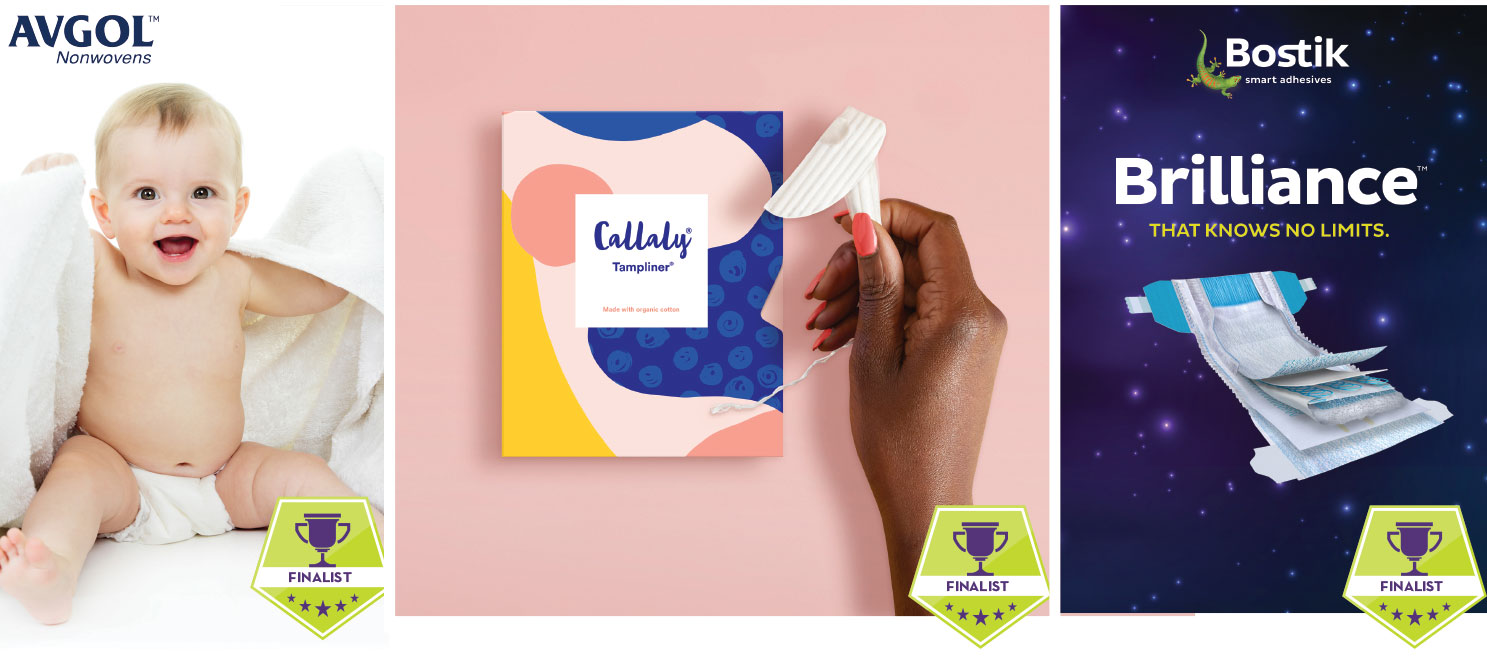 2018 Winner to be Awarded Nov. 8 in Orlando, Florida
Cary, NC., Sept. 25, 2018 – Disruptive technologies that use nonwovens and engineered materials to change the game for consumer hygiene and personal care products will be presented by three companies vying for INDA's Hygienix Innovation Award 2018.
Selected by INDA's Technical Advisory Board,  this year's finalists for the prestigious honor are: Avgol Nonwovens' beneFIT™ Control, a next-generation antimicrobial solution for diapers, adult incontinence and feminine care; Bostik's Brilliance™, the world's first high-performance polyolefin-based elastic attachment adhesive; and Calla Lily Personal Care's Tampliner™,  a three-in-one tampon innovation.
More than 500 senior-level professionals are expected to attend the fourth edition of Hygienix, the premier event for the absorbent hygiene & personal care markets, Nov. 5-8 at the Loews Portofino Bay Hotel in Orlando, Florida.
Representatives from Avgol, Bostik and Calla Lily will present their innovations at Hygienix on Nov. 6 and the attendees will then vote for the winner. INDA President Dave Rousse will present the Hygienix Innovation Award on Nov. 8 at 11:50 a.m., culminating the information-packed conference.
 Hygienix Innovation Award Finalists
The following products were chosen as the front-runners for the award from a pool of dozens of applications submitted. The major criteria for this award are creativity, novelty of approach, uniqueness and technical sophistication: 
beneFIT Control – Developed by Avgol, this next-generation antimicrobial solution for hygiene applications helps to reduce contamination and odor; improve comfort and wellness; and retain a bright white fabric appearance in diapers, adult incontinence and feminine care products.
Brilliance – Bostik's new elastic attachment adhesive provides various benefits for disposable hygiene products, including reduced odor, improved fit, reliable performance, softer substrates and customization flexibility.
Tampliner – This high-quality organic cotton tampon combined with a soft mini-liner and breathable virtual applicator is a new innovation from UK-based Calla Lily Personal Care Ltd. that was designed by a gynecologist.
Event Highlights
Hygienix also will feature the announcement of the INDA Lifetime Technical Achievement Award on Nov. 6 and the INDA Lifetime Service Award on Nov. 7. Last year's recipients were Bryan Haynes, Ph.D., Kimberly-Clark Corporation and Robert Averell of Auriga Polymers, Inc., respectively.
Hygienix will kick off on Nov. 6 with an optional three-hour Absorbent Hygiene Workshop led by former P&G Research Fellow Terry Young. This year's event will be highlighted by presentations from 23 industry experts, 19 hours of networking, tabletop displays, receptions, coffee breaks and a welcome reception at Jimmy Buffett's Margaritaville on the Universal CityWalk. For registration and additional information, visit:  http://www.inda.org/events/hygienix18/
About INDA
INDA, the Association of the Nonwoven Fabrics Industry, serves hundreds of member companies in the nonwovens/engineered fabrics industry in global commerce. Since 1968, INDA events have helped members connect, learn, innovate, and develop their businesses. INDA educational courses, market data, test methods, consultancy, and issue advocacy help members succeed by providing them the information they need to better plan and execute their business strategies. For more information, visit www.inda.org, or download the INDA mobile app for immediate updates.
###