Hygienix16 Promises Continued Industry Excitement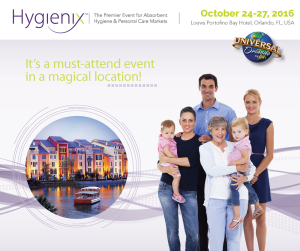 Registration for Conference Oct. 24-27 in Orlando, Florida Opens on INDA Website
Cary, NC – March 22, 2016 – Hygienix 2016 promises to continue the industry excitement from the inaugural event for the Absorbent Hygiene and Personal Care Markets with its second edition, Oct. 24-27, at Loews Portofino Bay Hotel in Orlando, Fla.  Registration for the conference and hotel reservations are now open at the website at www.inda.org/events/hygienix16/index.html.
"Building on the tremendous response we had to the debut of Hygienix with more than 600 industry professionals attending, INDA is anticipating this year's event to be just as vibrant and valuable," said Dave Rousse, INDA President.  "Hygienix is the must-attend conference for anyone in the absorbent hygiene and personal care industry, providing the latest market intelligence, product insights and important connections. And this year, it's in one of the world's most thrilling locations at Universal Orlando next to Orlando's Universal Studios."
Among the relevant topics that attendees will learn about from world-renowned industry experts are:
Product End-of-Life Options for Disposables
How Haptics Can Be a Competitive Advantage
Trends and Market Data
Materials and Technical Advancements
Step-out Softness
Moving Beyond Incontinence in Absorbent Products
Sensors and Diagnostics in Smart Materials
High Speed Printing Options for Nonwovens
Reservations also are available for tabletop displays on a first-come, first-served basis by contacting Joe Tessari, jtessari@inda.org, T: (919) 459-3729. Speakers and other event details will be updated on the website. Registration can be made by contacting Tracie Leatham, tleatham@inda.org, T: (919) 459-3726.
About INDA
INDA, the Association of the Nonwoven Fabrics Industry, serves hundreds of member companies in the nonwovens/engineered fabrics industry in global commerce. Since 1968, INDA events have helped members connect, learn, innovate, and develop their businesses. INDA educational courses, market data, test methods, consultancy, and issue advocacy help members succeed by providing them the information they need to better plan and execute their business strategies. For more information, visit inda.org or call 919-459-3700.
###