IDEA16 Website Launches with Exhibitor and Attendee Information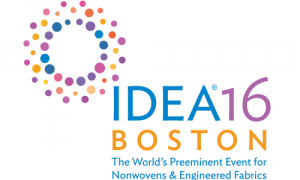 Online Booth Reservations Available for International Engineered Fabrics Conference & Exposition May 2-5, 2016 in Boston
Cary, NC – June 25, 2015 – INDA, the Association of the Nonwoven Fabrics Industry, today launched a new Website for IDEA16, the world's preeminent event for nonwovens and engineered fabrics, being held May 2-5, 2016 at the Boston Convention & Exhibition Center.
The new site contains valuable exhibitor and attendee information, including a live countdown to the highly anticipated event expected to attract more than 7,000 attendees and over 450 exhibitors from 70-plus countries, as well as online reservations for booths and registration, the latest show news, videos, and other useful planning resources.
Boston was selected by show organizer INDA for its accessibility, size, and exhibitor-friendly benefits when an alternative venue was needed for the triennial event due to major renovations scheduled for the Miami Beach Convention Center. INDA plans to return to Miami for future shows.
On the Website at www.idea16.com, visitors can find transportation, hotel, travel, and special event details; exhibitor benefits, booth packages, show attendee demographics, and meeting room rental agreements; sponsorship and advertisement opportunities; and downloadable event logos to share, among other information.
INDA reports high volume in early booth sales and a positive response to the location in the center of Boston, a walkable city known as the "City of Science," offering visitors many opportunities to network, learn, and conduct business with industry peers.
Past attendees praised the show for its size, breadth, and ability to bring the entire industry together in all sectors – from hygiene, medical, and filtration to automotive, geotextiles, building, construction, and home furnishings – to conduct business with current and prospective customers, and learn about the latest new offerings over three days. For the video, visit http://bit.ly/1Lv1bRb
"IDEA is the nonwovens industry's must-attend event for 2016 and we're excited to be bringing it to Boston." said INDA President Dave Rousse. "This Conference & Exposition will open your eyes to the latest developments in nonwovens and engineered fabrics from around the world, with top-notch speakers, hundreds of exhibitors, and thousands of industry peers looking to advance their business in nonwovens and engineered fabrics."
About INDA
INDA, the Association of the Nonwoven Fabrics Industry, serves hundreds of member companies in the nonwovens/engineered fabrics industry in global commerce. Since 1968, INDA events have helped members connect, learn, innovate, and develop their businesses. INDA educational courses, market data, test methods, consultancy, and issue advocacy help members succeed by providing them the information they need to better plan and execute their business strategies. For more information, visit www.inda.org, or download the INDA mobile app for immediate updates.
###