Inaugural HYGIENIX Event is Industry Hit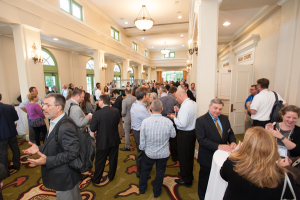 Drawing Over 600 Attendees from Absorbent Hygiene and Personal Care Markets   
Cary, NC – Nov. 3, 2015 – Combining two conferences into one value-packed event for Absorbent Hygiene and Personal Care Markets proved to be a winning strategy for INDA with its successful debut of HYGIENIX, which drew over 600 industry professionals to St. Petersburg, Fla to advance their business in these areas.
"HYGIENIX exceeded our expectations for this new combined event," said Dave Rousse, INDA President. "The positive response from the global hygiene and personal care markets validated our acquisition of INSIGHT to merge it with VISION. The event provided attendees with valuable market intelligence, product insights, and face-to-face interactions that will undoubtedly help them advance their businesses."
Among the highlights of HYGIENIX was the presentation of the Visionary Award® to Sienabena, LLC for BabyBackups™, a diaper extender made of superabsorbent materials that adheres to the existing diaper to contain baby diaper explosions. The other finalists for the award were: Always® Discreet Bladder Protection by Procter & Gamble and X-Top® Pouch for Men by McAirlaid's.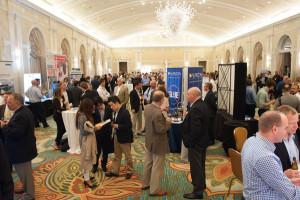 The HYGIENIX conference Oct. 26-29 at the Vinoy Renaissance Resort featured some of the world's most notable thought leaders from organizations that are revolutionizing the absorbent hygiene and personal care industry. They spoke on Trends and Market Statistics, Incontinence Reimagined, Achieving Thin, Fit & Form, and Material & Technology Advancements.
The presentations showed the importance of the segment, which is the largest of 12 in the nonwovens industry accounting for more than 25 percent of nonwoven fabric volume. A key takeaway was the effect of the "Boomer Echo." The U.S. is entering a four-to-five-year period of record high births as Millennials start having babies in their 30s versus prior generations having them in their early 20s. Also, aging Baby Boomers are becoming bigger consumers of incontinence products where innovation is now quite strong.
Some of the key issues addressed at the conference included destigmatizing incontinence, odor control, fluffless cores, adhesive application techniques, and   sustainability in the hygiene market.
Feedback from attendees to the presentations, networking opportunities, opening reception, and other aspects has been favorable, INDA reports. Svetlana Uduslivaia, Head of Tissue & Hygiene Industry, Euromonitor International, called HYGIENIX "one of the most informative and thought generating conferences I've ever been to."
"The receptions and table top displays were first class," said William Norman, Vice President & General Manager, North America, Clopay Plastic Products Company, Inc.
Axel Seitz, Manager of Business Development for Sandler AG, commented on "the highly professional organization of the first ever HYGIENIX. I was excited to see INDA's team handle the enormous number of delegates effortlessly." Others noted, "It was a delight to go to a nice, walkable town for such an event."
INDA said planning is now underway for the second edition of HYGIENIX October 24-26, 2016 at the Loews Portofino Bay Hotel, Orlando, Fla.
About INDA
INDA, the Association of the Nonwoven Fabrics Industry, serves hundreds of member companies in the nonwovens/engineered fabrics industry in global commerce. Since 1968, INDA events have helped members connect, learn, innovate and develop their businesses. INDA educational courses, market data, test methods, consultancy and issue advocacy help members succeed by providing them the information they need to better plan and execute their business strategies. For more information, visit www.inda.org, or download the INDA mobile app for immediate updates.
###