INDA Announces Finalists for RISE® Innovation Award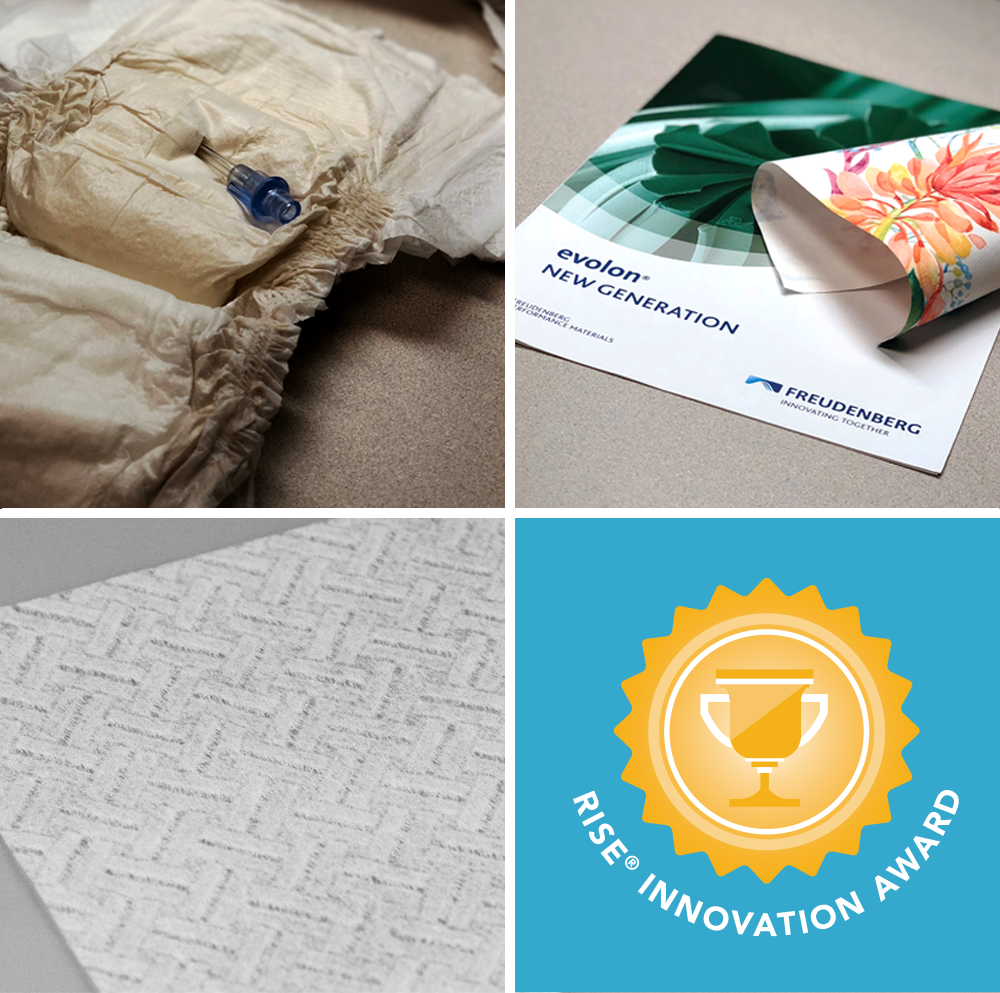 Creative and Unique Solutions in Research, Innovation & Science for Engineered Fabrics
Cary, NC – August 14, 2018 – Three finalists will present breakthrough innovative solutions as they compete for the prestigious RISE® Innovation Award during the eighth edition of the Research, Innovation & Science for Engineered Fabrics Conference, (RISE®) Sept. 11-13, 2018 at the Raleigh Marriott City Center, in Raleigh, North Carolina.  The award recognizes innovation within and on the periphery of the nonwovens industry that creatively uses advanced science and engineering principles to solve challenges within the nonwovens and engineered fabrics industry.
Meet the Finalists for the 2018 RISE® Innovation Award:
DiviDiaper
Developed by parents of an infant needing multiple surgeries, the Dividiaper contains an inside divider that separates liquid and solid contents within the diaper. The divider also contains a reinforced hole in the middle, where a catheter can easily be withdrawn. The product prevents and reduces urinary tract infections, catheter and associated infections, and pressure sores according to the company. – DiviDiaper Inc.
Evolon® New Generation – Bedding Application  
The Evolon® New Generation is a new line of high-tech textiles made from super-microfilaments for top-quality bed linen with premium appearance and performance. Manufacturers will appreciate easy process properties including nonfraying edges that eliminate the need to hem the product. The product can be dyed, printed, and sewn like any other textile.  Evolon® New Generation's key bedding applications include anti-mite encasements, duvet covers, pillowcases, down-proof linen, and fiber-filled products.  – Freudenberg Performance Materials
Suominen Intelligent Nonwovens™
Suominen Intelligent Nonwovens™ make it possible to embed digital features into Suominen nonwovens for product traceability and safety. It also provides brands with a new sophisticated marketing tool. Suominen Intelligent Nonwovens™ use high definition patterning that is machine-readable by any conventional smart phone and allow for any digital content to be activated.  – Suominen Corporation
Professionals in the nonwoven/engineered fabrics industry who are charged with finding new ideas to help grow their businesses will vote for the recipient of the 2018 RISE® Innovation Award, following afternoon presentations by each of the finalists on Tues. Sept. 11. The winner will be named Thurs. Sept. 13.
The three finalists were selected by industry technical experts and members of INDA's Technical Advisory Board. In 2017, the RISE® Innovation Award was presented to Club Coffee LP for PurPod100™ Compostable Pods, for their certified 100 percent compostable pod for single-serve coffee process.
The Conference program will cover these relevant industry topics: Bio-Innovation in Nonwovens, U.S. Economic Outlook in Nonwovens, E-Standards & Regulations, Lightweighting, Material Science Developments, Microfibers in the Marine Environment, Medical Nonwoven Developments, Battery Separator Technology Developments, Web Formation Technology, and Industry Trends. See the full program here.
"The RISE Conference embraces INDA's mission to stimulate and recognize innovation.  Forward-thinking technical professionals will find new approaches and concepts to resolve material science challenges. For Technology Scouts and New Product Innovators this will truly be an event not to be missed," says Dave Rousse, INDA's President. For registration details, see here.
About INDA
INDA, the Association of the Nonwoven Fabrics Industry, serves hundreds of member companies in the nonwovens/engineered fabrics industry in global commerce. Since 1968, INDA events have helped members connect, learn, innovate, and develop their businesses. INDA educational courses, market data, test methods, consultancy, and issue advocacy help members succeed by providing them the information they need to better plan and execute their business strategies. For more information, visit inda.org or call 919-459-3700.
###