INDA Announces Five New Members to Prestigious Board of Directors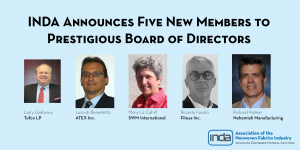 Cary, NC, March 15, 2018 — INDA, the Association of the Nonwoven Fabrics Industry, announces five newly elected members to its 2018 Board of Directors. These accomplished new Directors demonstrate extraordinary commitment and strong leadership to the nonwovens industry:
Mary Liz Cahill, Business Development Manager, SWM International
Luca di Benedetto, President, ATEX, Inc.
Ricardo Fasolo, Managing Vice President, Fitesa Inc.
Larry Grabowy, President & CEO, Tufco LP
Richard Palmer, President & Co-Founder, Nehemiah Manufacturing
INDA's strategic and governance affairs are managed through its Board of Directors. This governance is essential to the good stewardship of INDA Members' dues, INDA reserves, and business of the Association. INDA's Board of Directors serve as fiduciaries of INDA's finances and provide direction to its operating plans as well as counsel to the President. The Board guidance supports INDA's mission to conduct activities that enhance the success of the nonwovens industry and its members.
The Board is responsible for reviewing the strategic plan, policies, programs, dues and operating procedures affecting the association's 360 members. The 20-member board includes elected Board Officers and the immediate Past Board Chair. One-third of the entire Board is elected each year for a three-year term by a majority vote of INDA's general membership.
"This year's dynamic group of new Board Members bring a strong set of invaluable skills, experience, and insights to INDA. We value their leadership in helping us create a business environment conducive to the long-term success of INDA and the industry. We look forward to developing under their guidance even more services to meet the needs of our members and the industry," said Dave Rousse, INDA President.
INDA's Executive Committee is authorized to act when the Board of Directors is not in session and includes the following officers and appointees:
Todd L. Bassett,Chairman (Managing Director, Fi-Tech Inc.)
Paul A. Marold, Jr., Vice Chair of Planning (President, Lydall Performance Materials, Inc.)
Christopher Astley, Vice Chair of Finance (President-Advanced Airlaid Materials Business, Glatfelter)
Karen Castle,Past Chair (Director of Americas, Sales, Jacob Holm)
Walter G. Jones, Appointee (CEO, Precision Fabrics Group Inc.)
Nick Santoleri, Appointee (VP of Manufacturing & Strategic Sourcing, Rockline Industries)
C.K. Wong, Appointee (Chair, CEO, U.S. Pacific Nonwovens Industry Ltd.)
INDA's Board of Directors convenes semi-annually and reviews INDA performance quarterly. The Executive Committee meets more frequently as issues arise between meetings. "INDA's Board structure ensures leadership continuity and disciplined planning for advancing the interests of our members and industry," said Dave Rousse, INDA President.
About INDA
INDA, the Association of the Nonwoven Fabrics Industry, serves hundreds of member companies in the nonwovens/engineered fabrics industry in global commerce. Since 1968, INDA events have helped members connect, learn, innovate, and develop their businesses. INDA educational courses, market data, test methods, consultancy, and issue advocacy help members succeed by providing them the information they need to better plan and execute their business strategies. For more information, visit inda.org or call 919-459-3700.