INDA Announces Program for HYGIENIX: The Premier Event for the Absorbent Hygiene and Personal Care Markets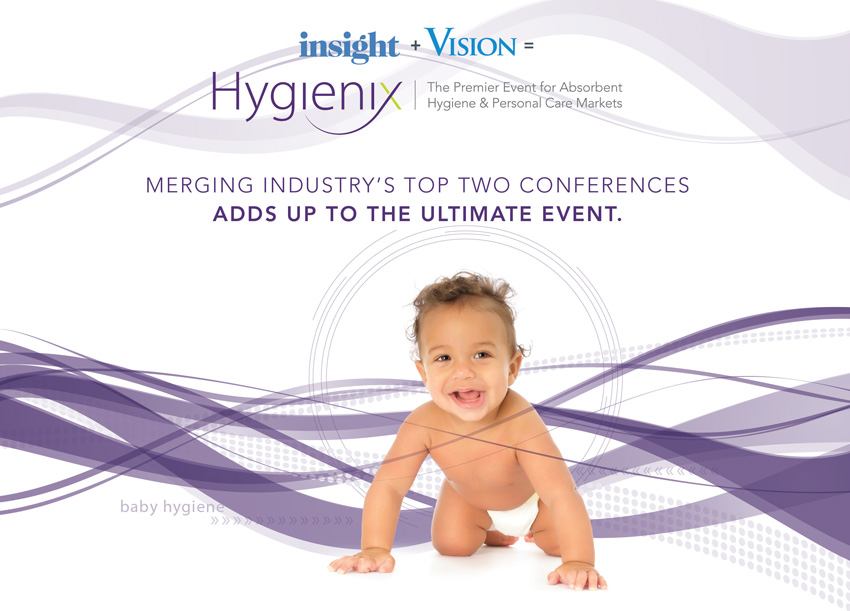 New Conference Resulting from Merger of INSIGHT + VISION Focuses on Key Nonwovens Markets
Cary, NC. May 27, 2015 – INDA, the Association of the Nonwoven Fabrics Industry, announced the initial program for the debut HYGIENIX: The Premier Event for the Absorbent Hygiene and Personal Care Markets, Oct. 26-29, at the Renaissance Vinoy Resort in St. Petersburg, Fla.
The new event is the result of the merger of INDA's VISION Consumer Products Conference with the long-standing INSIGHT International Conference to create a singular event designed to provide participants greater value for their investment.
HYGIENIX will feature a full agenda over three days with networking, informative educational sessions and product award presentations. Speaker presentations will focus on market trends and statistics, achieving product thinness in hygiene and personal care products, the refinement of incontinence markets, fit and form, material and technology advancements, and more.
Speakers include experts from Euromonitor International, Price Hanna Consultants, INDA, BASF Corporation, Drylock Technologies NV, RISI, Inc., Home Delivery Incontinence Service, Butterfly Health, Inc., National Association for Continence, Aurizon Ultrasonics, LLC, Creative Machine Designs, Inc., Tredegar Film Products,
H.B. Fuller, Bostik, Inc., Rem-Brands, Inc., Barnhardt Manufacturing Company and Schlegel and Partners.
"The creation of HYGIENIX from the merger of VISION and INSIGHT fulfills the need for a major focal point in North America for the important hygiene and personal care markets. If you are a producer, supplier, brand owner or consultant to this significant nonwovens sector, you will want to register soon for this essential event. The Renaissance Vinoy is a highly lauded conference venue and St. Petersburg in late October is a great place to gather," said Dave Rousse, INDA President.
Networking opportunities include a welcome reception on Oct. 26 at the Museum of Fine Arts; tabletop displays and receptions on Oct. 27-28; and Dining with Industry Thought Leaders at pre-selected restaurants with market influencers on Oct. 28.
INDA also will award the 2015 Visionary Award to the winning company for their innovative use of nonwovens fabrics innovations in hygiene/medical and personal care products, as well as present Hygienix Rewards selected from an exclusive drawing.
For more event information, to nominate a product for the Visionary Award, reserve a tabletop display or register for the event, visit inda.org/hygienix www.inda.org.
About INDA
INDA, the Association of the Nonwoven Fabrics Industry, serves hundreds of member companies in the nonwovens/engineered fabrics industry in global commerce. Since 1968, INDA events have helped members connect, learn, innovate, and develop their businesses. INDA educational courses, market data, test methods, consultancy, and issue advocacy help members succeed by providing them the information they need to better plan and execute their business strategies. For more information, visit www.inda.org, or download the INDA mobile app for immediate updates.
###