INDA Announces the 2021 RISE® Innovation Award Finalists
Innovations in Protection, Efficiency and Engineered Fabrics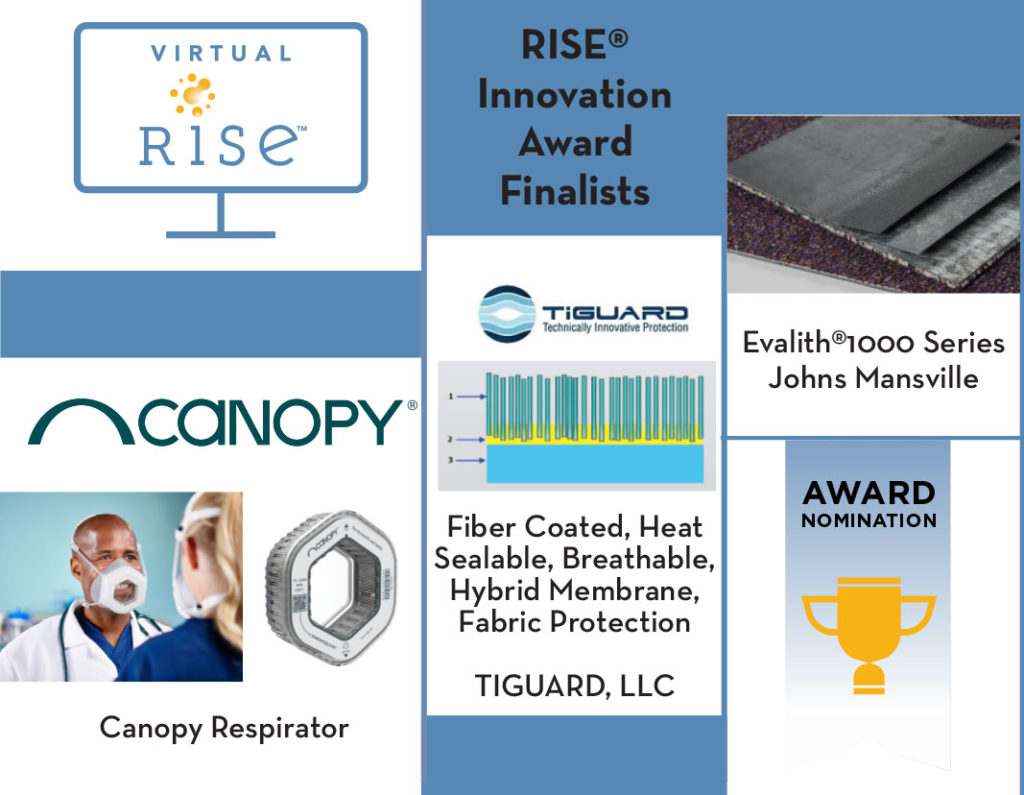 Cary, NC, Sept. 7, 2021 – INDA, the Association of the Nonwoven Fabrics Industry, announced the three finalists for the prestigious RISE® Innovation Award during the 11th edition of the Research, Innovation & Science for Engineered Fabrics Conference, (RISE®) to be held virtually September 28-30, 2021. The award recognizes novel innovations in the nonwovens industry that creatively use next-level science and engineering principles to solve material challenges and expand the usage of nonwovens and engineered fabrics. These three finalists will present their innovative material science solutions as they compete for the RISE® Innovation Award.

Meet your Finalists for the 2021 RISE® Innovation Award:
Canopy Respirator
Canopy is an innovative respirator that is fully mechanical, non-electrostatic, with a filter designed for superior breathability while offering the wearer facial transparency. The breakthrough respirator features 5.5mm water column resistance at 85 liters (3 cubic feet) per minute, 2-way filtration, and a pleated filter that contains over 500 square centimeters of surface area. The patented Canopy respirator resists fluids, and eliminates fogging of eyeglasses.
– Canopy
Evalith® 1000 Series
Johns Manville's innovative Alpha Binder is a formaldehyde-free, high bio-carbon content, toxic-free binder formulation ideal for carpet mat applications. Alpha Binder eliminates monomer and polymer synthesis, uses a bio-degradable catalyst, and requires 70% less water in manufacturing. The resulting glass mats made of Alpha Binder are named "Evalith 1000" and reduces energy consumption during manufacturing by over 70% compared to alternative petroleum-based binders. Evalith 1000 was commercialized in North America in 2020.
– Johns Manville
Fiber Coated, Heat Sealable, Breathable, Hybrid Membrane, Fabric Protection
TiGUARD protective fabric is a construction of monolithic or hybrid imperious/moisture eliminating membranes with a surface covered with micro-fiber. This nonwoven product is a multi-layer all polyester fabric specifically for chemical and microbial protective fabrics, products, and garments. It is constructed of compatible heat seal-able materials which lend themselves to high-speed heat seal-able production and ultimately automated manufacture of garments without sewing. It is a combination of a densely flocked polyester fiber surface on polyester membrane supported by polyester scrim.
– TiGuard, LLC
Virtual RISE™ conference attendees include technology scouts and product developers in the nonwoven/engineered fabrics industry seeking new developments to advance their businesses. These attendees will electronically vote for the recipient of the 2021 RISE® Innovation Award, on Wed. Sept. 29th. The winner will be announced Thurs., Sept. 30th.
Industry experts on INDA's Technical Advisory Board selected three finalists from among 20 nominations. The 22-member board of technical professionals is represented by companies such as Absorbent Hygiene Insights LLC, Attindas Hygiene Partners, Berry Global, Cotton Incorporated, Crown Abbey, LLC, The DAK Group, Fi-Tech, Inc. Freudenberg Performance Materials, Jacob Holm, Lenzing Fibers, Inc., Natureworks LLC, Nice-Pak Products, Inc., Nonwovens by Design, Norafin (Americas) Inc., North Carolina State University, Poccia Consulting, LLC, The Procter & Gamble Company, RKW North America, Inc., Rockline Industries, Smith, Johnson & Associates, Suominen, and Texas Tech University.

In 2020, the RISE® Innovation Award was presented to The Nonwovens Institute for their Spunbond High Efficiency Filter.
"Our Virtual RISE™ Conference promotes and rewards innovation across all nonwoven and engineered material sectors. These finalists demonstrate new technology approaches and concepts that resolve our increasing material science challenges. For technology scouts and product developers challenged to find 'what's next and what's new,' RISE is a must-attend event," said Dave Rousse, INDA's President.
The conference program will cover timely and relevant industry topics including: Material Science Developments for Sustainable Nonwovens; Increasing Circularity in Nonwovens; Market Intelligence & Economic Insights; Promising Innovations in Nonwovens; Process Innovations in Nonwovens; Material Innovations in Nonwovens; the full program can be viewed on the link: https://www.riseconf.net/conference.php
For registration details, visit https://www.riseconf.net/
###
About INDA
INDA, Association of the Nonwoven Fabrics Industry, serves hundreds of member companies in the nonwovens / engineered fabrics industry doing business globally. Since 1968, INDA networking events have helped members connect, innovate and develop their businesses. INDA educational courses, market data, test methods, consultancy and issue advocacy help members succeed by providing them the information they need to better plan and execute their business strategies. INDA Media is the business-to-business publishing arm of INDA and publisher of International Fiber Journal and International Filtration News, which reach a vast network of professionals who employ fibers, filaments, and filtration systems to optimize their application environments. For more information, visit www.inda.org
###