INDA Launches "On-Demand" Nonwoven Training and Key Issue Webinars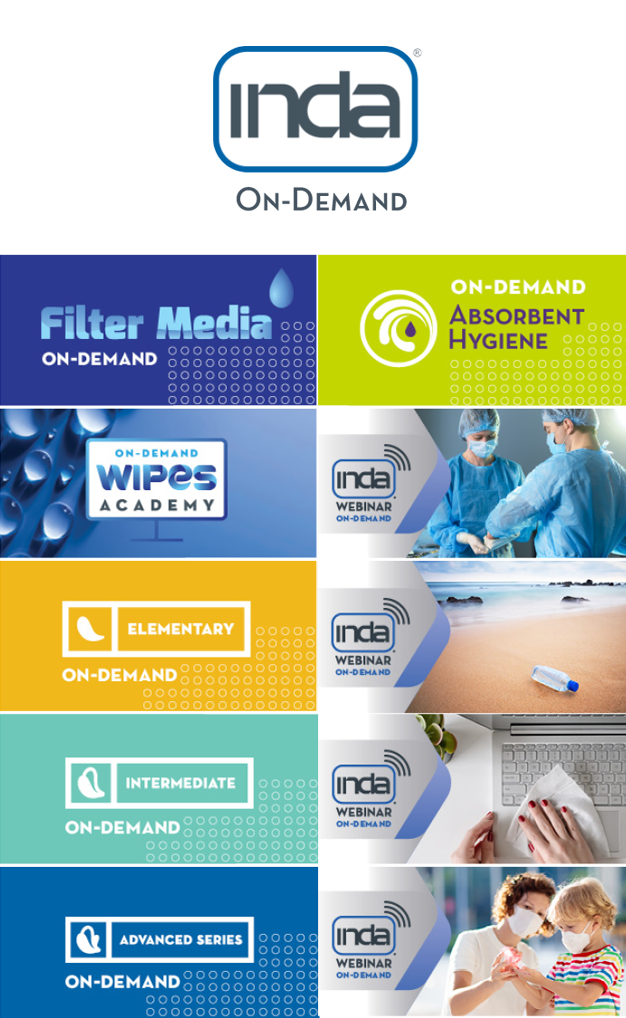 Professionals Gain Career Development Access Anytime. Anywhere.
Cary, NC, March 25, 2021 – INDA, the Association of the Nonwoven Fabrics Industry, provides a wide-range of On-Demand training courses and issue-awareness webinars for nonwoven and engineered fabric professionals, available anytime, anywhere in the world. Full details available are available here: https://www.pathlms.com/inda/courses
Led by renowned subject matter experts, INDA's On-Demand training programs are designed for all levels of professionals seeking to further their career and personal development.
"We are pleased to offer on-demand options for critical training and issue awareness content for all levels of professionals seeking to advance their career development. On-demand allows participants around the world the convenience of managing when, where, and for what duration they access this valuable content," said Dave Rousse, INDA President. "This new offering meets today's need for digital access to essential materials."
Organized in modules, the digitally recorded training courses deliver premium on-point curricula matched to the business needs of both nonwoven newcomers and professionals with five-plus years of nonwoven technical experience. The program also includes sector-focused training on wipes and nonwoven filtration media to address product development needs, material properties, testing, and applications. All On-Demand training courses provide a certificate of completion and offer unlimited viewing for 90-days from date of purchase.

INDA now offers industry professionals a full range of training options with this new On-Demand offering in addition to the highly interactive Virtual, and traditional In-Person program.
INDA's On-Demand program also offers recorded webinar presentations from subject matter experts providing critical insights on the key nonwoven issues of the day. Topics include plastics concerns in the nonwovens industry, the new ASTM performance standard for facemasks for the general public, and more to follow.
For a full schedule of 2021 training courses and webinars, visit www.inda.org/training
INDA's On-Demand Program Includes:
Elementary Nonwovens Training Course — designed for non-technical industry this five-hour course provides newcomers the basics of nonwovens in simple, clear, concise language.
Intermediate Nonwovens Training Course — designed for industry professionals with five-plus years nonwovens' experience or a technical background, this seven-hour course is a bridge between INDA's Elementary Nonwovens Training Course and the Advanced Courses.
WIPES Academy (Training Course) — designed to cover every major facet of the wipes sector, including design, materials, production, cost implications, and packaging.
Filter Media Training Course – designed for professionals wanting to learn more about the development, testing and application of nonwovens in filtration.
Webinars on Critical Issues in Nonwovens Include:
New ASTM Performance Standard for General Public Facemasks and the Design Opportunities for Engineered Materials: Details the two performance levels of the new facemask standard, the test methods, and the opportunities created for facemask designers and filter media makers to differentiate and create competitive advantage.

Plastics Concerns in the Nonwovens Industry: Details the state of play in the EU and in North America, where legislative initiatives related to plastics have been introduced in California, Canada and the US Congress and the threats these initiatives pose to the industry.
Coming April 6: Spunbond/Spunmelt/"Spunlace" Capacity/Demand Scenarios Prompted by the Pandemic: Details the developments in these sectors, with data from the 2020 North American Supply Report, and an analysis and insights on developments caused by the pandemic response for wipes, medical gowns, and facemask materials.
Webinars from 2020 are also available "on-demand."
On-Demand courses and webinars may be purchased here: https://www.pathlms.com/inda/courses
About INDA
INDA, the Association of the Nonwoven Fabrics Industry, serves hundreds of member companies in the nonwovens/engineered fabrics industry doing business globally. Since 1968, INDA events have helped members connect, learn, innovate, and develop their businesses. INDA educational courses, market data, test methods, consultancy, and issue advocacy help members succeed by providing them the information they need to better plan and execute their business strategies. INDA Media is the business-to-business publishing arm of INDA and publisher of International Fiber Journal and International Filtration News, which reach a vast network of professionals who employ fibers, filaments, and filtration systems to optimize their application environments. For more information, visit www.inda.org, or download the INDA mobile app for immediate updates.
###