INDA Launches Updated Nonwoven Material Sampler & Guide with 124 Materials to Feel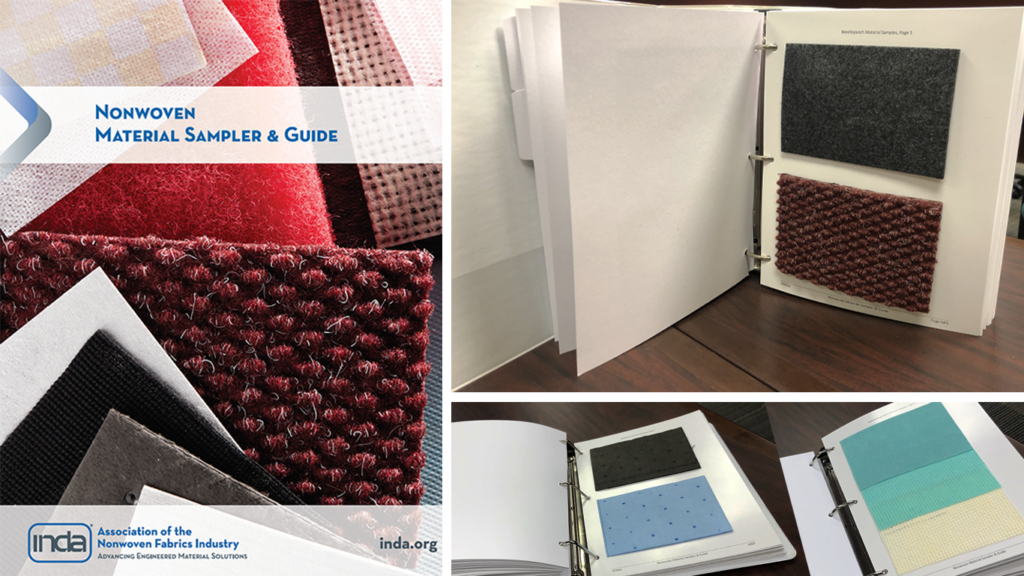 Tactile Educational and Technical Resource Helps Companies Make More Informed Decisions
Cary, NC, May 24, 2021 – Professionals in nonwovens and engineered materials will now have the latest nonwoven material options at their fingertips with the launch of INDA's Nonwoven Material Sampler & Guide, a unique educational and technical resource with 124 material samples to touch and compare.
Updated, in its sixth edition, this valuable educational tool presents the latest innovations, processes, and types of materials now available to professionals involved in developing, specifying, designing, purchasing, and processing nonwovens.
The guide can be purchased from INDA here.
The 178-page publication contains more than double the material swatches from the prior Sampler as well as educational content on the nonwoven processes and 38 illustrations.
"We are pleased to release the newest and more comprehensive edition of the Nonwoven Material Sampler & Guide that serves as a valuable visual and tactile tool for discussions and comparisons of nonwoven materials," said Dave Rousse, INDA President. "Using this educational resource will help project teams evaluate material solutions for their needs, make more informed decisions, and bring new products to market faster and more efficiently."
Guide Details
The insightful guide details nonwoven processes and definitions, typical end-uses, and processing steps and benefits, making it ideal for both industry newcomers and more experienced professionals in product development, engineering, design, sales, and marketing.
It also provides an overview of the markets, products, processes, web formation, bonding technologies, weights/grams per square meter, raw materials, and bonding methods in an easy-to-digest overview format.
Project teams using the Sampler & Guide can easily examine the different web formations, bonding techniques, fibers/resins used, and basis weights, to understand the differences between each of these unique materials. The samples included in the book are representative of the nonwoven industry processes in a wide range of weights/grams per square meter, from 4 gsm to 1700 gsm.
This critical tool covers the following five areas:
Nonwovens – Markets and products, process, web formation overview, and bonding methods overview
Staple Fiber – Drylaid (needlepunch, stitchbond, hydroentanglement, thermal bond, chemical bond) wetlaid, and airlaid short fiber
Resin – Spunlaid (spunbond, meltblown, spunmelt, and other spunlaid processes)
Other materials – nonwoven composites and industry supporting materials
Appendices – list of contributors, table of materials, nonwoven definitions, and end-use classifications
More than 40 leading manufacturers collaborated with INDA in providing samples. INDA is grateful to the following companies for their participation: 3M; Ahlstrom-Munksjö; Americo Manufacturing; ANCI, Inc.; Avgol Nonwovens; Berry Global; Cerex Advanced Fabrics; Devan; DuPont; Fiber Dynamics (Fitesa); Fibertex Nonwovens; Fi-Tech; Fitesa; Foss Performance Materials, a division of AstenJohnson Nonwovens; Freudenberg Performance Materials; Georgia-Pacific; Glatfelter; Graver Technologies; HDK Industries; Hollingsworth & Vose; ITW Pro Brands; Jacob Holm; Kappler; Kimberly-Clark; Low & Bonar, a Freudenberg Performance Materials Company; McAirlaid's; MeltBlown Technologies; Milliken Nonwovens; Norafin Americas; PFNonwovens; Propex Global; Sandler Nonwoven Corporation; Shalag Nonwovens; Shaw Nonwovens; Southern Felt Company, Lydall Industrial Filtration, a division of Lydall; Suominen; SWM International; Technical Fibre Products; TENOWO; Tietex International; and U.S. Cotton.
About INDA
INDA, the Association of the Nonwoven Fabrics Industry, serves hundreds of member companies in the nonwovens/engineered fabrics industry doing business globally. Since 1968, INDA events have helped members connect, learn, innovate, and develop their businesses. INDA educational courses, market data, test methods, consultancy, and issue advocacy help members succeed by providing them the information they need to better plan and execute their business strategies. INDA Media is the business-to-business publishing arm of INDA and publisher of International Fiber Journal and International Filtration News, which reach a vast network of professionals who employ fibers, filaments, and filtration systems to optimize their application environments. For more information, visit www.inda.org, or download the INDA mobile app for immediate updates.
###