INDA Mourns Loss of Industry Leader and Educator Edward "Ed" Vaughn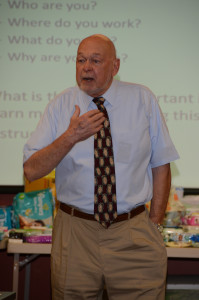 Cary, NC – Aug. 24, 2015 — INDA, the Association of the Nonwoven Fabrics Industry, is mourning the loss of Edward "Ed" Vaughn, Professor Emeritus at Clemson University and a long-time nonwovens training educator and consultant for INDA.
Vaughn, 75, of Clemson, S.C., died Aug. 20. He is being remembered fondly by the association for his many contributions as an educator and advocate for the industry. He taught textiles and nonwovens at the Clemson University School of Materials Science and Engineering.
Vaughn taught many INDA nonwovens training courses over the years, including the Intermediate Nonwovens Training Course, formerly INDA's Advanced Nonwovens Training Course. INDA recognized Vaughn in 2004 with its Lifetime Achievement Award.
"INDA is saddened by the loss of a true educator who devoted his career to teaching, researching and advancing nonwovens," said INDA President Dave Rousse. "Ed Vaughn will be missed by all of us at INDA and by the many professionals who learned about the industry through his expert training. We extend our deepest sympathies to his family."
A graduate of Lynchburg College, he earned his master's in Textile Technology from the Institute of Textile Technology and his Ph.D. in textile physics from the University of Manchester in England.
Vaughn spent his entire professional career of 37 years on the faculty of Clemson, working in teaching and research until his retirement in 2005. He previously served as Department Head and Director of the School of Textiles
He remained active in teaching undergraduate and graduate students, conducting research in the development and analysis of textile materials, and working with the textile industry in the areas of manufacturing, product development and materials analysis. Vaugh also served as the Managing Editor of the Journal of Engineered Fibers and Fabrics published by INDA.
In lieu of flowers, memorials may be made to the Whitten Center Parents Club, in care of Marlene D. Woods, secretary, 304 Dixon Street, Clinton, SC 29325. Condolences may be expressed online at www.robinsonfuneralhomes.com.
About INDA
INDA, the Association of the Nonwoven Fabrics Industry, serves hundreds of member companies in the nonwovens/engineered fabrics industry in global commerce. Since 1968, INDA events have helped members connect, learn, innovate and develop their businesses. INDA educational courses, market data, test methods, consultancy and issue advocacy help members succeed by providing them the information they need to better plan and execute their business strategies. For more information, visit www.inda.org, or download the INDA mobile app for immediate updates.
###