INDA Promotes Tony Fragnito to President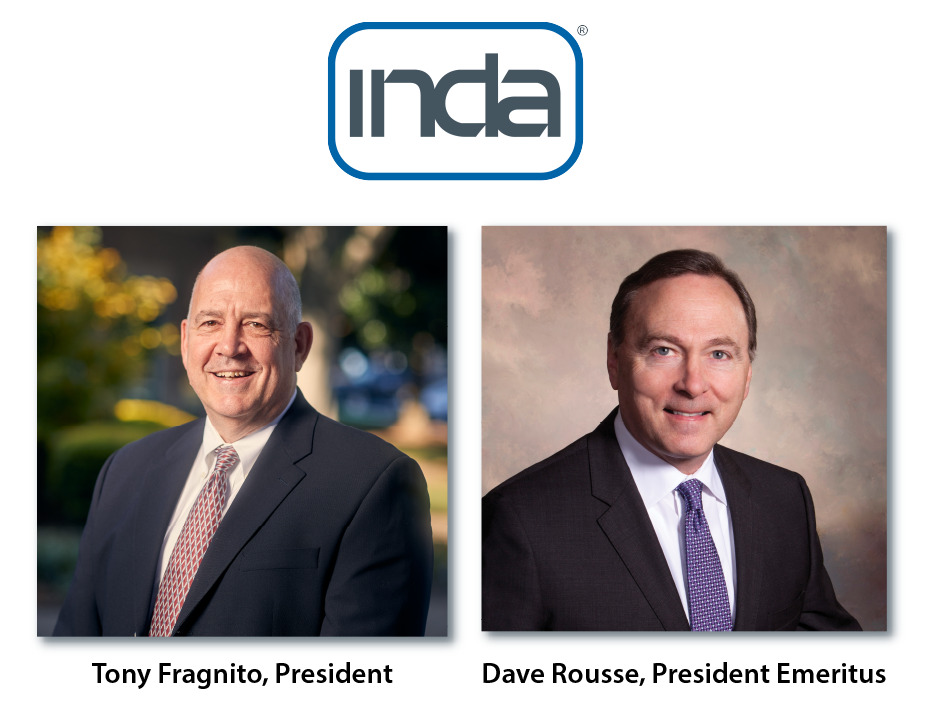 Succeeding Dave Rousse Who Will Retire in January, 2023
Cary, NC, May 31, 2022 – The Board of Directors at INDA, Association of the Nonwoven Fabrics Industry, elevated Tony Fragnito from Chief Operating Officer of INDA to President of INDA effective May 31. Fragnito will assume the position currently held by Dave Rousse, who will become President Emeritus and provide support and assistance to Fragnito as needed until Rousse fully retires in January, 2023.
Fragnito joined INDA November 29, 2021 as Chief Operating Officer and has been leading INDA's implementation of its new Strategic Plan, as well as updating INDA's technology platform. This follows decades of leadership experience assisting trade and professional organizations in realizing their organizational and operational potential. A certified public accountant, Fragnito brings strong financial acumen in addition to extensive information technology, human resource and program management accomplishments from organizations representing a variety of professions and industries.
"Promoting Tony to President of INDA completes the transition plan put in place by the INDA Board in 2021 to provide continuity through Dave's impending retirement in the development and implementation of the new Strategic Plan," said Bryan Haynes, Ph.D., INDA Board Chair and R&E Technical Director at Kimberly-Clark. "Dave has led INDA since 2012 and developed a successful, professional organization that now needs to be taken to a new level through the new Strategic Plan."
"It is an honor to be chosen to lead INDA during this important time for the industry," said Tony Fragnito, INDA's new President. "The INDA Board and membership, led by Dave Rousse, have demonstrated the industry's growth potential and innovation possible through strong collaboration. It is my goal to continue this collaborative model, expand the industry by reaching new markets, and improve the systems, resources and technical content available to INDA staff and industry participants."
"The INDA Board has worked through a thoughtful and smooth transition plan, leveraging the new operational talents Tony brings to the organization alongside the industry contacts and issue management experience I have developed over the last ten years," said Dave Rousse, outgoing INDA President. "I look forward to continuing to contribute as needed to Tony's leadership of INDA."
About INDA
INDA, the Association of the Nonwoven Fabrics Industry, serves hundreds of member companies in the nonwovens/engineered fabrics industry doing business globally. Since 1968, INDA events have helped members connect, learn, innovate, and develop their businesses. INDA educational courses, market data, test methods, consultancy, and issue advocacy help members succeed by providing them the information they need to better plan and execute their business strategies. INDA Media is the business-to-business publishing arm of INDA and publisher of International Fiber Journal and International Filtration News, which reach a vast network of professionals who employ fibers, filaments, and filtration systems to optimize their application environments. For more information, visit www.inda.org, or download the INDA mobile app for immediate updates.


###