INDA Recruits Industry's Most Talented Students to Enter STEM Fields at Nonwovens and Engineered Material Companies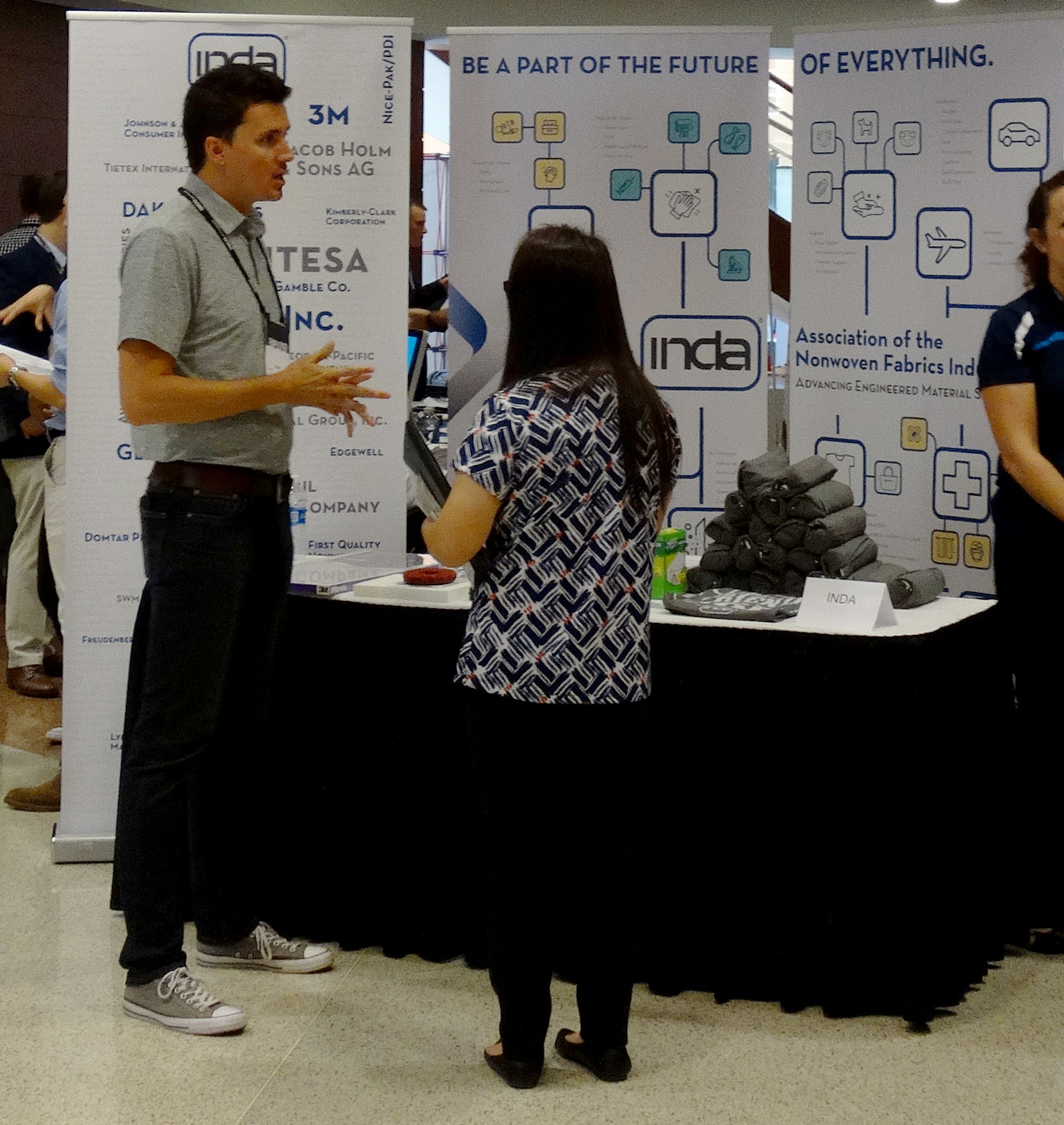 Industry Group Successful in First-Year Efforts and Expands Program
Cary, NC, Sept. 10, 2018 – INDA is once again hitting some of the nation's top college campuses this fall to promote in-demand STEM jobs in the burgeoning nonwovens/engineered materials industry as part of its Academic Outreach Initiative.
Launched in 2017 with the creation of the new position of Assistant Director of Career Services, INDA has been actively working with INDA member companies to help them fill entry-level positions with bright and talented college students from flagship universities. Based on its first-year success, INDA is building on the program.
INDA has been successful in its continuous outreach that includes its Career Corner with posted resumes and available entry-level, internship and career positions on its website; participating in career fairs at college universities; and partnering with member companies at strategic universities to actively promote and fill open positions.
Exciting expansion plans for this academic year include conducting department-specific information sessions with inquisitive students, participating in academic camps held at universities and helping member companies host field trips to their companies for half-day visits.
Partnerships Formed
INDA's Academic Outreach Initiative has brought results for both hiring companies and job seekers. In the 2017-18 academic year, INDA engaged with more than 2,000 college students at 18 career fairs at a dozen universities. Member companies were provided 40-plus quality resumes for each career fair attended.
"I have been very impressed with INDA's strategy to partner and focus energies on building connections between students and employers in the industry," said Barb Hamann, PHR, SHRM-CP, Corporate Recruiter at Rockline Industries. "I am not aware of any other Association that has taken this approach for building future interest and prioritizing a workforce development initiative like this."
Akshay Jain, a 2017 graduate of Texas Tech with a Master's in Industrial Engineering, worked with INDA's Assistant Director of Career Services Justin Gutierrez to find a position as Associate Scientist, Global Product Development at Rockline Industries.
"INDA's Academic Outreach Initiative and Career Corner was a great resource during my job search," Jain said. "INDA's market analysis and news helped me in understanding the industry and Justin Gutierrez provided insight into how to match my skill set with an innovative nonwoven company."
Career Fairs
INDA's Academic Outreach Committee and Gutierrez have been aggressively promoting nonwoven/engineered materials as a diverse technology-oriented, exciting industry solving real problems.  At career fairs, members share adjacent booths with INDA to position the overall industry and specific opportunities.
Member companies participating in the Academic Outreach initiative include Berry Global, Inc., Fibertex Nonwovens, Fitesa, Freudenberg Performance Materials LP, Glatfelter, Johns Manville Corporation, Kimberly-Clark Corporation, Lydall Performance Materials, Proctor & Gamble Co., Suominen, and The Nonwovens Institute.
INDA will be at the following career fairs for STEM majors: Virginia Tech (Sept. 11-12); NC State University (Sept. 18-19); University of Tennessee (Sept. 24); NC State University College of Textiles (Sept. 26); Rose-Hulman Institute of Technology (Oct. 3); East Carolina (Oct. 17). INDA will also exhibit career opportunities for all majors at Auburn University on Oct. 30.
For details on the Academic Outreach Initiative program contact:  Justin Gutierrez, Assistant Director of Career Services, jgutierrez@inda.org. Visit the Career Corner employment resource portal at http://www.inda.org/CareerCorner. Job listings for INDA members are a free service.
About INDA:
INDA, the Association of the Nonwoven Fabrics Industry, serves hundreds of member companies in the nonwovens/engineered fabrics industry in global commerce. Since 1968, INDA events have helped members connect, learn, innovate, and develop their businesses. INDA educational courses, market data, test methods, consultancy, and issue advocacy help members succeed by providing them the information they need to better plan and execute their business strategies. For more information, visit inda.org or call 919-459-3700.
##