INDA Releases North American Nonwovens Industry Outlook Report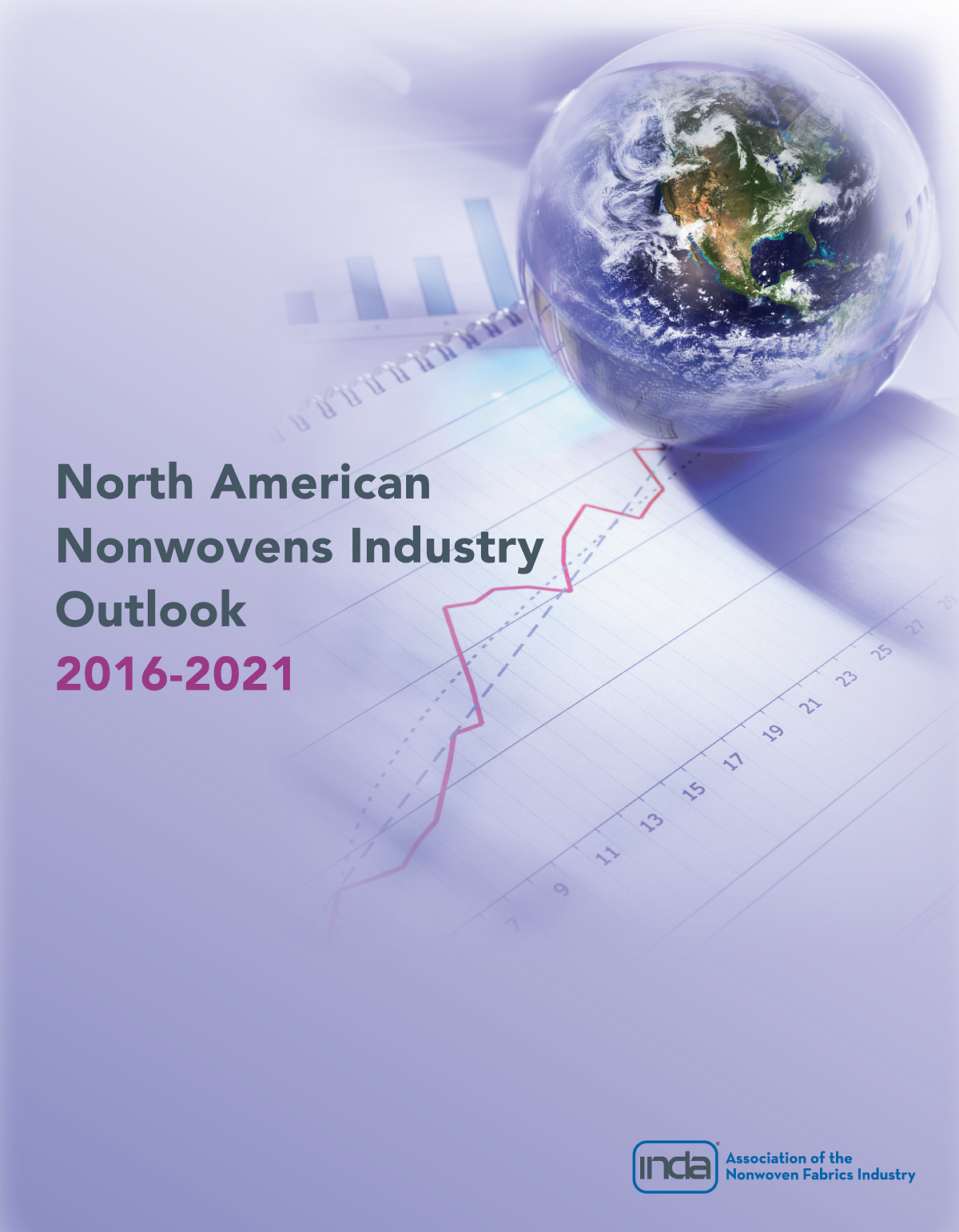 Exclusive content provides analysis across end use markets through 2021
Cary, NC – October 18, 2017 – INDA, the Association of the Nonwoven Fabrics Industry has released a new industry outlook report, "North American Nonwovens Industry Outlook, 2016-2021."
This report marks INDA's tenth analysis of the nonwoven/engineered materials market since its first overview of the industry in 1995. INDA's exclusive content provides analysis across all of the nonwoven end-use markets, including 128 disposable and 127 durable categories, to provide the most comprehensive and accurate view available of the total North American nonwovens industry. Detailed supply (capacity, production, and trade flows) and demand data are presented for the North American industry for 2011, 2016, and a forecast for 2021.
Brad Kalil, the report author and INDA's Director of Market Research & Statistics, said, "INDA designed this report to support strategic business planning and assist those in the industry in making better business decisions. This exclusive content report provides the latest market data based on an in-depth combination of primary and secondary research utilizing INDA's proprietary demand model of 255 nonwoven categories. The projections in the report were made by analyzing current the market trends and driving forces to highlight the market potential in terms of dollar value, units, and volume in both square meters and tonnage."
Dave Rousse, INDA President, said, "This report provides the keenest insight available into the most important disposable and durable market segments. No other report has the bottom-up data that INDA gathers, making this the most reliable and definitive view of the industry. This report breaks the conventional wisdom that the nonwovens market is two-thirds disposable and one-third durable end-use products. Anyone who must understand, assess, and manage the assets of an organization would benefit from this cost effective business planning tool."
The report:
Provides baseline economic and demographic trends, as they are significant drivers of demand within the North American nonwovens industry;
Develops industry consumption figures by sales, units, square meters, and tonnage for nonwoven materials in 11 end use markets and their numerous subcategories for 2011 and 2016, and provide a forecast for 2021;
Explains industry trends within the end use markets;
Provides an overall picture of the North American supply side by analyzing the key metrics of capacity (1990–2016), production including operating rates (2006–2016), and trade flow data (2006–2016); and
Defines and clarifies end use market segmentation and production processes to provide greater precision in categorizing the industry
The 370-page report — including 166 figures and 95 tables — is available for $3,850 for INDA Members, and $5,500 for Non-members.  To purchase the report contact INDA, info@inda.org; T: +1 919 459 3700, or www.inda.org/store.
About INDA
INDA, the Association of the Nonwoven Fabrics Industry, serves hundreds of member companies in the nonwovens/engineered fabrics industry in global commerce. Since 1968, INDA events have helped members connect, learn, innovate, and develop their businesses. INDA educational courses, market data, test methods, consultancy, and issue advocacy help members succeed by providing them the information they need to better plan and execute their business strategies. For more information, visit www.inda.org, or download the INDA mobile app for immediate updates.
###