INDA Remembers Ian Butler, Former Director of Market Research & Statistics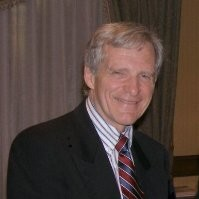 Cary, NC, December 8, 2020 – INDA, the Association of the Nonwoven Fabrics Industry warmly remembers Ian Butler, INDA's former Director of Market Research & Statistics, a distinguished authority of the nonwovens industry, and mourns his passing on December 3rd, at the age of 78 in Toronto, Canada.
Butler was recruited by INDA in 1997 and created the role of Director of Market Research & Statistics. For over three decades he served the nonwovens industry by providing valuable market and business intelligence reports on North America, China, and worldwide, as well as providing numerous handbooks on various technologies.
Under his direction, INDA's market and business intelligence became renowned for accuracy, reliability, and insightful analysis. Butler was also a frequent speaker at INDA and industry events providing his expert insights on various market sectors' growth in the nonwovens industry.
Butler's vast nonwovens experience included leadership positions in Stearns Canada, Airform Fabrics, Veratec Canada Inc., International Paper, and his own company, International Nonwovens Consulting, Inc. before subsequently joining INDA.
"INDA is saddened by the loss of an industry leader who was an integral part of INDA's growth," said INDA President Dave Rousse. "He was a strong nonwovens advocate who tirelessly provided crucial market research our members needed in making key decisions to advance their business and products."
Butler received his Bachelor's degree from Concordia University in 1966 and a Bachelor's in Business Administration from the University of Toronto in 1972. He is survived by his wife, Kathryn, his brother, his children, and his grandchildren.
About INDA
INDA, the Association of the Nonwoven Fabrics Industry, serves hundreds of member companies in the nonwovens/engineered fabrics industry doing business globally. Since 1968, INDA events have helped members connect, learn, innovate, and develop their businesses. INDA educational courses, market data, test methods, consultancy, and issue advocacy help members succeed by providing them the information they need to better plan and execute their business strategies. INDA Media is the business-to-business publishing arm of INDA and publisher of International Fiber Journal and International Filtration News, which reach a vast network of professionals who employ fibers, filaments, and filtration systems to optimize their application environments.
For more information, visit www.inda.org, or download the INDA mobile app for immediate updates.
###