INDA Seeks Nominations for Innovative Nonwovens and Engineered Fabrics for RISE® Durable Product Award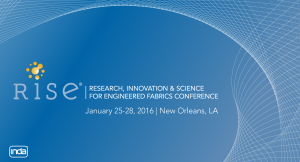 Cary, NC – Aug. 31, 2015 — INDA, the Association of the Nonwoven Fabrics Industry, is seeking nominations from companies of innovative nonwoven products and technologies for its 5th annual RISE Durable Product Award.
The prestigious award will be presented at the Research, Innovation & Science for Engineered Fabrics (RISE®) Conference, Jan. 25-28, 2016, at Le Meridien Hotel in New Orleans. Nominations are being accepted online at: www.inda.org/events/rise16.
"RISE is designed for technology scouts focused on new developments that are beyond the research phase and have the potential to be integrated rapidly into an attendee's commercial products. We focus on the "D" side of "R &D", said INDA President Dave Rousse.
RISE offers two and a half days of game-changing research, innovation and science. The event focuses on what's to come in engineered materials with leading-edge speakers, product displays and the award presentation.
The RISE Durable Product Award is given annually to a durable nonwoven product chosen for its innovative use of nonwoven fabric and/or technology that is commercially sold and used in the consumer or industrial marketplace.
The 2015 award went to a three-way collaboration between Fitesa, Braskem and NatureWorks for a new nonwoven material – Fitesa 100 Percent Biobased Spunbond – made entirely from plant-based materials for the hygiene and personal care markets.
INDA will consider various categories such as raw materials, roll goods, converting, packaging, active ingredients, binders, additives and end products for nominations. Products should exhibit one of more of the following characteristics: creativity, novelty of approach, uniqueness and technical sophistication. The submission deadline is Oct. 30.
Finalists will present their innovations to attendees at RISE who will select the winner, which will be announced on Jan. 28.
Other RISE event highlights include RISE Dine-Around, where attendees dine in small groups with their selected speaker of choice; networking opportunities to connect with other attendees; and product exhibits with two evening receptions.
For information on the RISE Durable Product Award nomination, contact Johnnie Jean Dickens, jjdickens@inda.org, (919) 459-3725.
About INDA
INDA, the Association of the Nonwoven Fabrics Industry, serves hundreds of member companies in the nonwovens/engineered fabrics industry in global commerce. Since 1968, INDA events have helped members connect, learn, innovate and develop their businesses. INDA educational courses, market data, test methods, consultancy and issue advocacy help members succeed by providing them the information they need to better plan and execute their business strategies. For more information, visit www.inda.org, or download the INDA mobile app for immediate updates.
###