INDA Welcomes Seven New Members to Board of Directors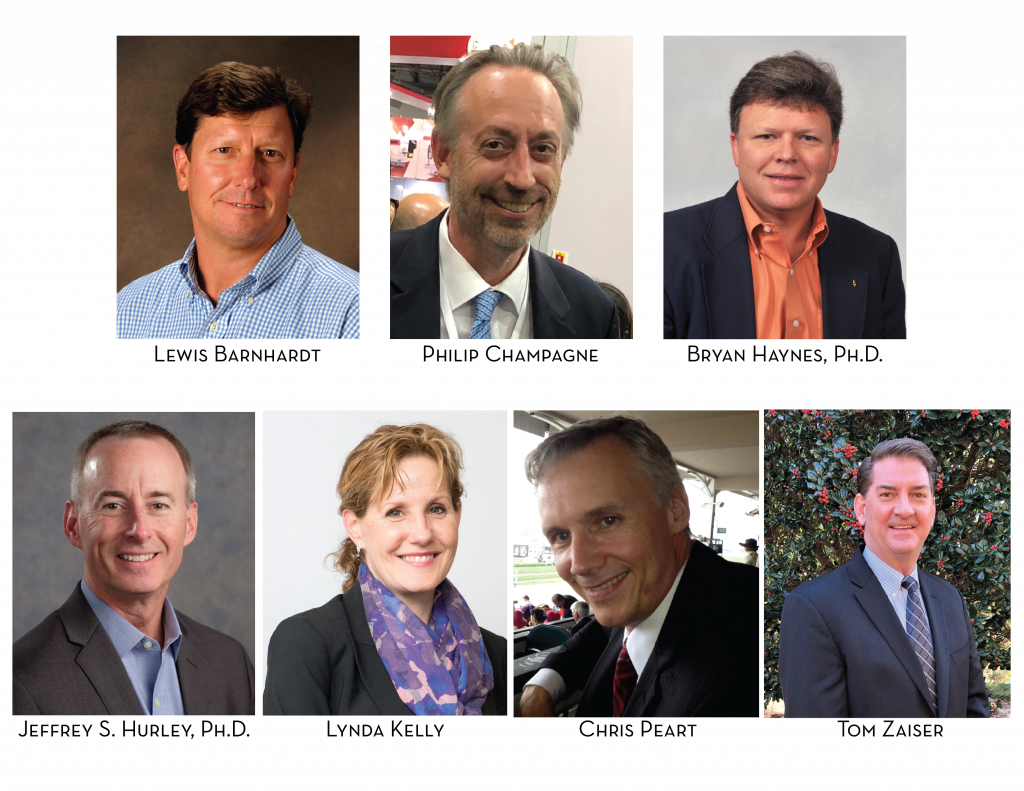 Cary, NC, March 12, 2019 — INDA, the Association of the Nonwoven Fabrics Industry, announces the election by membership of seven industry leaders to serve on its Board of Directors for a three-year term. These accomplished professionals represent a cross-section of INDA membership and bring a high level of expertise and perspective to the management of the association:
Lewis Barnhardt, President and COO of Barnhardt Manufacturing Company, Lewis Barnhardt has more than 30 years of experience in commercial and operational roles within this privately held, family owned company. He oversees the operations and the distribution of Barnhardt's products on six continents.
Philip Champagne, President of Groz-Beckert USA. Champagne is responsible for sales and technical developments for North, Central, and South America. Before stepping into the president's role he was responsible for sales and the manufacturing facility in Quebec, Canada. Holding multiple degrees in Science, Engineering, and Business, he has more than 35 years of experience in the greater field of textiles and nonwovens.
Bryan Haynes, Ph.D., Director of Research and Engineering in Global Nonwovens, with Kimberly-Clark Corporation. Haynes holds 43 U.S. Patents and 13 Trade Secrets and is recognized for his career involvement and commitment in bringing innovative science-based polymer process approaches and process issues to the nonwovens industry.
Jeffrey S. Hurley, Ph.D. Vice President, Nice-Pak Products Inc. Hurlyisresponsible for overall technical and innovation of nonwovens from supply partners through consumers. Hurley is also a member of Nice-Pak's Operating Committee. His former roles include technical materials development and commercialization, and business management with Buckeye Technologies and Hoechst Celanese.
Lynda Kelly, Senior Vice President – Care Business, Suominen Nonwovens. Kelly develops and executes strategies for the hygiene and medical business area for this global manufacturer. Prior to joining Suominen, she was with First Quality Nonwovens as the Global Director of Medical and Wipes responsible for the establishment of First Quality Nonwovens in the medical and wipes merchant market.
Chris Peart, President/CEO of Tenowo, Inc., the North American division of Tenowo GmbH, Peart has more than 19 years' experience in sales, product engineering, and business development within the nonwovens industry.
Tom Zaiser, CEO of FiberVisions. Zaiser has over 35 years of experience in the chemical and fibers industries. Before FiberVisions, he worked in the pulp and paper industry, holding a number of senior positions within Hercules Inc. before joining FiberVisions in 2005 as President & General Manager of ES FiberVisions, a 50/50 joint venture between FiberVisions and JNC of Japan in the area of bicomponent fibers.
INDA's Board of Directors provides critical stewardship of the strategic affairs of the Association. The Board provides oversight of INDA's finances and direction to its operating plans as well as counsel to the President to organize and perform activities that contribute to the success of the nonwovens industry and its members.
Board responsibilities include formulating, reviewing, and approving the strategic plans, policies, programs, dues and operating procedures affecting the association's 366 members. The 21-member board comprises elected Board Officers and the immediate Past Board Chair. One-third of the entire Board is elected each year for a three-year term by a majority vote of INDA's general membership.
"These new Board Members will be tremendous resources for INDA as we further our mission to grow the nonwovens and engineered materials industry. This is a strong group of accomplished industry executives I look forward to working with," said Dave Rousse, INDA President.

When INDA's Board of Directors is not in session, the Executive Committee is authorized to act in its place and includes the following officers and appointees:
Todd L. Bassett, Chair (Managing Director, Fi-Tech Inc.)
Paul A. Marold, Jr., Vice Chair of Planning (President, Lydall Performance Materials, Inc.)
Christopher Astley, Vice Chair of Finance (President-Advanced Airlaid Materials Business, Glatfelter)
Karen Castle, Past Chair (Director of Americas, Sales, Jacob Holm)
Walter G. Jones, Appointee (CEO, Precision Fabrics Group Inc.)
Nick Santoleri, Appointee (VP of Manufacturing & Strategic Sourcing,Rockline Industries)
INDA's Board of Directors meets semi-annually and reviews INDA performance quarterly. The Executive Committee may meet more frequently as issues arise between Board meetings. "INDA's Board structure ensures leadership continuity, directional clarity, and crisp decision making for advancing the success of our industry and our industry," said Dave Rousse, INDA President.



About INDA
INDA, the Association of the Nonwoven Fabrics Industry, serves hundreds of member companies in the nonwovens/engineered fabrics industry in global commerce. Since 1968, INDA events have helped members connect, learn, innovate, and develop their businesses. INDA educational courses, market data, test methods, consultancy, and issue advocacy help members succeed by providing them the information they need to better plan and execute their business strategies. For more information, visit inda.org or call 919-459-3700. c