INDA's 25th Filtration® Delivers "Pure Solutions" with International Conference & Exposition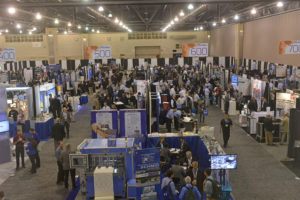 Cary, NC – Nov. 17, 2016 – INDA's 25th Filtration International Conference & Exposition with its Nonwoven Filter Media Training Course delivered "Pure Solutions" for attendees of the event, Nov. 8-10, at the Pennsylvania Convention Center in Philadelphia, PA.
Over 1,300 filter media and component suppliers, customers, consultants and academics met with more than 130 exhibitors to conduct business within the growing industry for air and liquid filtration, a major sector for nonwoven fabrics in media. In addition, over 30 professionals participated in INDA's one-and-a half day acclaimed Filter Media Training Course prior to the exposition start.
"The Filtration event is an extremely valuable forum for charting the future direction of our industrial filtration business. It allows us to connect with current customers and suppliers while developing new customers, and learning about new technology and the evolving competitive dynamics in our industry segment." said Brian Vancrum, Vice President & General Manager, CLARCOR Industrial Air.
Within an outstanding Conference program, one of the highlights included the keynote presentation by Alfred Weber, President and Chief Executive Officer, MANN & HUMMEL. Weber discussed the organization's new filtration technology platform using "smart" digitalization in response to growing customer demand.
Conference speakers also included leaders from Occupational Safety & Health Administration (OSHA), AERFIL, Underwriters Laboratories, Camfil, 3M, and SABIC Innovative Plastics among others. Conference topics included panel discussions on global standards for filter testing and assessment, air filter flammability requirements, innovative high efficiency filter media, and market insights.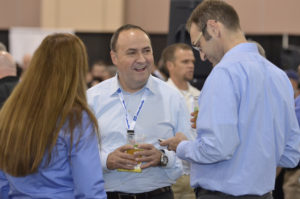 Hundreds of exposition participants gathered for sparkling wine and sumptuous hors d' oeuvres at Wednesday evening's industry reception sponsored by Kimberly-Clark Professional* Filtration Products. The reception recognized Filtration's 25th anniversary event with testimonials from long-time exhibitors and supporters including Berry Plastics, Hollingsworth & Vose, R.P. Fedder Corporation, Texel Technical Materials, and Zene LLC.
"The strong support among filtration professionals, suppliers, and manufacturers worldwide for 25 consecutive years confirms the durability of the Filtration International Conference & Exposition. INDA looks forward to the continued future success of this event as it supports the growth of the important filtration sector," said Dave Rousse, INDA President.
"H&V has been an exhibitor, presenter and organizing committee member at the Filtration Show for years. As a filtration media manufacturer the Filtration Show remains an important venue to showcase our products and network with present and prospective customers. Even in this digital age, the personal interaction possible at the show make it critical to our marketing effort," said Catherine Aikman, Corporate Communications, Hollingsworth & Vose.
Filtration 2017 will be held October 10-12, 2017 at Navy Pier in Chicago, Illinois USA. For more information, visit inda.org.
About INDA
INDA, the Association of the Nonwoven Fabrics Industry, serves hundreds of member companies in the nonwovens/engineered fabrics industry in global commerce. Since 1968, INDA events have helped members connect, learn, innovate, and develop their businesses. INDA educational courses, market data, test methods, consultancy, and issue advocacy help members succeed by providing them the information they need to better plan and execute their business strategies. For more information, visit inda.org or call +1 919 459 3700.
###