INDA's Annual Leadership Meeting Honors Member Achievements and Charts Future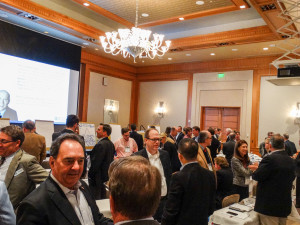 Three Industry Experts Awarded for Long-time Contributions
Cary, NC – March 17, 2016 –  INDA, the Association of the Nonwoven Fabrics Industry, has recognized three high-achieving nonwoven industry leaders at its annual Meeting & Leadership Conference, where the association also charted its future.
INDA President Dave Rousse presented the awards at the conference March 7-9 at the Umstead Hotel and Spa in Cary, NC, to: Edward (Ed) A. Vaughn, Ph.D. (posthumously), INDA Lifetime Technical Achievement Award; Robert (Bob) Dale, INDA Lifetime Service Award; and Gideon (Gidi) Krasny, INDA President's Award.
The event combines INDA's annual business meeting; a leadership conference with speakers presenting on areas to enhance economic, political and business performance understandings, and opportunities to network with fellow INDA members, INDA senior staff, and the Board of Directors and Executive Committee.
"This exclusive INDA Member event, designed to conduct INDA governance matters, also provided robust conference content related to the management of our members' businesses, and a political perspective early in this highly charged political year," said Rousse.
Members heard presentations from Dr. Gerald D. Bell, Founder and CEO of Bell Leadership Institute and Professor at the UNC Kenan-Flagler Business School on "Great Leaders, Great Results," and Tim Boyum, Capital Tonight Anchor for Time Warner Cable News on "State of the 2016 Race."
INDA also announced the appointment of new members of its board of directors and executive committee for 2016. Joining the board of directors are: Henry Johnson of AstenJohnson Advanced Fabrics, John Mulcahy of Georgia-Pacific LLC, James Vogt of Hollingsworth & Vose Company, John McNabb of Freudenberg Performance Materials, Uwe Peregi of Herrmann Ultrasonics, and John Poccia of Johnson & Johnson Worldwide. New appointments to INDA's executive committee include Karen Castle of Suominen, Todd Bassett of Fi-Tech Inc., and Albert Dietz of Berry Plastics.
Award Presentations
Posthumously, INDA recognized Ed Vaughn, known as "Mr. Nonwovens of the U.S." with the INDA Lifetime Technical Achievement Award for his long-established technical career in the nonwovens industry combined with his history of technical innovations. Professor Vaughn was a valued educator and consultant for INDA for many years. In 2007, Professor Vaughn received the IDEA Lifetime Achievement Award for his many outstanding contributions to INDA and the nonwovens industry.
One of his distinguished achievements was serving as the Managing Editor for INDA's Journal of Engineered Fibers and Fabrics (JEFF), where he reviewed the technical work of new and seasoned researchers giving them the opportunity to expand their work. Vaughn joined Clemson University serving as Department Head and then Director of the school from 1977 through 1989 before retiring as Professor Emeritus. He was the Instructor of INDA's popular Intermediate Nonwovens Training Course from 2001 until his untimely death in August 2015.
Bob Dale's service to the nonwovens industry over 25 years was recognized with the INDA Lifetime Service Award, which is given to professionals who have two decades of active service to and partnership with INDA specifically, and the nonwoven industry as a whole. Dale's service includes leadership as an INDA Board Member, The Nonwovens Institute Board Director, contributions to the INDA Technical Advisory Board, RISE® (Research, Innovation & Science for Engineered Fabrics) and its technical predecessor committees.
His progressive industrial talent and patented technologies have significantly advanced the nonwovens industry. Among his technical achievements are thermoplastic constructs for improved softness in nonwovens; acoustic underlayment for floor systems; advances in medical devices, roll goods, medical fabrics, baby and personal care wipes, floor and hard surface wipes, chemical finishing, as well as nanofiber filtration media.
He is currently the Vice President Capital Engineering for Berry Plastics, formerly known as PGI. His previous leadership experience includes Johnson & Johnson – Chicopee, Kendall Healthcare (Covidien) and Milliken.
INDA awarded its President's Award, presented periodically to an individual who has demonstrated outstanding contributions to the nonwovens industry, to Gidi Krasny for his 35 years of experience that has enabled him to advance products, processes and capabilities that have significantly impacted the nonwovens industry. He joined Spuntech in 2003 as the Chief Executive Officer (CEO) and directed the expansion of that organization to North America. Over the past 12 years, Krasny has invested over $130 million, hired 160 employees, and more than tripled the company revenues in the greenfield facility in Roxboro, NC.
Prior to joining Spuntech, Krasny held several leadership positions with the Strauss Elite Group, a leading Israeli food group, including General Manager of Elite Coffee and General Manager of Elite Confectionary. He began his career with Delta Industries, a large textile/apparel company.
About INDA
INDA, the Association of the Nonwoven Fabrics Industry, serves hundreds of member companies in the nonwovens/engineered fabrics industry in global commerce. Since 1968, INDA events have helped members connect, learn, innovate, and develop their businesses. INDA educational courses, market data, test methods, consultancy, and issue advocacy help members succeed by providing them the information they need to better plan and execute their business strategies. For more information, visit inda.org or call 919-459-3700.
###