Industry Leaders to Move Toward a Future with Cleaner Air and Water at FiltXPO™ International Filtration/Separation Exhibition & Technical Conference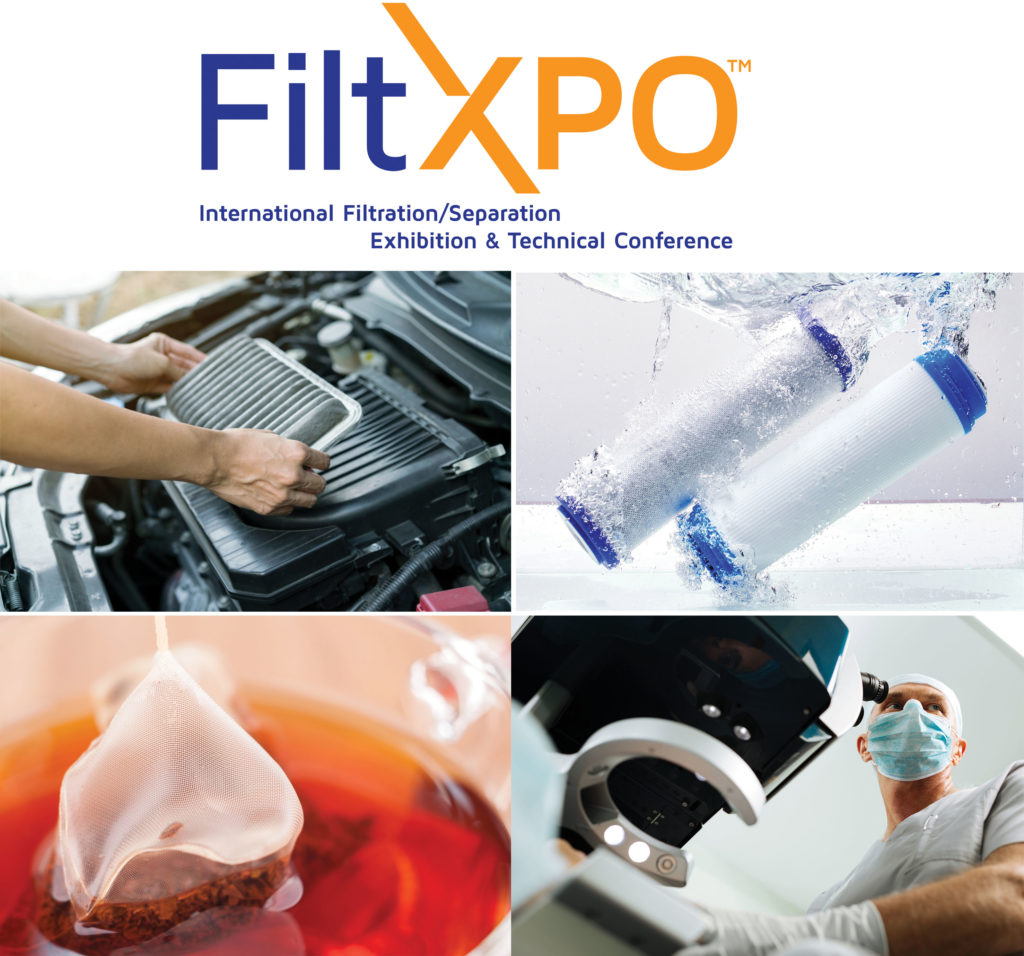 Cary, NC – Feb. 18, 2020 – Industry leaders from across sectors will move together toward a future world with cleaner air and water when they converge next week at Chicago's Navy Pier for the FiltXPO™ International Filtration/Separation Exhibition & Technical Conference, Feb. 26-28.
More than 1,000 attendees will gather for the three-day event to seek solutions for improved filtration and separation materials, equipment and technologies and to forge a new vision for this growing segment.
"With such a large convergence of thought leaders in one place, the outlook to chart future strategies for the segment is extremely favorable," says FiltXPO Conference Chair, Behnam Pourdeyhimi, Ph.D., Associate Dean for Industry Research and Extension, William A. Klopman Distinguished Professor, North Carolina State University, and Executive Director, The Nonwovens Institute. "We are excited to provide the stage to set the next era in filtration and separation at FiltXPO."
Challenges and opportunities will be addressed during in-depth presentations, education and training, product exhibitions and networking. Industry leaders participating in FiltXPO include sponsor, Kimberly-Clark Professional; A2Z Filtration Specialties Pvt. Ltd.; Neenah Gessner GmbH; Parker Hannifin Corporation and Reifenhäuser REICOFIL GmbH & Co. KG, among others.
Registration for FiltXPO is still available online with discounts offered for partnering association members. Highlights include:
Keynotes:
Air and Gas Filtration – Gas Phase and Particulate Filtration: Delivering Advanced Solutions with Performance Materials, Michael O'Laughlin, Vice President, Advanced Solutions, Lydall Performance Materials, Inc.
Biopharmaceutical – Next Generation Technologies to Support Advanced Biomanufacturing, Michael Phillips, Ph.D., Technical Director of Next Generation BioProcessing R&D, MilliporeSigma
Filter Media Modeling – Understanding Airborne Dust and Droplet Filtration Via Multiscale Modeling and Experiment, Hooman V. Tafreshi, Ph.D., Qimonda Professor of Mechanical Engineering, Virginia Commonwealth University
Membrane Technologies – Contamination Control Using Membrane Technologies: An Understanding of Market Needs and Solutions, Aflal Rahmathullah, Ph.D., Global Engineering Manager, Integrated Venting Solutions, Donaldson Company, Inc.
Nanofiber Filter Media – Nanofiber Membranes for Water Treatment, Stanislav Petrik, Director, Technical University of Liberec
Water Filtration – Engineering the Next Generation of Membrane Materials Needed to Achieve Global Water Sustainability Goals, Eric M.V. Hoek, Ph.D., Professor of the UCLA Samueli School of Engineering and Director of UCLA Sustainable LA Grand Challenge
33 Speakers: Business and academic leaders who are subject matter experts in their fields will share scientific research and cover new findings and trends in such key areas as biopharmaceutical filtration, membrane filtration, nanofiber-enhanced meltblown materials, and energy technologies and applications across all sectors of filtration and separation.
200 Innovators: Global business relationships will be cemented between top producers and decision makers during the three days of exhibitions at Navy Pier's Festival Hall. Among the exhibitors showcasing exciting new offerings are 5K Fibres, Ahlstrom-Munksjö, Hollingsworth & Vose, JCEM Inc., Lydall Inc. and Pleating Systems & Equipment.
One-and-a-Half Training Days: Chris Plotz, INDA's Director of Education & Technical Affairs, will lead a Filter Media Training Course Feb. 25-26 providing a complete overview of existing and emerging nonwoven technologies, testing and the application of nonwovens in filtration.
About FILTXPO™
FiltXPO is the only North American exhibition and technical conference dedicated exclusively to filtration and separation. The three-day event features sessions focused on the hottest topics in air and gas filtration, biopharmaceutical, filter media modeling, membrane technologies, nanofiber, separating and manufacturing, and water filtration. For updates and registration information, visit FiltXPO.com
#Filtxpo
###