75 years of VLIESELINE®: The must-have for all professional tailors and sewing enthusiasts celebrates its jubilee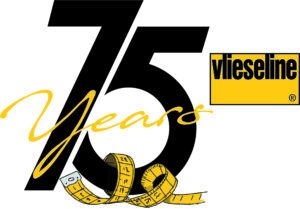 Weinheim, Germany, 30 March 2023. No one sees it but almost everyone's wearing it: VLIESELINE®, the multipurpose interlining fabric, adds stability, shape and warmth to almost every garment. Now, this groundbreaking material is celebrating its 75th jubilee, providing the perfect excuse for Weinheim-based Freudenberg to look back on an extraordinary success story.
Born out of necessity, now a brand leader in Europe
Freudenberg's iso-elastic nonwoven interlining – developed by Dr Carl-Ludwig Nottebohm – not only revolutionised the textile industry but also transformed the work of sewing enthusiasts and fashion houses. The invention was given the brand name VLIESELINE® and soon proved itself as a multipurpose and indispensable sewing accessory, which led to it being dubbed The wonder under in the company's in-house magazine in 1954. And VLIESELINE® lived up to its auspicious name. The material was initially developed as a substitute fabric and produced for the first time in 1948. It began its rise to fame in the fifties and sixties and, in its own way, contributed to the economic boom. From then on, this nonwoven fabric from Weinheim fascinated the trade press, theatrical costumers, fashion houses and designers, even featuring on numerous couture catwalks. After an economic dip in the seventies, VLIESELINE® returned as strong as ever in the years that followed.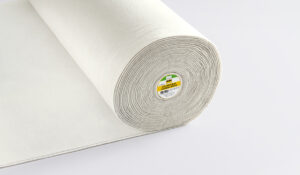 A finger on the pulse of social media and sustainability
Offering an optimal fit, stylish effects and a cosy warmth, VLIESELINE® products lend a certain something to custom accessories, garments and creative handicrafts. The motto Be creative with VLIESELINE® reflects the brand's strong position in the creative and handmade sector. This is demonstrated by a wide-ranging assortment of brand communications. VLIESELINE® can be found online at www.vlieseline.com and on social networks such as Instagram, Facebook and YouTube. The brand also has a presence at numerous trade fairs, such as Handarbeit und Hobby (h+h), to be held in Cologne, Germany, from 31 March to 2 April 2023. VLIESELINE® also has its finger on the pulse when it comes to sustainability – with products made from natural fibres such as soy, bamboo and cotton, nonwoven fabrics made from up to 100 percent recycled materials such as PET bottles and environmentally friendly production processes. 
https://www.vlieseline.com/Top/75-years
https://www.vlieseline.com/Top/75-years/Milestones
About the VLIESELINE® brand
Today, the long-established VLIESELINE® brand carries a comprehensive range of fusible, woven and sew-in interlinings, tapes, battings and creative interlinings. The Freudenberg interlining fabric was initially produced as a substitute fabric in 1948. Since then, it has become a leading name throughout Europe, particularly in the handicraft sector. Over the decades, VLIESELINE® has revolutionised the creation and production of clothing and home textiles as a commercial product for consumers, tailors, fashion houses and the textile industry. The brand is committed to continuously expanding its product range to include environmentally friendly and healthy products made from natural materials such as wool, cotton and soy.
About Freudenberg Performance Materials
Freudenberg Performance Materials is a leading global supplier of innovative technical textiles for a broad range of markets and applications such as apparel, automotive, building interiors, building materials, healthcare, energy, filter media, shoe and leather goods as well as specialties. In 2022, the company generated sales of some €1.6 billion, had 32 production sites in 14 countries around the world and had more than 5.000 employees. Freudenberg Performance Materials attaches great importance to social and ecological responsibility as the basis for its business success. For more information, please visit www.freudenberg-pm.com
In 2022, the Freudenberg Group employed more than 51,000 people in around 60 countries worldwide and generated sales of more than €11,7 billion. For more information, please visit www.freudenberg.com.