A.Celli Group presents "Just a BetteR-WAY®" Open House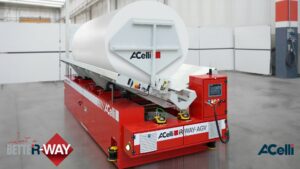 Lucca, Italy, March 30, 2023 – A.Celli is pleased to announce its upcoming Open House event, "Just a BetteR-WAY®" which will take place at the A.Celli Nonwovens headquarters in Porcari, Lucca, from 11th to 23rd April 2023.
The event, free upon registration, will provide visitors with the opportunity to tour the facility and witness in action the company's latest technological advancements in the field of integration, automation and intralogistics for any production plant.
The focus of the event will be the R-WAY® product range on display: automatic packaging lines, Automated Guided Vehicles (AGVs) entirely developed and manufactured by A.Celli and, finally, the recently-build automated warehouse. All this, seamlessly integrated with the new E-WIND® nonwoven in-line slitter  winder and the F-LINE® spooling system, will give visitors an example of the A.Celli's commitment to become a reference supplier for any production need.
Last but not least, an area of the Open House will be dedicated to the Industry 4.0 digital solutions provided by Extreme Automation, the intralogistics software solutions developed by the newest member of the A.Celli Group, Taiprora Srl, and the 2-CARE® Customer Care service department.
The company's expert team will be on hand for each of the two daily sessions, one in the morning and one in the afternoon, to guide the attendees and provide them with detailed information about each single machinery and solution on display. We are thrilled to welcome visitors to our facility", says Francesco Vergentini, General Manager of A.Celli. "The event represents a unique opportunity for any company involved in the manufacturing industry to see first-hand our technology and latest innovations in action. Our commitment is to provide the best solutions to our customers in order to increase efficiency, and this event demonstrates our determination to do so".
For more information and to reserve your place for the "Just a BetteR-WAY®" Open House, visit the dedicated page on the A.Celli website www.acelli.it.