ANDRITZ successfully starts up neXline needlepunch line supplied to AFITEX, France

ANDRITZ successfully starts up neXline needlepunch line supplied to AFITEX, France
GRAZ, JANUARY 30, 2018. ANDRITZ has successfully started up a complete neXline needlepunch line at AFITEX, Champhol, France. The line processes several types of raw materials, such as polypropylene, recycled bulk continuous filament as well as virgin bulk continuous filament, and produces needlepunched felts for geotextiles.
The scope of supply included all of the machines from opening and blending to end-of-line with profiling capabilities. This line uses proven ANDRITZ equipment such as:
an opening and blending unit APC 1500
an aXcess carding machine with a width of 2.5 m
a crosslapper Profile P325
two A50 needlelooms with the innovative Zeta drafter
This order demonstrates the strong partnership between ANDRITZ and AFITEX. AFITEX operates an ANDRITZ needlepunch line in Algeria, which enabled them to become the leading geotextiles producer in North Africa.
AFITEX has specialized in drainage, earth retaining, and lining systems for more than 20 years and is now one of the global leaders in these geosynthetic activities. With references in Europe, Africa, the Middle East, and North America, AFITEX covers a wide area of applications, including construction, public works, landfill, and mining engineering.

 ANDRITZ neXline needlepunch line for production of geotextiles. Photo: ANDRITZ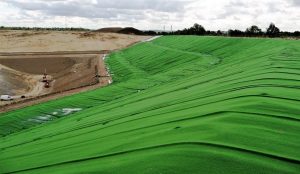 Afitex nonwoven geotextile. Photo: ANDRITZ
ANDRITZ GROUP
ANDRITZ is a globally leading supplier of plants, equipment, and services for hydropower stations, the pulp and paper industry, the metalworking and steel industries, and for solid/liquid separation in the municipal and industrial sectors as well as for animal feed and biomass pelleting. Other important business segments include automation and service business. In addition, the international Group is also active in the power generating sector (steam boiler plants, biomass boilers, recovery boilers, and gasification plants) and in environmental technology (flue gas cleaning plants) and offers equipment for the production of nonwovens, dissolving pulp, and panelboard as well as recycling plants. The publicly listed technology Group is headquartered in Graz, Austria, and has a staff of approximately 25,700 employees. ANDRITZ operates more than 250 sites in over 40 countries.
Contact Information
Email:
michael.buchbauer@andritz.com
URL:
andritz.com
Company:
ANDRITZ