ANDRITZ to supply a complete needlepunch line to AUTOTECH Nonwovens, India

Graz, December 22, 2015. ANDRITZ Asselin-Thibeau, part of international technology Group ANDRITZ, has received an order from AUTOTECH Nonwovens, India, to supply a complete needlepunch line for flexible production of nonwovens for automotive, filtration, and coating substrate applications. It is the first complete needlepunch line to be supplied by ANDRITZ to India. Start-up of the line and personnel training are scheduled for mid-2016.
The ANDRITZ neXline needlepunch solution is designed for high production capacities and integrates fiber opening and blending, chute feed, carding, crosslapping, drafting, needle loom, and winding technologies. The complete process is controlled by the ProDyn closed loop system and allows for extremely demanding profile requirements. The highly reliable ANDRITZ needlepunch technology meets the most stringent quality demands.
AUTOTECH Nonwovens, based in the automotive hub of Gujarat state, is one of the leading suppliers of high-quality nonwovens to the automotive industry in India. The line ordered from ANDRITZ will be the first integrated, single-source needlepunch line investment purchased in Europe by an Indian company in over seven years, according to Indian sources. Using the ANDRITZ high-quality needlepunch technology will result in a huge leap forward in the range of nonwoven technical textiles available in India.
– End –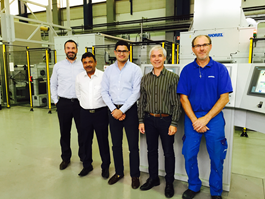 ANDRITZ Asselin-Thibeau team with AUTOTECH Nonwovens, M. Shah and M. Desai, during trials at Elbeuf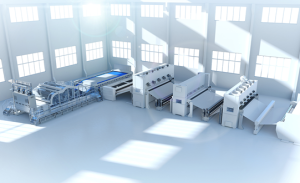 ANDRITZ neXline needlepunch: high-quality production of nonwovens technical felts
The ANDRITZ GROUP
ANDRITZ is a globally leading supplier of plants, equipment, and services for hydropower stations, the pulp and paper industry, the metalworking and steel industries, and for solid/liquid separation in the municipal and industrial sectors. The publicly listed technology Group is headquartered in Graz, Austria, and has a staff of almost 25,000 employees worldwide. ANDRITZ operates over 250 sites worldwide.