ANDRITZ to supply nonwovens line for production of flushable wipes to Akinal Sentetik Tekstil, Turkey

Graz, January 30, 2015. ANDRITZ Nonwoven, part of international technology Group ANDRITZ, has received an order to supply a complete wetlace line to the leading Turkish nonwovens producer Akinal Sentetik Tekstil. The highly flexible ANDRITZ technology combines wet forming and hydroentanglement and is especially suitable for the production of flushable wipes that are dispersible and 100% biodegradable without any chemical binder. Start-up of the line is scheduled for 2016.
ANDRITZ neXline wetlace is designed for high production capacities of up to 15,000 tons per year and integrates stock preparation, wet forming, and hydroentanglement. The ANDRITZ wetlace technology fulfills the highest environmental standards for the end products and produces certificated nonwovens quality according to the latest EDANA/INDA guidelines for flushable wipes.
– End –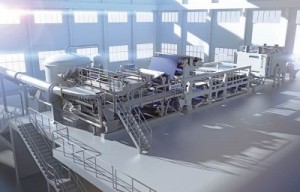 Photo: ANDRITZ neXline wetlace: high-capacity production of flushable wipes
The ANDRITZ GROUP
The ANDRITZ GROUP is a globally leading supplier of plants, equipment, and services for hydropower stations, the pulp and paper industry, the metalworking and steel industries, and solid/liquid separation in the municipal and industrial sectors. The publicly listed, international technology Group is headquartered in Graz, Austria, and has a staff of around 24,500 employees. ANDRITZ operates over 250 production sites as well as service and sales companies all around the world. The ANDRITZ GROUP ranks among the global market leaders in all four of its business areas. One of the Group's overall strategic goals is to strengthen and extend this position. At the same time, the company aims to secure the continuation of profitable growth in the long-term.
Contact Information
Email:
oliver.pokorny@andritz.com
URL:
www.andritz.com
Company:
Andritz