Bostik Regional Smart Summit Provided Unique Start to ANEX Presence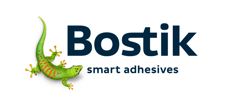 Adhesive experts shared insights about the disposable hygiene industry
TOKYO, Japan – June 14, 2018 – Bostik seized the opportunity to reach the dynamic Asia market through a private VIP event as well as participating in the Asia Nonwovens Exhibition and Conference (ANEX) 2018 tradeshow. Bostik's Regional Smart Summit took place on Tuesday, June 5, one day prior to the opening day of ANEX. During this exclusive VIP event, Bostik representatives, customers, and major industry associations shared insights about the disposable hygiene industry globally and discussed the value of smart adhesive solutions.
Major associations supporting the disposable hygiene market kicked off the one-day event with a powerful presentation of their unique views of the marketplace. Bostik also shared insights on topics like: Core, Softness, Stretch and Sustainability.
In addition, Bostik participated in ANEX 2018 June 6-8, with an interactive exhibit. Product animations offered visitors the opportunity to learn about things like core and odor solutions. Bostik representatives were on-hand, answering questions, and offering their insights on smart adhesive solutions.
"We were proud to host this event, which offered an opportunity for adhesive experts to share their knowledge and expertise with disposable hygiene producers and help them achieve their business goals," said Courtney Korselt, Global Marketing Manager of Bostik's Global Nonwovens Business Unit. "We hope that the attendees were able to leave the event with new insights about how smart adhesives can help improve customer satisfaction, strengthen competitiveness and increase profitability for their business."
Bostik is the world's largest supplier of high-stress adhesive products for disposable hygiene products and a leader in the innovation of smart adhesive technologies. Their extensive line of disposable hygiene products includes award-winning Brilliance™, the world's first high-performance olefin elastic attachment adhesive. For more information, visit www.bostik.com.

About Bostik Global Nonwovens
Fueled by a deep understanding of the hygiene market's current and future needs, Bostik Global Nonwovens creates smart adhesive solutions. Our culture of continuous improvement is powered by our people, their ideas and the drive to make things better. We apply our extensive material science knowledge and formulation and application expertise to provide pioneering adhesive solutions that enhance our customers' success and advance the hygiene industry worldwide.
About Arkema
A designer of materials and innovative solutions, Arkema shapes materials and creates new uses that accelerate customer performance. Our balanced business portfolio spans high-performance materials, industrial specialties and coating solutions. Our globally recognized brands are ranked among the leaders in the markets we serve. Reporting annual sales of €7.5 billion in 2016, we employ approximately 19,000 people worldwide and operate in close to 50 countries. We are committed to active engagement with all our stakeholders. Our research centers in North America, France and Asia concentrate on advances in bio-based products, new energies, water management, electronic solutions, lightweight materials and design, home efficiency and insulation. For the latest information, visit www.arkema.com.
# # #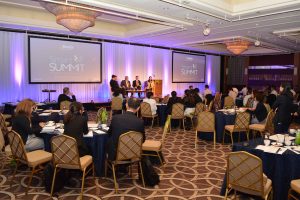 Photo Caption – Bostik Asia Pacific Regional Smart Summit – Association Panel Discussion: Industry associations discussed their unique views of the disposable hygiene marketplace at Bostik's Regional Smart Summit – Tokyo.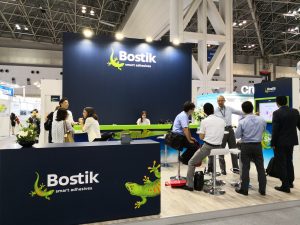 Photo Caption – Bostik Booth at ANEX 2018: Visitors to Bostik's booth at ANEX 2018 were given a hands-on opportunity to learn about smart adhesive solutions.