Compamed 2015: Innovations in advanced wound care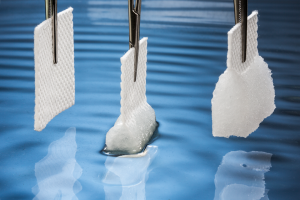 Freudenberg Performance Materials will be presenting solutions made from antimicrobial PU foam and a new chitosan nonwoven for the first time.
Weinheim, November 16, 2015. Freudenberg Performance Materials will present its medical product portfolio at the Compamed trade fair. In addition to new solutions made from antimicrobial PU foam and chitosan nonwovens, the world's leading manufacturer of technical textiles will be showcasing nonwovens with hydro-gelling fibers for advanced wound care, high-performance backing materials for wound care and transdermal applications, as well as activated carbon filters for ostomy applications. Launched on January 1, 2015, Freudenberg Performance Materials was formed by merging the two successful business groups Freudenberg Nonwovens and Freudenberg Politex Nonwovens. Globally active in the supply of innovative medical components, the company can be found in Hall 08b, Stand A26.
Foam systems with an antimicrobial effect
In January this year, Freudenberg Performance Materials took over the UK company Polymer Health Technology (PHT), a leading specialist in hydrophilic polyurethane foams for advanced wound care. The foam systems absorb wound exudate and create an ideal environment for wound healing.
They protect the wound from drying out and ensure the free exchange of gases and water vapor, accelerating the wound-healing process.
"In recent months, working closely with our customers, we have greatly intensified the research and development of foam-based solutions. Our first successes include customized, antimicrobial polyurethane foam systems for medium to strong extruded wounds such as decubitus and second degree burns", explained Marcus Simon, Manager Market Segment Medical at Freudenberg Performance Materials. The antimicrobial effect contributes to reducing the bacterial load in infected wounds. It also acts as a barrier in wounds with high and renewed risk of infection. In the future, the company will also offer standardized solutions for a wide range of applications.
New chitosan fiber solution
Another Freudenberg Performance Materials innovation is a standardized solution made from 100 percent chitosan fibers for use as a bacteriostatic wound pad material. Derived from the shells of shellfish, the chitosan biopolymer promotes healing and rapidly stops bleeding. This enables a significant reduction in treatment time and costs, especially in the treatment of chronic wounds.
Nonwovens made from bioresorbable materials
"scaffolene" technology is a further Freudenberg innovation, which enables the production of nonwoven fabrics from bioresorbable polymers. scaffolene nonwovens are extremely versatile in their characteristics and applications. They are flexible and tear-resistant in its dry state and stable even when wet, retaining its structure and avoiding clumping. During operations, it can be easily and securely positioned in the right place in the body. The body eventually breaks the fabric down of its own accord, rendering a further treatment to remove the dressing unnecessary. scaffolene offers another advantage. During manufacture, antiseptic agents, enzymes or growth hormones can be incorporated directly into the nonwoven fabric. Depending on the raw material and additive used, scaffolene enables active agents to be positioned and delivered precisely where they are needed in the body, promoting healing in chronic and acute wounds or helping to rebuild bones after a fracture.
Working together with customers – leading international medical and pharmaceutical companies – as well as with partners from the worlds of science and research, Freudenberg has initiated numerous product developments. One of these innovative product solutions is the combination of regenerative scaffolene wound matrix and antiseptic active ingredient. This project will be presented at Compamed to an audience of medical professionals by Freudenberg development partner Professor Birkenmeier of the University of Leipzig (Hall 8b, Monday November 16, 2015 at 1:15 p.m.). The cause of hard-to-heal chronic wounds is often persistent colonization with bacteria that embed themselves in so-called "biofilms". The special 3-D matrix is particularly suitable for preventing the continuous regeneration of biofilms in chronically infected wounds and, at the same time, also forms the substrate for accelerated wound healing.
In addition to its use in wound healing, scaffolene technology opens up new therapeutic possibilities within other medical fields, including bio-surgery or regenerative medicine.
Activated carbon filters for ostomy applications
High-performance activated carbon filters from Freudenberg Performance Materials are used as integrated activated carbon filters in ostomy bags, targeted at the adsorption of unpleasant odors. Freudenberg Performance Materials adapts them to the individual requirements and specifications of its customers. Thanks to the company's ultra-modern production and finishing options, Freudenberg Performance Materials can offer a wide variety of ostomy filter variants, both on rolls and as a finished product. These can meet the specific requirements of ileostomy or colostomy products, for example.
The strength of the new Freudenberg Business Group
"The name Freudenberg Performance Materials represents our most important task: constantly developing innovative and novel solutions to meet the needs of our customers", explained Bruce Olson, President & CEO of Freudenberg Performance Materials. "We used to be active in the market as two successful business groups. Now, however, we have consolidated our pioneering portfolio and our expertise in developing innovative nonwoven fabrics and high-tech applications", he added.
About Freudenberg Performance Materials
Freudenberg Performance Materials is a leading global manufacturer of innovative technical textiles offering differentiated value propositions to a broad range of markets  and applications such as Automotive Interiors, Apparel, Building Materials, Hygiene, Medical, Shoe Components and Specialties. The company generates sales of over €900 million and has more than 20 manufacturing sites in 14 countries and more than 3.800 associates. Freudenberg Performance Materials has many years of experience in technical textiles and applications. The company attaches great importance to social and ecological responsibility.
The company is part of the Freudenberg Group. In 2014, the Freudenberg Group employed over 40,000 people in some 60 countries worldwide and generated sales of more than 7 billion Euros (including pro-rata consolidation of 50:50 joint ventures). For more information, please visit www.freudenberg.com
Contact Information
Email:
holger.steingraeber@freudenberg-pm.com
URL:
www.freudenberg-pm.com
Company:
Freudenberg