Conwed and SWM attend World of Wipes 2017 Conference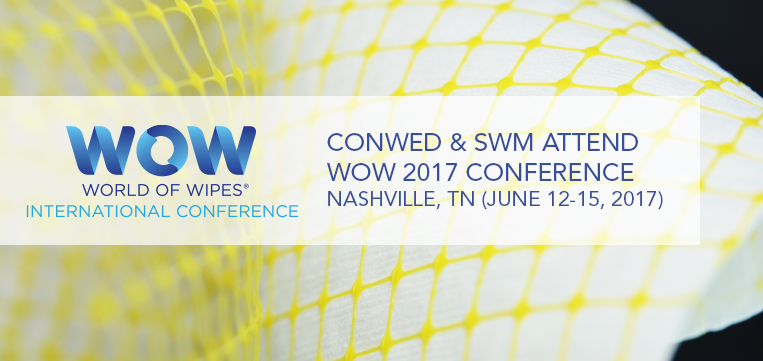 SWM netting is an ideal reinforcement material to create strong, yet lightweight composites with diverse substrates.
Minneapolis, MN (June 12, 2017) – Conwed, now part of Schweitzer-Mauduit International (NYSE: SWM), will be present at World of Wipes (WOW) 2017 in Nashville, TN (June 12-15, 2017). Organized by the Association of the Nonwoven Fabrics Industry (INDA), this is the premier event devoted entirely to the wipes industry. With the increasing demand for disposable consumer and industrial wipes, the nonwoven and fabrics industry gather to share technology, market insights and new trends affecting this niche but growing product category.
SWM netting is used by manufacturers and converters to add strength, stability, support, and bonding features to different substrates such as nonwoven, paper, aluminum, etc. "Our customers can incorporate netting with other substrates using different techniques, such as extrusion coating, extrusion lamination, thermal lamination, ultrasonic welding, wet and dry adhesive lamination and diverse nonwoven processes," said Ivan Soltero, senior strategic marketing manager at Conwed/SWM.
In many cases, incorporating SWM netting to industrial composites helps reduce cost, weight, height, thickness, and overall size of products and save energy, material, and production process time. "Our Thermanet product line is a co-extruded netting configuration with adhesive properties in one or more of its layers that allow the netting to bond with a variety of materials when it is processed through thermal lamination. It provides lightweight and high-strength properties that are ideal for wipes," said Soltero.
Co-extrusion is a multi-layer extruded netting than can be subsequently oriented where different polymers can form different layers on the same netting configuration.  It is a square netting construction and Conwed has the ability to build netting with A/B, A/B/A, and A/B/C layer combinations. By using co-extrusion netting with adhesive layers, manufacturers and converters may eliminate adhesive steps in their manufacturing and converting processes for specific product applications. Co-extrusion netting can be used in industrial wipes, building & construction composites, automotive acoustic composites, filtration pleat and media support, bedding insulators, vacuum bags, etc.
To know more about Conwed and SWM at WOW 2017 Conference visit
About CONWED 
Conwed is the leading plastic netting manufacturer in the world. Conwed manufactures extruded, oriented, knitted and multilayer netting with unique customization capabilities. Headquartered in Minneapolis, Minnesota, Conwed has five manufacturing locations on two continents and a global distribution network. www.conwedplastics.com
About SWM
SWM is a leading global provider of highly engineered solutions and advanced materials. We are experts in developing and manufacturing technical materials from fibers, resins and polymers that are critical components in many instantly recognizable products and industries globally. Historically, the company focused on engineered papers but in recent years has diversified to include a range of films, nets and nonwovens, offered through its Advanced Materials & Structures (AMS) segment.
The AMS platform was created through multiple strategic acquisitions, including DelStar Technologies (2013), Argotec (2015) and Conwed Plastics (2017). SWM and its subsidiaries conduct business in over 90 countries and employ approximately 3,500 people worldwide, with operations in the United States, United Kingdom, Belgium, Canada, France, Luxembourg, Russia, Brazil, Poland and China, including two joint ventures. For further information, visit SWM at www.swmintl.com