Conwed launches MULTINET™, multilayer reinforcement netting.

MINNEAPOLIS, MN (July 14th, 2015) – Conwed, the leading plastic netting manufacturer in the world, launched MULTINET™, its new multilayer reinforcement netting, to help OEMs, manufacturers and converters create exceptionally strong and lightweight composites for industrial and consumer applications. MULTINET is a netting configuration formed by multiple layers of oriented netting laying one on top of another creating a strong but lightweight mesh compatible with different substrates.  It is an ideal alternative to other reinforcement materials such as cross laminated fabrics, cross laid scrims and knitted scrims.
From house wraps, rain screens, roof and floor underlayments to furniture fabrics, carpet pads, wipes, cleaning, filtration and other disposable products, MULTINET offers excellent tensile strength properties without significantly impacting the overall weight of the composite. "Our clients demanded an alternative to cross laminated fabrics and cross laid scrims that would allow them to increase the tensile strength of their composites without sacrificing weight and coverage targets. This is truly a new product segment for our entire business", said Ivan Soltero, Strategic Marketing Manager at Conwed.
The difference between multilayer reinforcement netting and other standard extruded or oriented designs is that MULTINET overlaps two or more oriented netting layers that can be designed differently to provide the desired strength and coverage area and secure optimal bonding with other substrates. It offers countless design combinations, superior breathability performance and can be bonded and laminated through different production processes.  "Manufacturers can create composites through extrusion coating, extrusion lamination, thermal lamination, ultrasonic welding, wet and dry adhesive lamination and diverse nonwoven processes. We can make countless design combinations to match specific performance requirements", said Soltero.
Conwed believes the new multilayer netting will help manufacturers reinforce different materials such as nonwovens, foam, film, bubble-wrap, paper, and other fabrics. Conceived as an alternative to cross laminated fabrics and cross laid scrims used widely to reinforce substrates in industrial applications, MULTINET offers customization of each netting layer in the final multilayer configuration. Whether the layers use the same netting mesh size, weight, chemical composition and design or each individual layer is made differently, Conwed claims to create the precise multilayer version to meet the most demanding performance requirements.
To learn more about MULTINET, multilayer reinforcement netting, visit www.conwedplastics.com/multilayer
About CONWED
Conwed is the leading plastic netting manufacturer in the world. Conwed manufactures extruded, oriented and knitted netting with unique customization capabilities.  Headquartered in Minneapolis, Minnesota, Conwed has five manufacturing locations on two continents and a global distribution network.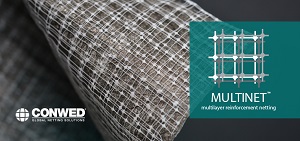 Contact Information
Email:
mandy.sanders@conwedplastics.com
URL:
www.conwedplastics.com
Phone:
Mandy Sanders, Phone: 612-623-2548
Company:
Conwed